Meghan Markle Unpacks The Reason She Envies Archie And Lilibet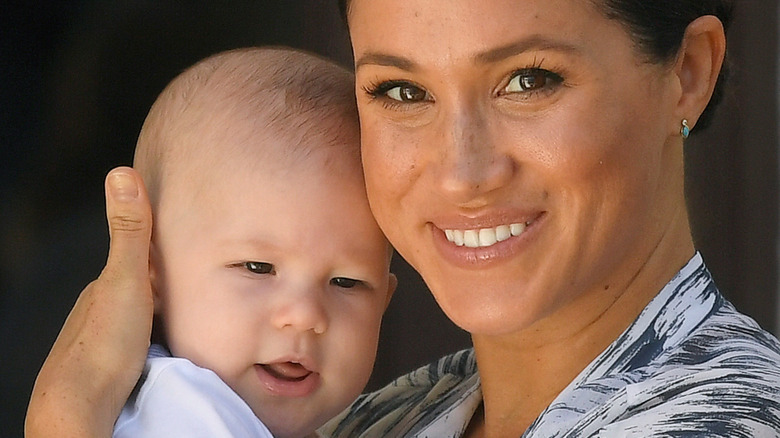 Pool/Getty Images
Last month, Spotify confirmed what we all suspected about Meghan Markle's podcast. In the wake of Queen Elizabeth II's death, they paused the release of any new episodes out of respect for the dearly departed monarch (via People). After a considerable wait, "Archetypes" turned out to be a massive hit, with Meghan even giving podcast king Joe Rogan a run for his money when she knocked him off the top of the streaming charts, per Forbes.
"Archetypes" returned on October 4, as reported by Entertainment Tonight, with a new episode featuring comedian Margaret Cho and journalist Lisa Ling, formerly of "The View." The trio discussed the various stereotypes surrounding Asian representation in the media, in keeping with the aim of Meghan's podcast, to "investigate the labels that try to hold women back." The Duchess of Sussex previously sat down with Serena Williams, Mariah Carey, and Mindy Kaling.
Although Meghan has been refreshingly frank, both on "Archetypes" itself and in a headline-grabbing interview with The Cut, her latest installment showcased the one way she still finds it hard to open up. 
The Duchess of Sussex wishes she could break down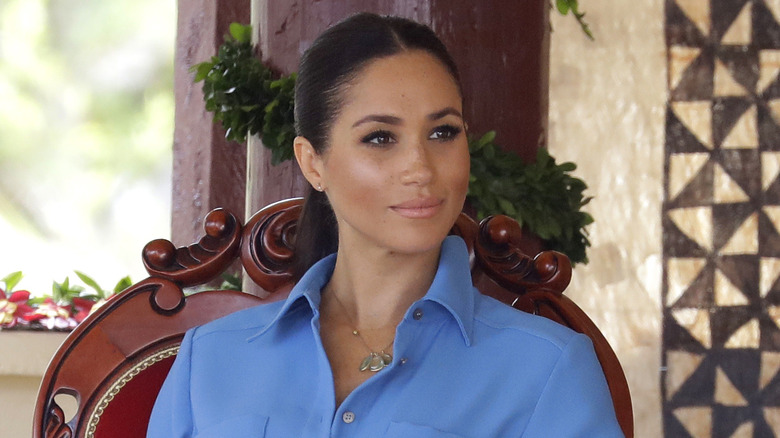 Pool/Getty Images
Meghan Markle would love to just let it all out. During the latest episode of her hit "Archetypes" podcast, "The Decoding of Crazy," Meghan discussed how much she'd love to have a good cry just like her young children, Archie and Lilibet. Unfortunately, as an adult and functioning member of society, she is "conditioned to still have a different kind of composure."
The Duchess of Sussex was speaking to her guest, actress Constance Wu, about her difficult past and how internalizing all that built-up emotion can do more harm than good in the long run. "Whether it's sadness or relief or everything . . . Just like when you're talking about your daughter, when you watch our kids, it's the most beautiful thing in the world," she opined. 
Meghan acknowledged that, when it's happening, watching her kids break down completely can be tough. However, once they've got it all out, Archie and Lilibet inevitably feel much better. As a result, the duchess is envious of them, admitting, "I'm like 'oh my god . . . I want to do that.'" She continued, "I want to like feel so deeply it's like an Adele album, so much intense emotion and you just get it out and you share it." 
The royal defector is no stranger to sharing her trauma, having opened up to Oprah Winfrey about her mental health struggles while pregnant with Archie (via Elle).
Meghan Markle continues to be a target for the press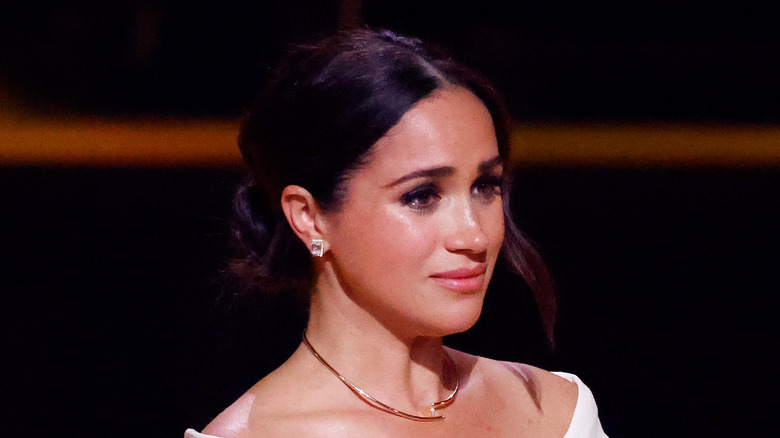 Max Mumby/indigo/Getty Images
The Duchess of Sussex has good reason to want to dissolve into tears sometimes, considering her recent return to the U.K. led to yet another influx of hatred from the public and tabloid media alike. Meghan Markle's trending hashtag on Twitter was anything but flattering, while a royal expert claimed she ruined Prince Harry's life by allegedly exploiting his inherent neediness.
During an interview with Page Six, "Revenge" author Tom Bower shockingly claimed: "He is psychologically harmed both by his mother's death and the father's treatment of his mother, and of Harry himself, when he was a child." The duchess allegedly looked into his life extensively before they hooked up, meaning Meghan "knew exactly what buttons to press" when the time came.
Moreover, when the Sussexes were mourning the loss of Queen Elizabeth II, it brought into stark relief just how isolated Harry is which, according to Bower, "puts great pressure on their relationship." However, an insider told fellow author Valentine Low that the duke was "just desperately unhappy in the last couple of years of his working life," per The Times. As a result, Meghan helped him exponentially by removing Harry from the situation.
The duchess isn't taking it lying down though, with many fans noting Meghan might even have taken a dig at the royal family in her podcast.