How To Get Taylor Swift's Bejeweled Midnights Eye Look Just In Time For Halloween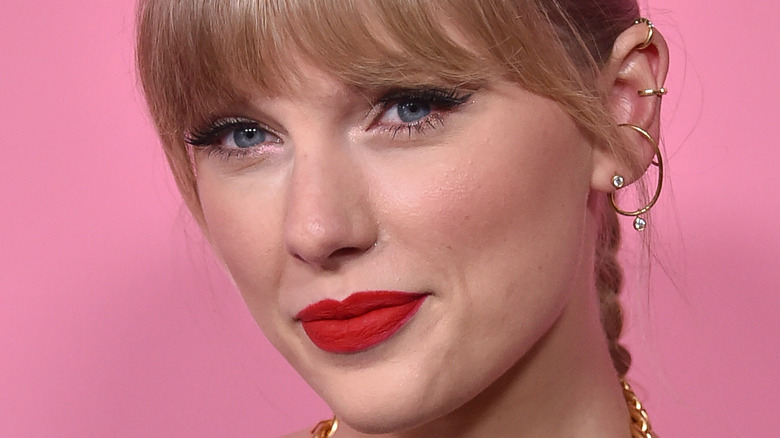 DFree/Shutterstock
We may receive a commission on purchases made from links.
Taylor Swift's 10th studio album "Midnights" further proves that she is a mastermind of pop music. The singer-songwriter has used each album in her illustrious career as a chance to take fans along journeys through emotionally rich and narratively-soaked lyrics. That is the case for her latest release as well. 
Prior to her "Midnights" drop, Swift posted on Instagram a teaser trailer that hinted of music videos to come with the release. In the last few years, Swift has become a practiced filmmaker. Her "All Too Well: The Short Film," which she wrote and directed, was screened at both the Tribeca Film Festival and Toronto International Film Festival in 2022, according to Billboard. The plot-driven, intricate music video also earned the Best Longform Video Award at the 2022 MTV VMAs, where Swift announced her surprise album in her acceptance speech.
Though we were left with questions in the two months waiting for the album's October 21 release, we are now hunting down Easter eggs and learning how to emulate Swift's "Midnights" manicure and other gorgeous looks from her music videos. If you are seeking out a Halloween look that screams "meet me at midnight," we have all the tips for embodying your inner "Bejeweled" makeup look from Swift's latest music video.
Laying the base for Taylor Swift's intricate eye look from 'Bejeweled'
For those taking Taylor Swift's "Bejeweled" music video as last-minute inspiration for a Halloween costume, you will be happy to learn that you're not on your own. Celebrity makeup artist Pat McGrath has shared her secrets for how she created the pop star's glittering "Bejeweled" makeup. In an Instagram post, McGrath even listed a few of the products for Swift's dazzling look of crystal eyeliner, a bold lip, and dramatic cat eye.
Of those products McGrath shared in her caption, she lists her brand's Mothership X: Moonlit Seduction eyeshadow palette, LiquiLUST: Legendary Wear Matte Lipstick in Elson 4, and PermaGel Ultra Lip Pencil in Deep Dive. However, more affordable options can be used to capture Swift's look as well. 
If you're just interested in Swift's "Bejeweled" eyes, you'll need to create a crease on your eyelid while defining the outer corner, according to PopSugar. Next, McGrath applied the shades Blitz Venus and Astral Lilac Aura from her Seduction Palette as Swift's base, but a shimmery rose and purple shade from palettes you have at home can work too. (Tip: use your clean finger to apply the eyeshadow to get extra pigment).
Where to get crystals for your 'Bejeweled' eye look
While we would love the talented makeup artist Pat McGrath to lay crystals on our eyelids to recreate Taylor Swift's eye look in "Bejeweled," we found affordable options for newcomers to the crystal eye makeup trend. For liner, McGrath reportedly went with the PermaGel Ultra Glide Eyeliner Pencil in Xtreme Black for the upper lid and opted for the Perma Precision Liquid Eyeliner in black for that dramatic cat eye that Swift is known for, according to PopSugar. However, the black eyeliner you are most comfortable with and have on hand will definitely work. 
You can draw more attention to your makeup using darker eyeshadow with a small brush and blending midnight blue shades into the wing. Then for the jewels, Amazon offers 1200 eye rhinestones in a rainbow of colors much like the ones Swift wore in the "Bejeweled" music video for less than $7. With lash glue, secure the crystals on the crease of your eye and in the sharp pointed pattern for a glittering cat eye.
To finish up your glimmering look, apply a sparkling highlighter to your brow bone and your favorite lengthening mascara. Paired with a bold red lip, you are sure to look enchanted with the perfect eye look for your "Midnights" era Halloween costume.