Everything We Know About Taylor Swift's Surprise Album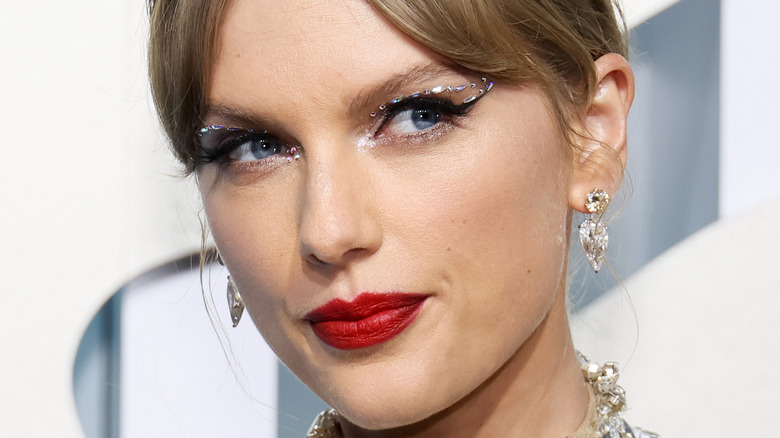 Dia Dipasupil/Getty Images
Taylor Swift has been keeping fans on their toes with the releases of her re-recorded albums, including "Fearless (Taylor's Version)" and "Red (Taylor's Version)." These re-recorded albums also include previously unreleased songs — aptly dubbed "From The Vault" tracks.
Just as fans were theorizing about which re-recording might be released next, Swift announced that a brand new album is on the way. As the hitmaker strutted the MTV Video Music Awards red carpet on August 28 in a look that had Twitter head over heels, fans took to Twitter to mount evidence that her diamond dress was an Easter egg for "Look What You Made Me Do" and was hinting at a re-release of 2017's "Reputation" album. One Twitter user explained what it's like to keep guessing as to what Taylor's next move will be: "y'all don't think she'd wear this?!?! now that she can officially rerecord lwymmd?!?! and it's been 13 years since the vmas incident?!?! IM TERRIFIED."
We may not know what T. Swift is planning next, but we do know we're feeling all the emotions now that she's revealed a brand new album is coming our way.
Taylor Swift is releasing Midnights this October. Here's what we know
Taylor Swift has 13 new tracks for fans on her upcoming album "Midnights." After surprising fans with her appearance at the 2022 VMAs, the singer-songwriter teased a new album, telling viewers that more details would come at midnight (very clever, Miss Swift). Her website portrayed a clock counting ticking away with the words "Meet me at midnight" on the screen. And at 12 Eastern Time on August 29, Taylor Swift aptly shared the title of her upcoming album.
"Midnights, the stories of 13 sleepless nights scattered throughout my life, will be out October 21," the country turned pop star tweeted. "Meet me at midnight." The tweet included two photos: the first included the album's title and track list — with the songs seemingly unnamed — and a photo of the blonde holding a flame-lit lighter. The second photo is of Swift with her head in her hands in a dark-lit room, and the artist included a lengthy prologue of the upcoming album.
Expect an emotional ride for Taylor's 10th studio album
"We lie awake in love and in fear, in turmoil and in tears," Taylor Swift writes in her announcement for her upcoming album, "Midnights." Much like with her surprise release of "folklore" and "evermore," the songwriter included lengthy prose to tell fans about her new music. Taylor continued to show off her skill with words when introducing the world to "Midnights."
"This is a collection of music written in the middle of the night, a journey through terrors and sweet dreams. The floors we pace and the demons we pace. For all of us who have tossed and turned and decided to keep lanterns lit and go searching — hoping just maybe, when the clock strikes twelve . . . we'll meet ourselves."
We already know that this album will have us in all the feels. The album has 13 tracks, a call-back to Taylor's lucky number, according to MTV. Available for pre-order, "Midnights" is set to be released on October 21. We'll be counting down the days.