Fans Told The List Their Favorite Luxury Nail Polish Brand - Exclusive Survey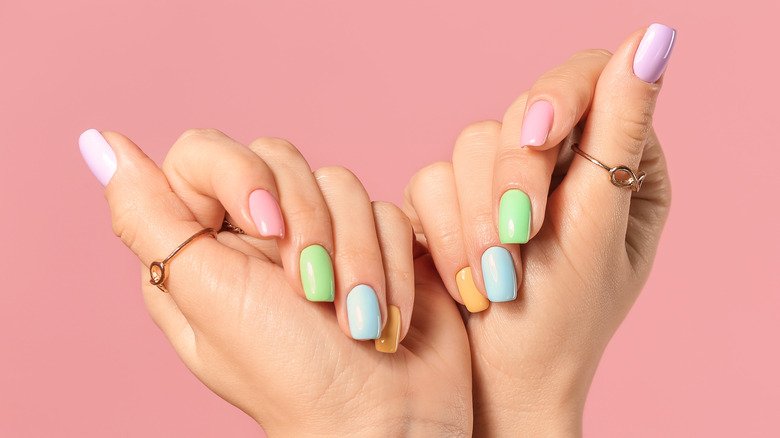 Pixel-Shot/Shutterstock
Painting your nails is practically synonymous with treating yourself. Just about every movie montage of a spa day or an ultimate makeover includes some kind of manicure and pedicure that transforms our main character into the best version of themselves. That's what it feels like to emerge from the salon with a fresh set of perfectly painted nails — the best version of ourselves.
When it comes time to paint your nails, there are a ton of choices to make: do you paint them yourself or get them done professionally? Finish with a matte top coat or a glossy gel? Then there's the struggle of choosing a color, which surely takes forever. We hate to add one more decision to your list, but there is also the choice of which brand of nail polish to use. Not all nail polishes are made the same. According to All Women Talk, things like brush quality, drying time, paint quality, and consistency all differ depending on the brand and the formula. For high quality and beautiful packaging, many people turn to luxury nail polish brands.
Rather than searching for the drugstore nail polish that is the least likely to chip, consider investing in something a little more luxurious. When it comes to polish, we want to know what brands people are shelling out the big bucks for. The List conducted a survey asking 600 people, "Which is the best luxury nail polish brand?" The results have us planning our next trip to the salon.
Show off your nails with these top-rated luxury polish brands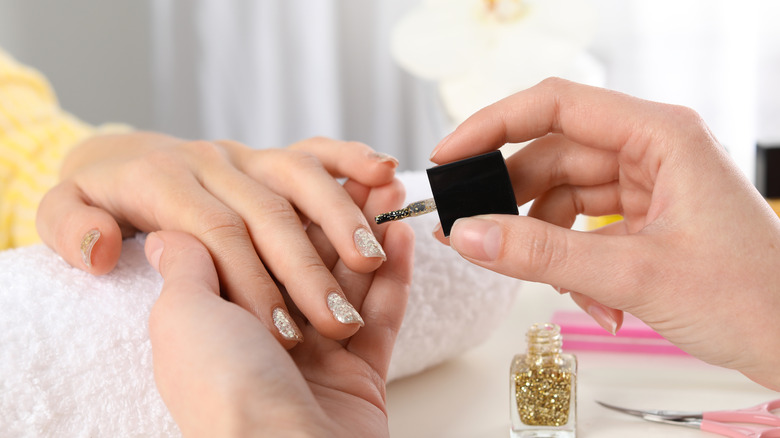 New Africa/Shutterstock
According to The List's survey, Chanel takes first place when it comes to luxury nail polish. With 38.83% of the vote, Chanel's Longwear Nail Colour promises to protect your nails and "improve the quality of nails over time" (via Chanel). At $30 per bottle, this nail polish is giving everything we need for a dramatic pop of color.
In second place with 21.17% of the vote was Gucci, another brand that brings an extra layer of luxury to all their products, including their nail polish. Gucci's plant-based polish offers to leave a long-lasting shine, per their website. Their sleek design can be found in a variety of shades starting at $32.
18.67% of voters prefer the high quality polishes made by Butter London. This brand offers everything from nail treatment polishes to fabulous top coats for less than $20, according to Butter London. Brands like Smith & Cult (11.83%), Hannah (4.83%), and Deborah Lippmann (4.67%) were among other fan-favorite brands, proving that luxury nail polish is a fun and wallet-friendly way to live that lavish lifestyle.
Your nail polish color might be affecting your mood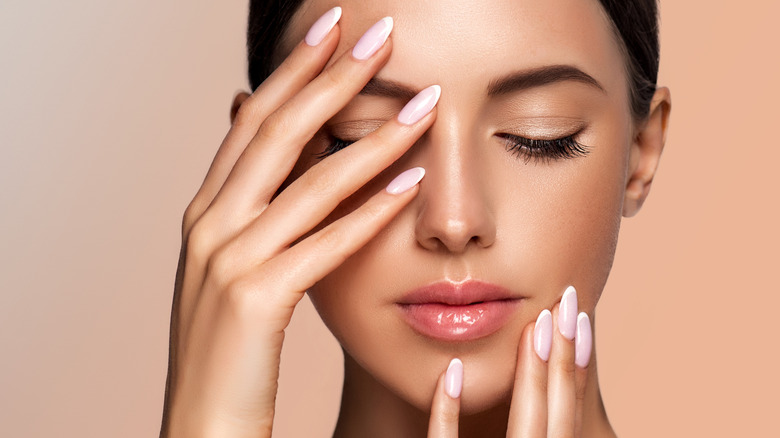 Sofia Zhuravetc/Shutterstock
Have you ever painted your nails a cool new color because you loved the latest nail polish trend you saw on TikTok, but then felt just a little bit sad every time you looked at them? The color of your nail polish might actually be affecting your psyche.
Mountain Vista Psychology reported on the effects of color on human psychology and found that warmer tones like red, orange, and yellow tend to evoke warmth, but can also bring out your inner anger. Cooler tones like blue and green can calm you down, but may also make you sad.
According to Very Well Mind, "Your feelings about color are often deeply personal and rooted in your own experience or culture." You may associate red and green with the holiday season and start to feel all warm and fuzzy when you see those colors, but another person might associate those feelings with blue and silver; the response is based on the holidays you celebrate and the memories you have surrounding those colors.
All of this is to say, colors have meaning and importance. No one looks at your hand more often than you do, so next time you're debating on which color polish to apply, think about how you want to feel when you look at them. Once you find the perfect hue, here's a guide that reveals what your nail polish color says about you.