TikTok's Latest Makeup Trend Is For The Sad Girls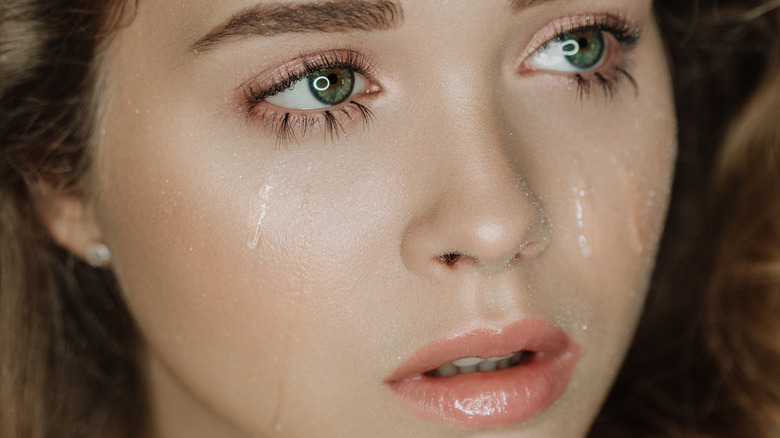 Oksana.Bondar/Shutterstock
TikTok is great for so many things, and one of those things is how often it gets us to utter: "wow –- I didn't know other people felt that way, too." This time, it's a TikTok makeup trend that's making the rounds and making us say "wow –- I didn't know all of us think we look better after we cry." Yes — according to Nylon, the endlessly creative world of TikTok has found a way to replicate that elusive post-good-cry look (mascara stains down your cheeks not included).
It's really no surprise that freshly tear-soaked is next on the makeup trend docket. It's occurring amidst the "clean girl aesthetic" of the past few years and the current "messy girl fall" moment (via Byrdie). Today's beauty trends are all about looking less made up and more fresh, organic, and naturally inspired. So, why not take the time when we feel we look the prettiest and find a way to achieve the look without having the theatre degree that would allow us all to cry on demand? 
If you, too, would like to get the "I just cried, and now I'm feeling perfectly refreshed" look, it's even easier than shedding a tear, and you probably already have everything you need in your makeup bag without having to waste a single tissue.
What is 'crying makeup'?
Earlier this month, makeup artist Zoe Kim Kenealy gave us the most recent TikTok makeup trend to go viral. Kenealy opens the video, which has since garnered well over 3 million, by saying that the trend is for the "unstable girlies." In its wake, the hashtag #CryingMakeup has been trending on TikTok (via New York Post). Some folks in the comments argue that they would not like to replicate the way they, personally, look after a serious sob sesh. In reality, though, the makeup look is certainly pared down from any unwanted post-blubbering smeared mascara and puffiness.
The look focuses on a fresh, glowy, "no-makeup" makeup look with a hint of sparkle and some monochromatic, all-over rosiness. This trend doesn't require some normal makeup routine staples like eyeliner or contour, but of course, you can make the look your own as long as you stick to the core goals of the style: rosiness, glossiness, and a bit of shimmer. Kenealy also says that a glossy lip and curled lashes are vital finishing touches to complete the look.
How to master the trend
If you'd like to try the look for yourself, "crying makeup" is definitely on the easy side as far as TikTok makeup trends go. According to Zoe Kim Kenealy, you should start with a soft, neutral lip color and liner, and blur the edges with a brush (via TikTok). Keep in mind that this look focuses a lot on organic, subtle messiness, rather than perfection and symmetry. Next, Kenealy uses a blush palette and blends with her finger on her cheeks, nose, and on both her upper and lower eyelids. She does this application quickly and messily, rather than applying it precisely like eyeshadow. 
She applies liquid glitter eyeshadow beneath her eyes for a sparkly, teary effect and follows it up with an eye gloss called Vinyl Effect by About-Face on her upper lid and around the outer corners. Eye gloss is exactly what it sounds like, and it gives the rest of her eyes that dewy look. She suggests adding this product "anywhere you want shine," but she applies it to her cheeks and Cupid's bow. Kenealy says that curling your lashes is a must for the look, and her final finishing touch is a super-shiny lip gloss. 
Not only does this makeup style create a naturally beautiful, fresh-faced look, but it requires way less time and product than most full-face makeup routines. Not to mention: It also requires way less emotional turmoil than your average cry, and that's something we can all get behind.