The Halloween Candy To Buy If You're Looking To Save Money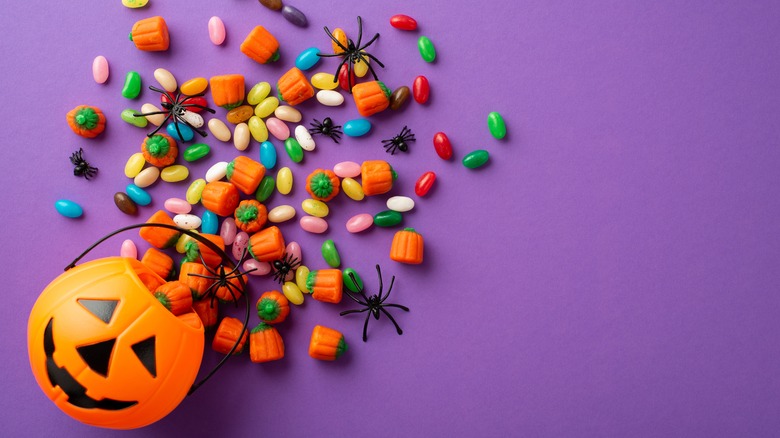 Inspiration GP/Shutterstock
We may receive a commission on purchases made from links.
With panic over the COVID-19 pandemic largely a thing of the past, whether rightly or wrongly, Americans are looking forward to more traditional scares this Halloween season. Stock is flying off the shelves in party stores — popular Halloween costume choices for 2022 include Wednesday Addams, Eddie Munson from "Stranger Things," and the Sanderson Sisters from "Hocus Pocus" — while front yards and porches are fully decked out with gigantic skeletons and inflatable jack-o-lanterns. 
Parties are also being planned for which the only face masks in sight will be the kind worn by Jason Voorhees and Frankenstein's monster. According to the National Retail Federation (NRF), 69% of us plan to celebrate All Hallow's Eve in some way or another — and we're willing to dig a little deeper into our pockets to make it happen, too. They project a whopping $10.6 billion will be spent on costumes, food, and décor this year alone. Still, with the economy suffering, it makes sense to get some bang for your buck when Halloween shopping. 
One purchase that could leave you feeling the pinch is candy. The sweet loot you'll be handing out to young ghosts and ghouls (and sneaking out of your kids' bags) will cost you significantly more this year. In fact, experts informed CNN that candy prices have increased by 14% since 2021, thanks to inflation and an overall rise in food costs. However, if you shop smart, you can enjoy the spooky season and still have some money left over for Christmas.
These candy brands will cost you more this year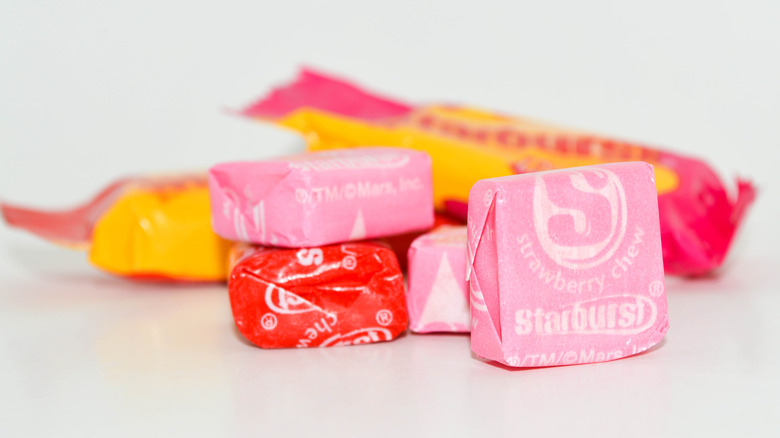 Jennifer Wallace/Shutterstock
The Datasembly research firm, which tracks grocery prices, recently took a look at the 10 most popular Halloween candy brands and compared the cost increases of each. While candy prices in general have gone up considerably this year, certain brands have increased more than others. If you're looking to save on holiday candy costs, you might want to buy less of the pricier sweets and load up on the bargains instead.
For instance, Twix bars will cost you 53% more this year than last, per Fortune. Like Skittles? Tasting the rainbow will cost you 41% more. Chewy candies are the latest treat food trend this year and, according to Food Business News, they accounted for 50% of all non-chocolate sales in 2021. Sadly though, Starbursts, which are among the most popular chewies, have gone up 35%. 
Elsewhere, if you crave that delectable peanut butter-chocolate combo, Reese's Peanut Butter Cups will also set you back 35% more. A Datasembly executive told Fortune that the boost in candy prices may be due to a number of factors, such as continuing supply-chain issues, increases in sugar prices, less availability of certain ingredients, and the cost of energy needed to keep the candy factories going. 
Stock up on these sweets to save this Halloween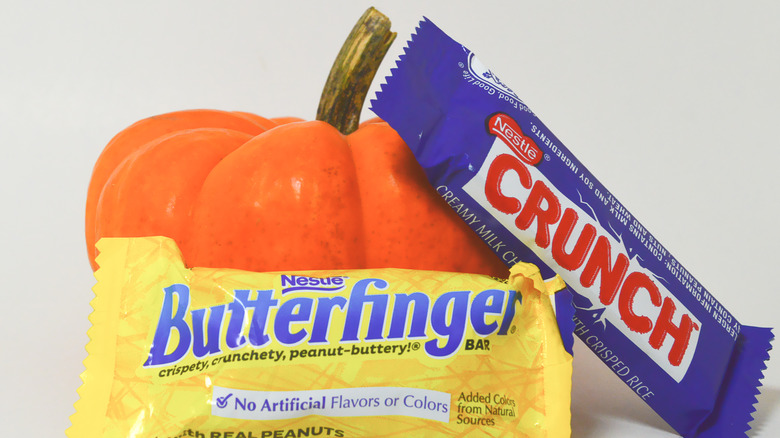 Jennifer Wallace/Shutterstock
Datasembly notes that two particular Nestlé candy brands — Crunch and Butterfinger bars — have seen a smaller increase in price this year. At 6% and 7% respectively, the cost of these popular chocolates should be easier on your wallet. An even better bargain is that all-American classic, the plain Hershey bar. The Daily Mail quotes the Datasembly finding that Hershey hasn't raised the price of its beloved bar since food prices began to rise. 
Another option for bargain hunters is to check out warehouse stores where you can buy candy in bulk, or dollar-store chains, which sell off-brand sweets that are less pricey than their more well-known counterparts but taste just as good. If time permits, online shopping can net you a chocolate haul for less too. Dollar Tree sells packs of mini-bars like Almond Joy in cases of 24 for $1.25 per unit, and Amazon also has candy packs in bulk. 
But, whether you fill your basket with candy corn, chocolates, or chewy treats, don't worry about the local boys and ghouls taking too much. Experts say you should let your kids enjoy all the candy they can eat after they come home, as long as the binge is just for one day. And, although they're comparatively cheaper, we don't recommend giving out rocks, like Charlie Brown's neighbors did, in order to save money!