Grab Your Lipliner And Get Ready To Rock The 'Diffused' Lip Trend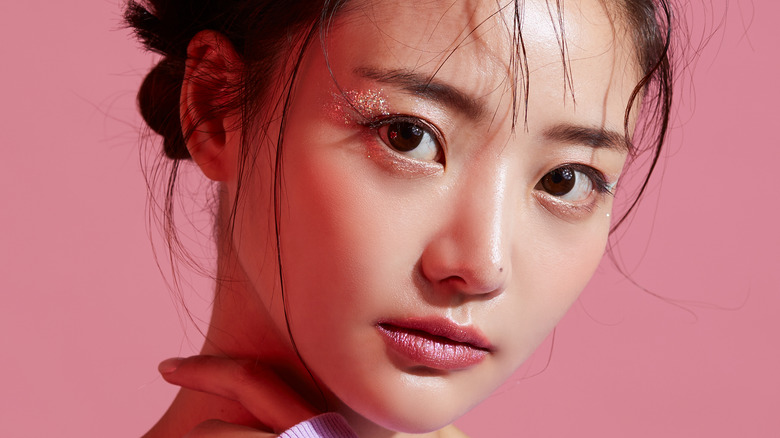 K-Angle/Shutterstock
In the age of social media, it sometimes feels like there's a new lip-related trend to try every single day. From the glazed lip trend to TikTok's favorite brownie lip trend, and '90s-inspired lipliners making a comeback, exploring various ways to enhance your lips is all the rage. Now, there's another trend popping up known as the diffused lip trend, which encourages softer, almost smudgier lining instead of precise, sharp lines. "This is yet another K-beauty staple ... many of us want that augmented effect but as soft and as natural as possible," makeup artist Ehlie Luna told PopSugar. "The highest concentration of color is at the center of the lip."
Anyone who searches #diffusedlip on Instagram will get an idea of this intentionally faded, gentle look, whether they want a pink and glossy, bold red, or unique purple lip look. The delicate, girly vibe of the diffused lip trend fits right in with the dainty soft girl aesthetic, so if you like rocking that look, you should experiment with the diffused lip concept, too.
How to get a diffused lip look
One convenient aspect of this trend is that it doesn't require advanced makeup skills to achieve the look. According to a TikToker esantoinette, you should put on your lip product of choice first. Then, use a fluffy makeup brush to gently fade the edges, in an outward direction, for that trendy diffused look, and feel free to apply some lipgloss over it to add to the soft effect (via TikTok). One impressed TikToker commented, "Ive been using my fingers for this, ill try a brush, thanks!" and another enthusiastically commented, "Going to try" with a heart-eye emoji.
While the makeup brush technique isn't too challenging, you can opt to buy a lipliner focused on this trend instead. The Dazed & Diffused Blurring Lip Liner Dual-Ended Lip Liner is available for less than $10 at NYX and offers a brush tool that you can use to create that faded effect. Plus, the product has 4.2 out of five stars with over 450 reviews, and one pleased reviewer wrote, "Love this product, easy to apply, & brush works great to blend."
You can also use your fingers to get the look
Some people achieve this look by using their fingers, so if you don't have a fluffy makeup brush or don't want to buy one, you don't need to worry! TikToker sirraccarris shared a tutorial for getting diffused lips, starting by applying her lip product to the middle areas of her lips, then using her fingers to "diffuse'" it outward quickly (via TikTok). Next, she enhanced the middle area of her lips with red eyeshadow to keep that part the focal point of the look and finished it off with lipgloss. One person commented, "I remember this from a few years ago! We called it wine stained lips! So pretty."
Meanwhile, TikToker clara.slays shared another technique that involved using her fingers. She started by recommending using lipgloss in a similar hue to your natural lips for the first step, per TikTok, and blending it outward with your fingers to the point where it stretches out a tiny bit further than your natural lipline. Then, she put some red lip product in the center of the lip and diffused it with her fingers, but not as much as the initial gloss. Excited TikTokers commented, "OMG! YESSSSS" and "omg i love this."