What Can You Wear When The Dress Code Is White Tie?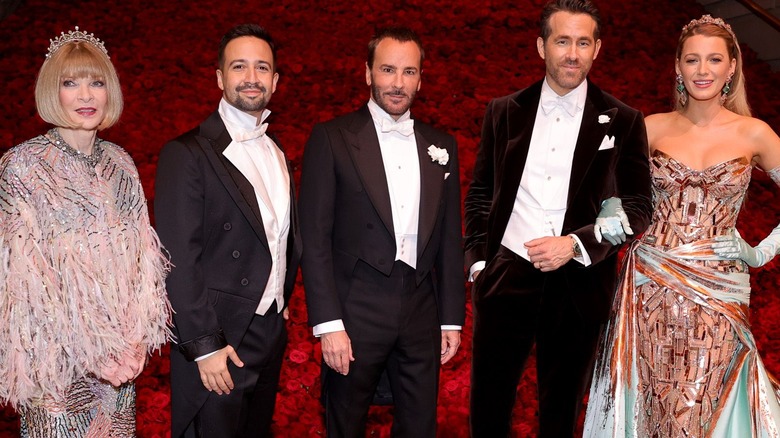 Matt Winkelmeyer/mg22/Getty Images
There's nothing worse than showing up to an important event dressed completely differently than how everyone else is. With the number of dress codes that are seemingly being invented every day, it's tempting to ignore instructions and dig around in your closet, praying for the best. However, if there's one dress code direction you should never ignore, it's white tie attire.
Although it sounds like a modern offshoot of black tie, white tie has been around since the Victorian Era, invented around 1840 (via Vogue.) In the hierarchy of dress codes, white tie is at the very top, being the most formal attire you can wear in the Western world. The dress code is traditionally for people of a high standing during eras like the Gilded Age and was worn to galas and balls.
In more modern times, white tie attire is still worn at opulent events. Although uncommon, the dress code can also be applied to weddings if the couple chooses to do so.
How to dress for white tie attire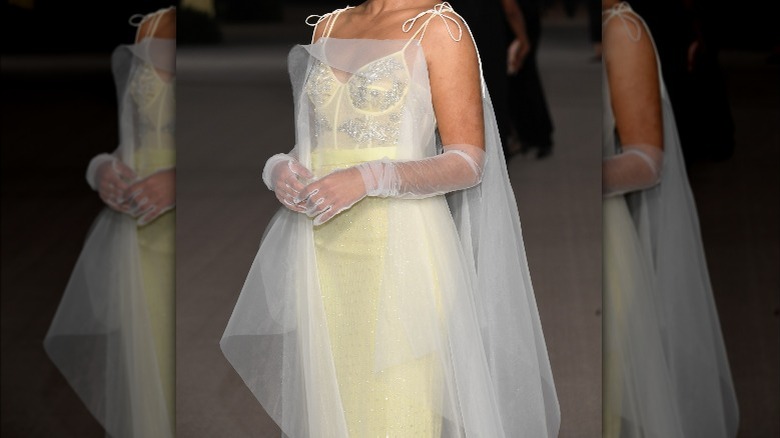 Jon Kopaloff/Getty Images
As the most formal dress code there is, there's no "white tie casual" option like there is with business attire. For people who prefer feminine clothing, opt for a floor-length gown and ornate jewelry (via Brides.) Any ankle-grazing dress will not do; the cut and design of it must be elegant, using refined fabrics such as damask or chiffon. Though not required, you can also choose to wear long white gloves.
If you prefer masculine clothing, you're going to need more than your standard suit and tie. Rather than a sports jacket, wear a black evening tailcoat, accompanied by a matching high-waisted trouser with a single satin stripe or braid on the side — or two if you're in the U.K., according to GQ UK. The suit must be worn with a bow tie, vest, and wing-collared shirt, all white. Cufflinks are required, with shiny studs replacing gaudy buttons. Finishing off this dapper look are black patent shoes worn with black dress socks.
Never wear these to a white tie event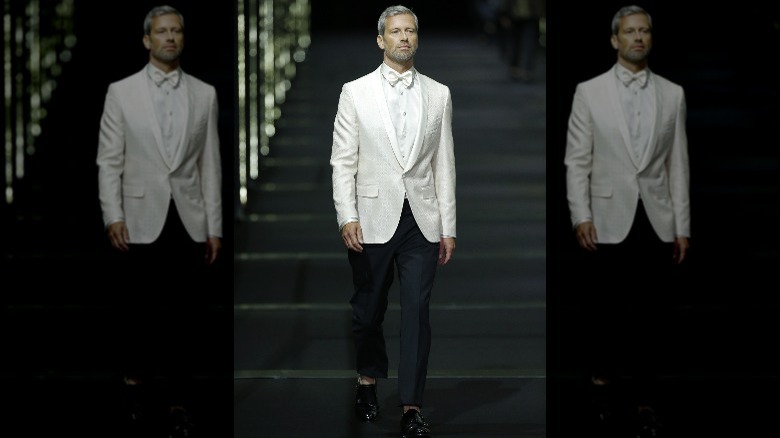 Estrop/Getty Images
For women, the floor-length gown guide isn't a suggestion. According to tradition, anything shorter is considered to be casual. For masculine dressers, hand tie your bow tie, as pre-fastened bows are not allowed (via Trendspotter.) The tie must also be white, as black bow ties are for black tie attire. For the shirt, ensure that it's a proper fit. The dress shirt has to be stiff, not billowing about in your vest. For a white tie event, men do have to wear a black waistcoat with tails — white will not do, despite the name.
Unless you're conveniently a member of a royal family, you probably don't have access to white tie clothing. Thankfully, you can use a clothing rental service for any white tie events you may have coming up. For men, services such as National Tuxedo Rentals and Men's Wearhouse are available for all your rental needs. For women, Rent the Runway offers one-time rentals that start at around $30. They have a wide range of floor length evening gowns made by a wealth of designers. The site also allows you to look at photos of how previous renters look in the clothes so you can get an idea of how it'll look on you.