How To Make Your Own Homemade Pumpkin Spice Latte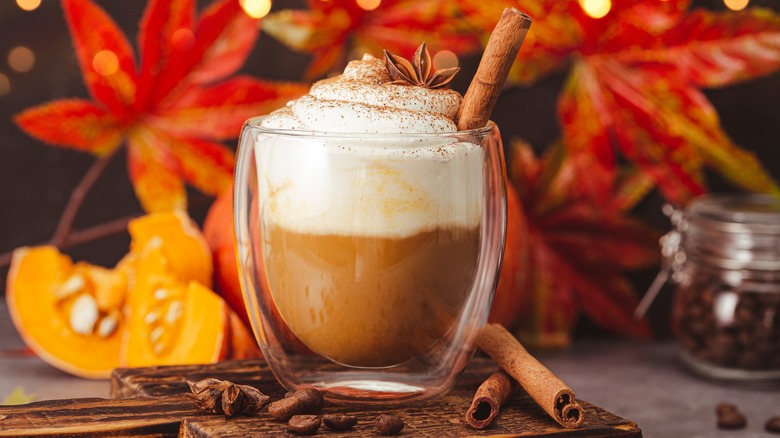 Purrfect_photo/Shutterstock
It's officially fall, and you know what that means: we are entering pumpkin spice latte season (aka the PSL). Known for being a staple of the "basic" person trope, per Bustle, PSLs are everywhere — and it looks like they won't be going away anytime soon. According to Business Insider, Starbucks first released the latte flavor in 2003, and by 2021 had sold over 500 million drinks in the U.S. alone. It's safe to say that people can't get enough of the festive flavor.
Starting at a price of $5.45 for the smallest-sized beverage at Starbucks (via Today), the coffee retailer's PSL had already amassed over $600 million in revenue as of 2018, Well + Good reports. Between Starbucks and other major coffee chains, you can imagine that the pumpkin spice latte has become its own industry. If you're like the millions of consumers who celebrate the season with a PSL every year, you – and your wallet — might benefit from learning how to make a homemade pumpkin spice latte.
Try this natural recipe to enjoy the fall flavor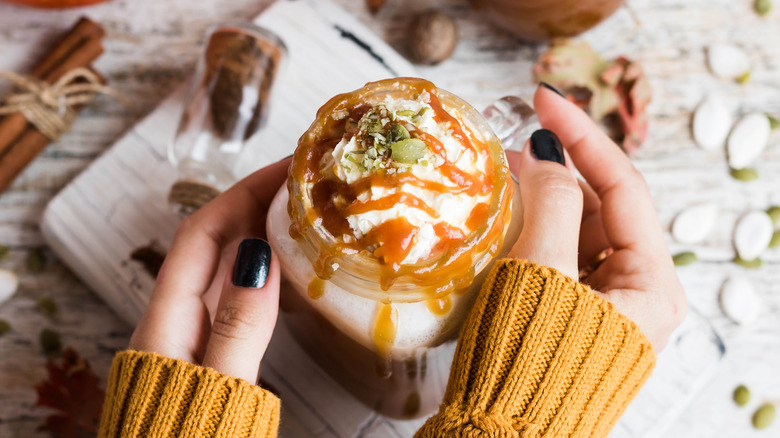 soeka/Shutterstock
Are you trying to cut back on your coffee budget, or looking for a way to avoid the bustling drive-thru line? Look no further: there are plenty of ways to recreate the popular fall flavor when you opt to make your own pumpkin spice latte at home.
There are endless recipes you can use to make a homemade PSL, and just like at a coffee shop, you can enjoy the drink hot or iced. In a simple recipe, food blog Inspired Taste shares that all it takes to make the fall favorite is pumpkin puree, coffee and milk of your choice, and some spices, such as cinnamon, nutmeg, and ginger. If you want to prepare the drink hot, you can use a milk frother or steamer to recreate the creamy taste of the original PSL. For an iced option, the blog recommends using cold brew or cold coffee as the base.
If you have dietary restrictions, food blog Ambitious Kitchen created a healthy spin on the homemade pumpkin spice latte recipe that is vegan and non-dairy friendly. Using plant- or nut-based milk (like almond milk), you can achieve the same result and enjoy your customized beverage from the comfort of your own kitchen.
Putting together your latte is simple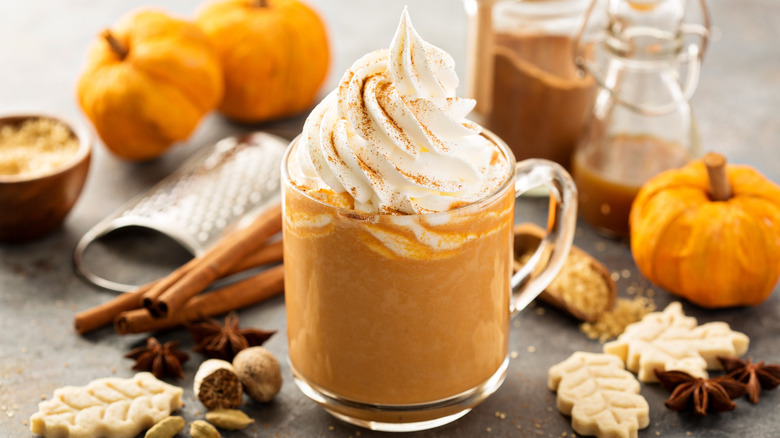 Elena Veselova/Shutterstock
Considering the minimal ingredients involved in each pumpkin spice latte recipe, you can imagine that the drink is a cinch to make. It's almost as easy as pie ... pumpkin pie, if you will.
To prepare your homemade PSL, you'll first want to prep your homemade pumpkin spice syrup. While there are pre-made pumpkin spice syrups and flavorings on the market, Ambitious Kitchen shares that the Starbucks version — which also uses a pre-made syrup — has 50 grams of sugar. If you're trying to be mindful of the nutritional value of your latte, you might want to make your own syrup. Using two cups of whichever milk you prefer, Inspired Taste instructs you to mix it on the stove in a saucepan with two tablespoons of pumpkin puree, one to three tablespoons of sugar, a tablespoon of vanilla extract, and half a teaspoon of pumpkin pie spice.
Once the mixture turns to a syrup consistency, you can mix it into the coffee of your choice (over ice, if you want it cold). Now you can join the ranks of pumpkin spice lovers everywhere, without leaving your home.