How To Recreate Taylor Swift's Bedazzled Makeup From The 2022 VMAs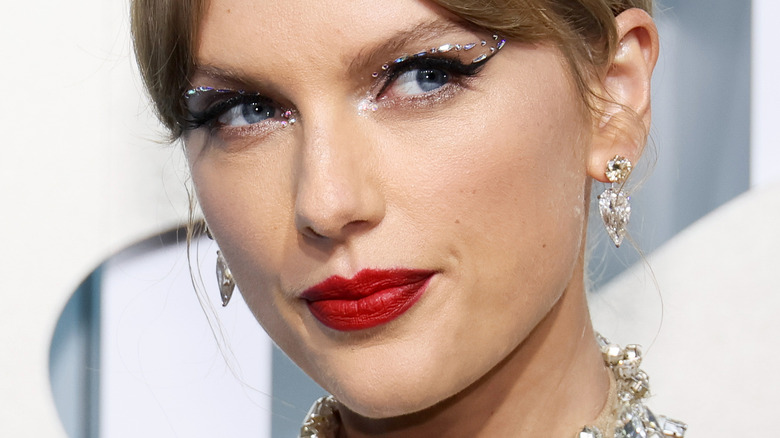 Dia Dipasupil/Getty Images
The 2022 MTV Video Music Awards was a star-studded event at which chart-topping singer and songwriter Taylor Swift took home three awards for her revamped single "All Too Well (10 Minute Version) (Taylor's version)" (via MTV). That same night, Swifties all around the globe shrieked with excitement when the singer publicly announced the release date for her highly-anticipated 10th studio album, "Midnights," which dropped on October 21, 2022 (and it certainly didn't disappoint, breaking countless records upon its release, EW reports).
In addition to her musical achievements, her beauty and fashion at the ceremony drew just as much attendion. Not only did Swift wear a similar ensemble to the one she wore to the 2009 VMAs (you know, the one where Kanye West interrupted her on stage), but she also made the whole place shimmer with her bedazzled makeup look. We see what you did there, Taylor.
Since then, everyone's been dying to recreate Swift's sophisticated, sparkling look themselves. Luckily, it's pretty simple and straightforward process. Grab some rhinestones, and don't forget the red lipstick because we've got the lowdown on how to do it.
A bejeweled twist on Taylor Swift's classic cat eye look
Legendary makeup artist and entrepreneur Pat McGrath created Taylor Swift's 2022 VMA look and even shared a step-by-step guide on Instagram. Complete with Swift's classic cat eye and red lip combo, McGrath pushed it one step further with crystals in a V-shape pattern on the lid. Beauty influencer Victoria Lyn followed McGrath's instructions, recreating the look in a TikTok video in which she refers to the musician as "Slayer Swift" because this look was nothing short of a bejeweled masterpiece.
To recreate this eye makeup, McGrath used her Mothership X Moonlit Seduction palette, but any shades that closely match the ones in the look will do. First, take a rosewood-color shadow and blend it onto the lid and crease using a fluffy brush. Then, swipe a silver glittery highlighter shade on the lid and in the inner corners. Add a dark brown shadow on the lower lash line with a small precision brush. Don't forget to add Swift's perfect winged eyeliner!
Now, for the fun part — rhinestones. The rhinestones are applied in a V-shape above the liner and crease of the lid (like a crystal cut-crease). Adhere the rhinestones to the lid with eyelash glue. Coat the lashes with mascara or pop on a pair of falsies for an amplified look.
Don't forget the base makeup and classic red lip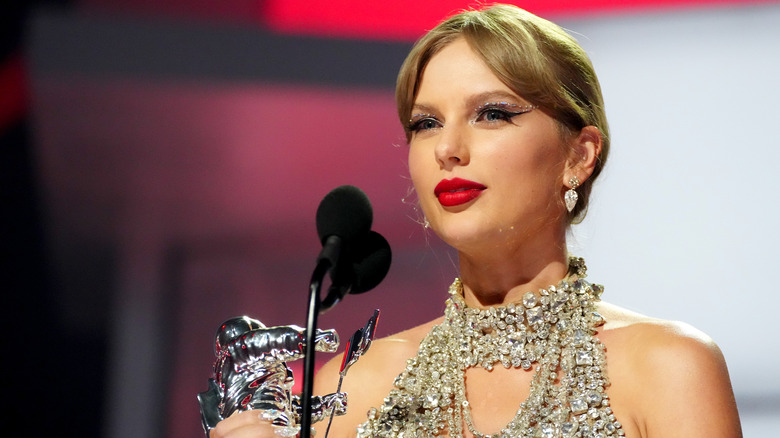 Jeff Kravitz/Getty Images
Now that we have bedazzled eyes, what about the rest of Taylor Swift's 2022 VMAs look? Think soft and elegant. Pat McGrath's product list on her Instagram post, which includes all the makeup items she used on Swift for the event, contains a face oil, primer, and a natural-finish foundation for a dewy and effortless complexion. Once all of that is blended in, brighten the under-eye area with a concealer and set everything in place with a powder. Finish the base makeup with a coral pink blush on the apples of the cheeks.
For the lips, reach for a classic red lip liner and lipstick combo. To truly re-create this look, per Victoria Lyn's TikTok video, focus heavily on Swift's signature pout, especially the structured and deep cupid's bow. This look is reminiscent of the one Swift wore in her music video for "Bejeweled," the ninth track in her "Midnights" album. That look was also created by Pat McGrath — and we have to admit, she polishes up real nice.