Say Hello To Puddle Pants, The New Fall Fashion Trend That Eliminates The Need For A Tailor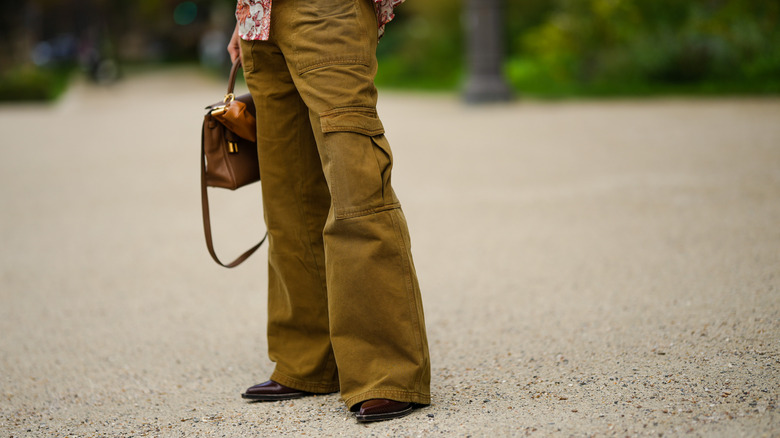 Edward Berthelot/Getty Images
We may receive a commission on purchases made from links.
Fashion trends from the '90s and early 2000s are making the rounds again in a big way, oversized bottom-wear included. In 2020, Glamour tipped its hat to keeping our jeans up-to-date while satisfyingly nostalgic. One such style is puddle pants, which Vogue praises for their effortlessness, calling them a descendant of the baggy jeans that took over beachwear in the summer of 2021. They are also extremely versatile, offering plenty of styling options. "They are easily pared back with a tank and slide or sneaker for day-to-day, or for a more elevated and refined look, throw on an unbuttoned shirt and pointed toe flat or heel," Jacki Bresic, director of fashion store Fabric, told Stuff.
According to Glamour, we were missing the puddle pants trend way back in March 2021, largely thanks to the pandemic keeping folks' minds occupied on more pressing matters beyond their daily fashion choices. But how do celebs wear these looks to perfection while also sweeping the floor beneath them? With clean lines and elegant silhouettes, puddle pants must have a secret formula for success.
These pants are up for interpretation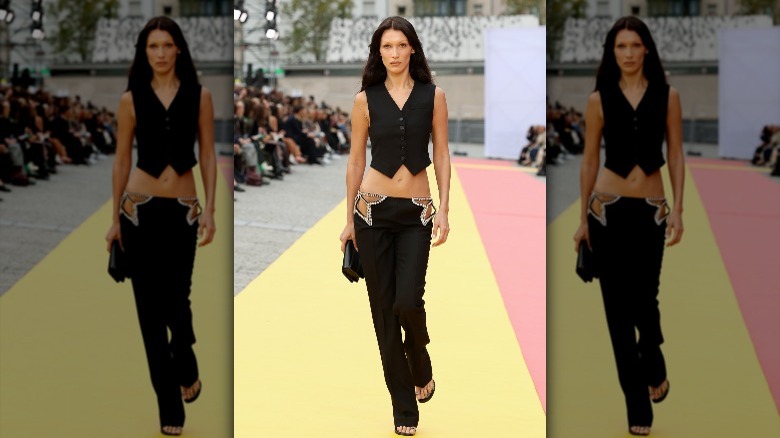 Pascal Le Segretain/Getty Images
What exactly are puddle pants? According to Who What Wear, the style drags on the floor or at least threatens to. The ideal look creates a pooling around the ankle, justifying their unusual name. You've heard of floods — or ankle-bearing pants — and now it's time to meet their fearless cousins. Puddle pants probably shouldn't be tailored, unless it's around the waist, and hemming should be minimal enough for the ankle to remain mysterious and unattainable.
One perfect thing about puddle pants is their seamless ability to pass between the seasons — whether it's a classic corduroy look channeling '70s spring, a linen pair to rock in late summer, belted and pleated slacks for fall, or a silk blend that's both chic and comfortable for the long winter months.
Bella Hadid became an unofficial puddle pants ambassador with shots for i-D Magazine posted to her Instagram page in October. Hadid was also one of the pioneers to bring back the low-rise pants of the 2000s, for better or for worse. So, she naturally went for the low-rise look with black puddling slacks, just the toes of her pointed shoes peeking out from beneath the bunched fabric. We know Ms. Hadid can work pretty much any look, on or off the runway. But for those of us looking to incorporate puddle pants into our daily lives, we might do better by referencing celebs' streetwear than pulling inspiration straight from the catwalk. 
You can dress the trend up or down
Zoe Kravitz makes puddle pants work by wading into the new trend slowly. She posted a paparazzi-style shot to Instagram with long straight-leg jeans that fell to the middle of her black heels. She captioned the photos "Y S L," matching the logo on her bag for the legendary fashion brand Yves Saint Laurent. Kravitz finished off her look with black sunglasses and a black cropped turtleneck, making it super easy to recreate featuring your favorite on-the-go drink.
Who What Wear included Kaia Gerber's look in their puddle pants list, and it feels attainable for a puddle pants newbie. She pairs nondescript black pants with worn Adidas sneakers for an effortless look on the bottom, while she rocks a black turtleneck with a long brown Prada coat up top. Mixing formal and informal pieces leans into the fun of this trend, plus the black will keep your favorite new pants from showing visible dirt. 
Now that puddle pants are on your radar, what is the next phase of our early 2000s fashion takeover? High on the list — that includes some very Gen-Z takes on Y2K aesthetic – has to be cargo pants. Of course, work pants or canvas fabrics will also do the trick. Hardier pants won't show wear and tear as easily, and having loads of usable pockets has been a long time coming for women's fashion. And what's wrong with having pants that serve for looks and function?