Of All Lindsay Lohan's Looks — This One Stands Above The Rest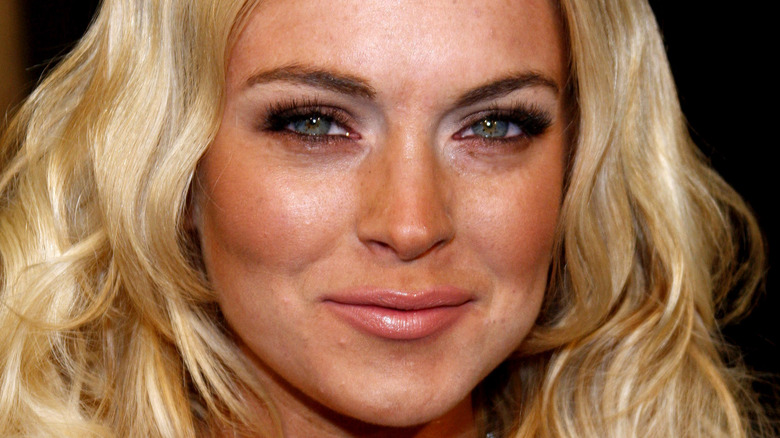 Tinseltown/Shutterstock
Everyone tuned into the entertainment industry has heard Lindsay Lohan's name for many years. She was even in a Super Bowl 2022 commercial. Plus, we all know the celebrity has been in countless movies, such as "The Parent Trap," "Get a Clue," "Freaky Friday," "Mean Girls," and "Confessions of a Teenage Drama Queen" (via IMDb). Society has always been fascinated by the movie star's rise to fame at a young age, but her life hasn't been so enviable or perfect.
The world has spent so much time talking and obsessing about Lohan's time in rehab, her drinking, drug abuse, and run-ins with the law, per CNN, that her talent and creativity sometimes get overlooked and forgotten. While the movie star has made her share of mistakes, the celebrity is a talented actress, and many of her movies are still iconic today. Plus, she's worn a plethora of show-stopping outfits — especially in her films. While many of her on-screen looks were memorable, one stands out above all the others.
We'll never forget this iconic Mean Girls outfit
From "that is so fetch!" to "you go, Glen Coco," the 2004 teen classic "Mean Girls" is filled with famous quotes. While "Mean Girls" is arguably one of the funniest and most beloved satirical movies about high school, the film deserves credit for more than just the acting and dialogue; the outfits brought the movie to the next level. Lindsay Lohan wore many head-turning looks in the film — especially one memorable dress.
Although Lohan's character was acting like a mean girl during the scene when she wore this outfit, her curve-hugging little black dress with a pink stripe (via YouTube) was show-stopping. So much so that her catty friends gasped and simultaneously exclaimed, "you look awesome!" The pink and black color combination is always fun and looks great on this dress. Furthermore, the black tights and heels also added a sexy edge to the ensemble, along with the black choker, dark eyeliner, pink lipgloss, and pink hoop earrings. These sassy details make the overall look the epitome of early 2000s fashion.
"In costume design, you need to always project a little into the future . . . we also went back into the world of when women and girls actually dressed to go to school . . . it was a little bit of a combination of the future and the past and gave it a contemporary feel," Mary Jane Fort, the costume designer for "Mean Girls," told NYLON, regarding the outfits in the movie.
Her outfits from Confessions of a Teenage Drama Queen also deserve recognition
While Lindsay Lohan portrayed a sweet teenager-turned-mean girl in "Mean Girls," she played an ultra-dramatic aspiring teenage actress in "Confessions of Teenage Drama Queen" (via Rotten Tomatoes). Many of Lohan's outfits in this film reflected the character's quirky, unique, city-loving personality, and they deserve some attention for their stylish boldness. For instance, the actress wore a T-shirt that said "I 💗 NYC" under a sheer fishnet-style long-sleeve top, along with the character's signature bottle cap necklace, hoop earrings, dark bracelets, and dark pants with many zippers. Popsugar named this one of the most unforgettable outfits from the movie, as it exuded a youthful, angsty vibe. Thus, this punk look was super edgy and radiated defiant energy. This ensemble is so memorable that the one and only Sabrina Carpenter wore a similar look, dressing as Lohan's Lola for Halloween one year, as shown on TikTok. 
Another of Lohan's iconic looks from "Confessions of a Teenage Drama Queen" was the bright pink sparkly ensemble from the "Eliza Rocks" play, per YouTube. This bold pink outfit was nearly two decades ahead of today's Barbiecore trend, and the sparkly details and bright feathery aspects perfectly captured the movie's theatrical, eccentric spirit. Plus, Lohan's crimped hair in this scene is so much fun!
No matter what happens in Lohan's life, the outfits from early 2000s movies will always be iconic.