Nancy Pelosi Releases Her First Statement Since The Attack On Her Husband Left Him Hospitalized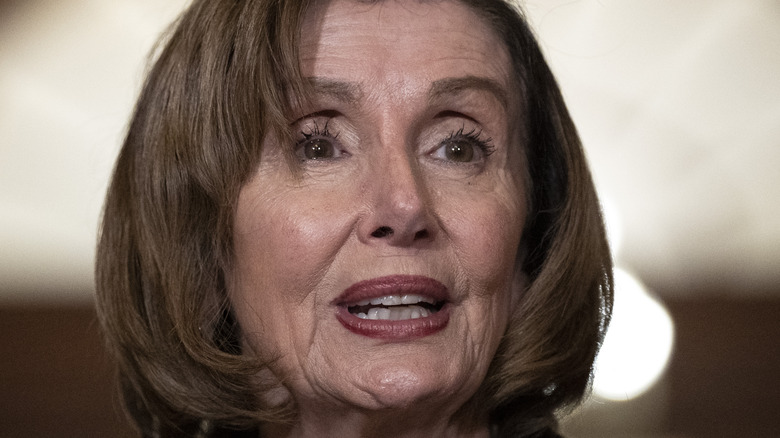 Drew Angerer/Getty Images
The assault on Nancy Pelosi's husband was horrifying. On October 28, Speaker Pelosi's husband, Paul Pelosi, was violently attacked with a hammer by intruder David DePape (via CNN). As DePape was tying up the 82-year-old, Paul was able to dial 911 which dispatched police to their home. After DePape's arrest, authorities revealed that Speaker Pelosi was reportedly the target of the attack. 
According to CNN, DePape shouted, "Where is Nancy? Where is Nancy?" during the break-in, and a source revealed to NBC News that the intruder also shared with the speaker's husband his plans to wait "until Nancy got home." Following the incident, Nancy released her first statement, which was a heartbreaking announcement reflecting her family's pain. It was later revealed that Paul needed brain surgery to repair a skull fracture from the attack, according to People. 
This is not the first time people have tried to harm the Speaker of the House. During the January 6 insurrection at the U.S. Capitol, multiple Donald Trump supporters were looking for Speaker Pelosi (via The Atlantic). NBC News even reported that one January 6 participant, Dawn Bancroft, was sentenced to jail in July after a video showed her calling "to shoot [Nancy] in the frickin' brain." 
Nancy Pelosi and family 'heartbroken and traumatized' after her husband's attack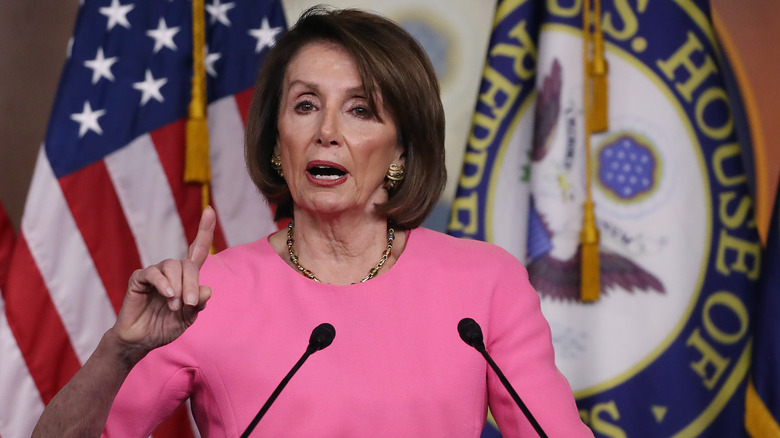 Mark Wilson/Getty Images
A day after the attack, Speaker Nancy Pelosi sent a letter to her House colleagues and the statement about her husband's violent attack was heartbreaking. Pelosi wrote, "Yesterday morning, a violent man broke into our family home, demanded to confront me, and brutally attacked my husband, Paul [Pelosi]. Our children, our grandchildren, and I are heartbroken and traumatized by the life-threatening attack on our Pop."
The Speaker noted the family was grateful for the "quick response" by police and paramedics and the "life-saving" treatments Paul Pelosi has received. The House leader also thanked everyone for their concern and prayers, tweeting a copy of the letter she sent to the House and saying, "Thank you for your prayers for my husband and our family." 
According to CNN, President Joe Biden linked right-wing media and violent speeches by Republicans to the attack on Mr. Pelosi. "The talk has to stop," President Biden said on October 29 (via The White House). "That's the problem. You can't just say, 'I feel badly about the violence; we condemn it.' Condemn what produces the violence, and this talk produces the violence." On October 28, former President Barack Obama also condemned the assault on his "friend" (via The Guardian). The outlet reported that Obama blasted politicians who like to "stir up division to make folks as angry and as afraid of one another for their own advantage." Information about Pelosi's attacker David DePape indicates he had extreme right-wing political views.
Paul Pelosi's attacker has QAnon beliefs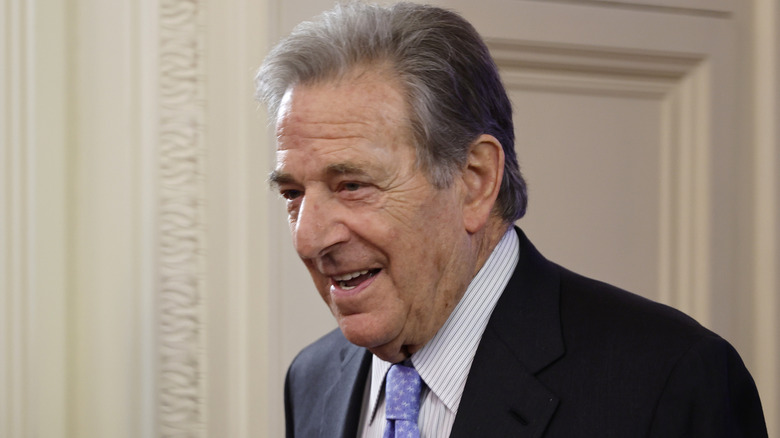 Chip Somodevilla/Getty Images
The man charged with the violent attack on Paul Pelosi reportedly believes in QAnon and other extreme right-wing ideologies, according to Rolling Stone. The outlet shared that David DePape's blog and social media posts contain rants that deny the Holocaust and climate change. DePape's posts also raged about "pedos," voter fraud, anti-COVID-19 vaccinations, and other conspiracy theories. In a 2017 blog post, DePape even wrote, "Love and caring are a chemical DELUSION." In the weeks before the Pelosi attack, the outlet also noted that DePape ramped up his blog posts.
According to CNN, DePape shared videos on Facebook from Donald Trump's ally, Mike Lindell. Trump's relationship with the MyPillow guy goes back to 2016, and Lindell continues to claim the 2020 election was stolen. The MyPillow CEO is also a loud voice in the anti-vaccination movement. CNN reported the 42-year-old DePape posted on social media about the "Great Reset," which is a conspiracy theory that "elites are using coronavirus" to "gain power and oppress the masses." A former acquaintance told CNN she cut off contact with DePape after he sent her "really disturbing" emails. The acquaintance also told the outlet that DePape sounded like a "megalomaniac and so out of touch with reality." DePape was charged with multiple felonies for his assault on Mr. Pelosi.