Kate Gosselin's Return To Reality TV Isn't What You Would Expect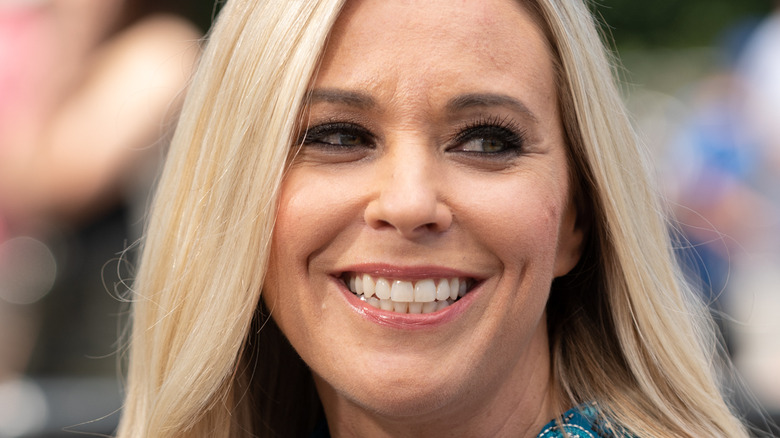 Noel Vasquez/Getty Images
Kate Gosselin and her ex-husband Jon Gosselin starred in the OG reality TV series "Jon & Kate Plus 8." The TLC show began in 2007, following the couple with one set of twins and one set of sextuplets. However, in 2009, the Gosselin's marriage imploded. In a 2009 "Jon & Kate Plus 8" episode (via Us Weekly), Kate said, "Parents of multiples have triple the divorce rate. I was thinking we were going to beat that. I don't know if I can say that anymore." The Gosselin's divorce in 2010 was messy, and in 2019, Jon told Dr. Oz (via The U.S. Sun), "She did not want to be married anymore... because I didn't want to film anymore. I wasn't part of the business model anymore. The network thought I was nuts. They actually hired me a therapist and a psychiatrist."
The show transitioned to "Kate Plus 8" without Jon, but in 2011, "Kate Plus 8" was canceled. In reality TV tradition, Bustle reported that TLC brought the series back to life in 2014. The reality show hobbled until 2017 when it was gone for good. In the years after reality TV fame, Jon and Kate kept making headlines for all the wrong reasons. 
Recently, People reported that Kate Gosselin will return to reality TV in 2023, but it isn't what you'd expect.
Kate Gosselin will star in Fox's 'Special Forces' competition
Kate Gosselin is returning to reality TV starring in FOX's "Special Forces: The Ultimate Test" competition show. In Touch Weekly reported that in the show, Gosselin will compete against 15 additional celebrities, using training tactics from the Special Forces. According to the outlet, while there are no eliminations on the Fox reality show, contestants must last until the end without quitting. In a "Special Forces" teaser, Gosselin gets a bag pulled off her head, revealing the mom of eight sans makeup with her hair in a braid.
The new FOX show is another world for the OG reality star. When she starred in "Jon & Kate Plus 8," even Gosselin's hair was famous. In 2009, the mom of eight told Entertainment Weekly, "My hair stylist gets calls from all across the country." On the "Special Forces" website, Fox President Bob Wade explains the show offers a "glimpse into the most intense training in the world and gives a taste of the grit and bravery our armed forces show on a daily basis." According to the show's website, other celebs Gosselin is competing with include Jamie Lynn Spears, "Real Housewives" Kenya Moore, ex-Donald Trump executive Anthony Scaramucci, singers Montell Jordan and Mel B, and others.
Ex-husband Jon Gosselin is not impressed by Gosselin's new gig. A source close to Jon told In Touch Weekly, "Reality TV is her bread and butter, and this show is no different."