The List Survey: Which Is Your Favorite Style Of Sunglasses?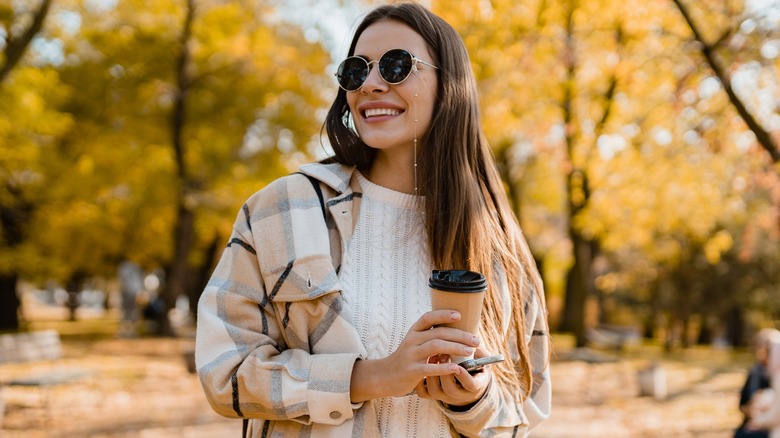 Maria Markevich/Shutterstock
There are some accessories that we love no matter the season — whether it's winter, spring, summer, or fall when the sun is out, our sunnies are on. Sunglasses are the perfect accessory that elevates any outfit while protecting our eyes from unwanted rays.
Sunglasses can be traced back to 12th century China, formed from "a crude slab of smoked quartz that was made to block out the light from the sun," per Glasses History. Talk about a heavy statement accessory! The glasses with tinted lenses that you know today were invented in the 18th century by James Ayscough, who experimented with different colored lenses to protect the eyes from sunlight. Sunglasses became synonymous with fame and glamour thanks to Hollywood starlets of the roaring 20s, and have been a fashion favorite ever since. 
These days, you can buy a pair of sunglasses in just about any shape and color you can think of. To find out which sunglass styles are totally trending, The List conducted a survey asking 558 people, "Which is your favorite style of sunglasses?"
This trendy pair of sunglasses you'll want as soon as summer returns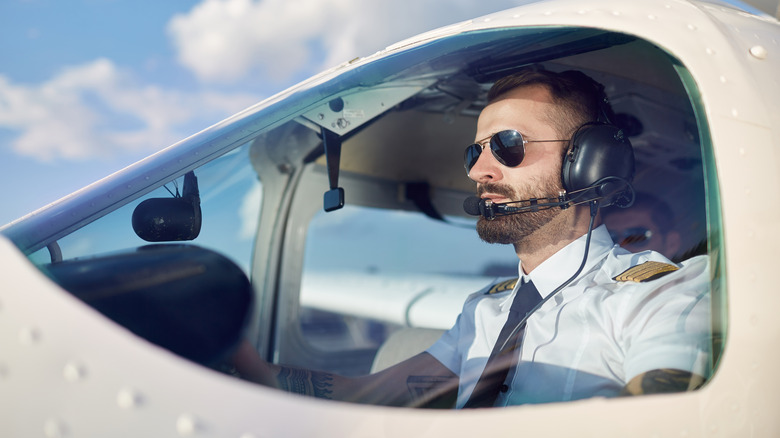 begalphoto/Shutterstock
According to The List's survey, the most popular style of sunglasses is a pair of aviators! With over 35% of the vote, this popular style was named after the pilots of World War I who needed full protection from the bright sun while flying their planes. Per Tulliani, a manufacturer found that the teardrop style perfectly protected their eyes from the sun no matter what direction they were flying. Opt for these sunglasses if you want to achieve the perfect Tom Cruise a la "Top Gun" cool guy vibe.
In second place with 20.43% of the vote were round sunglasses, another classic pair that looks great on just about anyone. You may recognize the style made famous by singer John Lennon, whose round-rimmed glasses became a part of his signature look.
Wayfarer sunglasses followed close behind with 19.53% of the vote. According to Gentleman's Gazette, Wayfarer frames look great on those with "oblong, oval and round face shapes." Square (17.2%) and cat eye (7.53%) shaped glasses are two more popular styles that make a bold fashion statement when paired with the right outfit.
Do sunglasses really protect your eyes?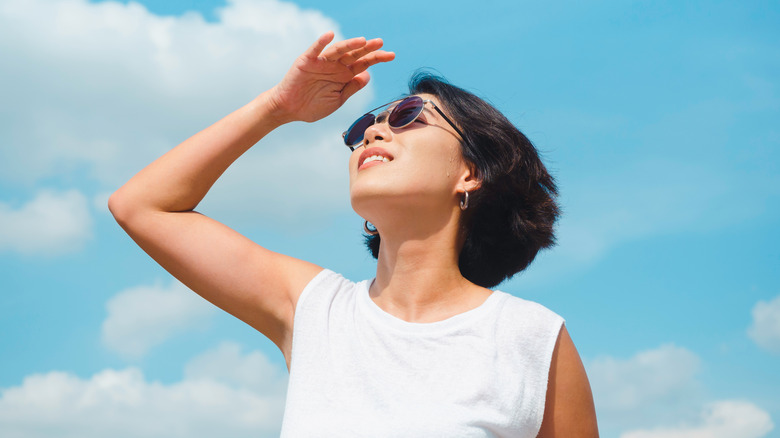 tete_escape/Shutterstock
We love how fashionable a good pair of shades can be, but do we really need to wear sunglasses when it's sunny out? Experts say it's a good idea. According to WebMD, the ultraviolet (UV) radiation from the sun can be harmful even when it is cloudy outside. Your eyes and skin are particularly sensitive to UV rays, so wearing sunglasses and sunscreen is recommended when you are outside. Time reported that too much exposure to UV rays can raise the risk of age-related blindness and eye cancers. To make sure your sunglasses are really protecting your eyes, make sure they are labeled with UVA and UVB protection — wearing dark sunglasses that have no protection labels can actually do more damage to your eyes.
While all styles of sunglasses with proper UV-blocking lenses will provide some protection from the sun, one study found that larger sunglasses provided more protection overall than smaller ones. So when you're shopping for your go-to pair of sunnies next summer, consider the best sunglasses for UV protection — because you look great in all of them!