The Top 5 Best Sunglasses For UV Protection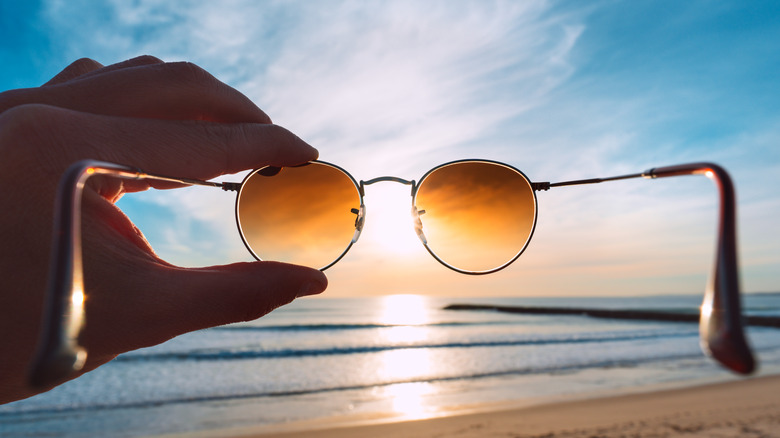 Shutterstock
Since sunglasses are as much a fashion accessory as they are protective eyewear, it can be tempting to buy a pair just because you like how they look on your face, you like the particular style, or you're a fan of the brand. But you can certainly ensure solid UV protection for your all-important vision without sacrificing style. 
The first tip is to select shades that give you 100% UV protection from both UVA and UVB rays (via Bustle). To ensure this is the case, look for sunglasses that have labels that say UV400 or labels that clearly state they offer both UVA and UVB protection. Polarized lenses can also help keep your eyes safe, as they help to reduce glare. 
Multiple publications have rounded up the best choices for sunglasses with the most comprehensive UV protection, and we're here to share our favorites with you. These pairs of shades have got it all: style, variety, and above all: superior protection for your eyes.  
Sunglasses with style and protection in spades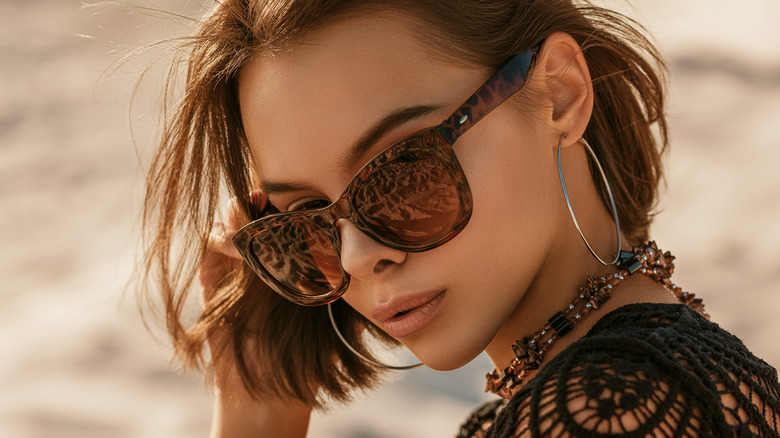 Shutterstock
First up are J+S Premium Military Style Classic Aviator sunglasses, which will only run you 17 dollars (via Bustle). Not only are aviators truly a classic look that can be worn with everything from a bomber jacket to a cocktail dress, but this particular pair also boast great protection and over 7,000 positive reviews on Amazon. They are 400UV rated and cut down on over 99 percent of glare. 
Second on the list are Cloudfield Wood Wayfarer Sunglasses, which feature 9-layer polarized lenses with a double UV blocking coating and polarizing film, which protect against both UVA and UVB rays (via Simply Sun Safe). They are made with real wood, making them super fashionable but better for leisure activities than sports. If you're looking for a pair to wear during sports, consider J+S Active PLUS Outdoor Sports Sunglasses. The lenses are polarized, anti-scratch, and feature a 400UV rating. 
Fourth on the list are GQUEEN Women's Oversized Polarized Metal Frame Mirrored Cat Eye sunglasses. Not only do these look fierce and fashionable, but they promise 100% UV400 protection and have polarized, anti-glare lenses (via Bustle). Rounding out our top five are the Elitera Brand Polarized sunglasses, which are particularly great for driving thanks to their full glare barrier and 100% UV400 protection. 
So there you have it! Five pairs of shades that will protect your peepers and look great.