Hairstylist's 3 Tips For Keeping Copper Hair Vibrant All Season Long
faestock/Shutterstock
We may receive a commission on purchases made from links.
Coloring your hair is a lot of fun. Perhaps you were born a brunette and always wanted to see how you'd look as a blonde, or you're bored of your blonde hair and want to go copper, the hottest hair color trend. Whatever your reason is for coloring your hair, it can make you feel like a whole new person who, according to Elite Daily, is "more confident [and] bolder."
Whether you're a DIY person who uses box dyes to color your hair or makes frequent trips to the salon for fresh color, there are pros and cons to both. For one, box dye is way cheaper, while salon coloring can easily cost you hundreds of dollars for upkeep. However, professional hair coloring has its perks for a good reason. "Coloring your hair at home may seem like a good idea due to its potential cost-effectiveness, as well as not having to take a trip to the salon, but keep in mind that this process requires taking fine-grained details into consideration that may not always be recognized by a client's eye," NYC-based colorist Mahshid Baghaei told Byrdie. However you choose to color your hair, you want it to look fresh and vibrant. 
Previously, celebrity hairstylist Marco Pelusi told us how to keep summer hair color looking fresh. Now, in an exclusive interview with The List, Jamie Wiley, a hairstylist and Pureology's Global Artistic Director, is telling us how to keep copper hair vibrant all season long.
Three tips to keep your copper hair vibrant all season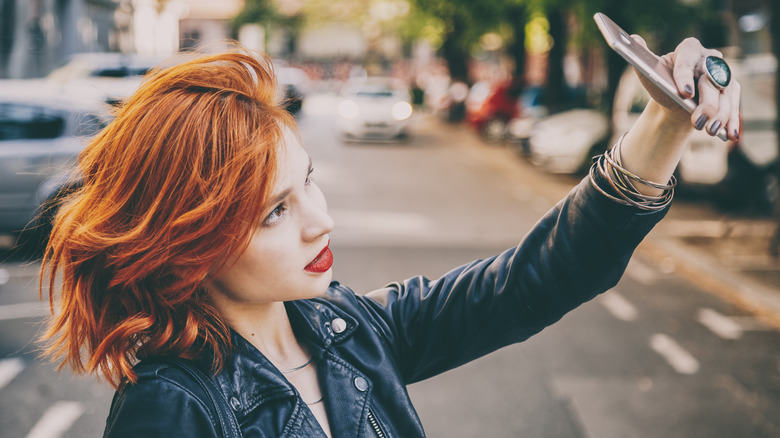 MS_studio/Shutterstock
You might feel like a million bucks leaving the salon with trendy copper hair and ready to take on the world, but with great hair color comes great responsibility. Your hair colorist did an amazing coloring job but for it to keep looking fantastic, you have to take care of it. Here are some helpful tips from Jamie Wiley, Global Artistic Director of Pureology.
Wiley told The List, "Haircare at home is key to keeping your copper hair vibrant. Using a sulfate-free shampoo and conditioner will extend the life of your color." Professional hairstylist Jennifer Korab told Real Simple that cleansing hair products with sulfates can "strip and dull your hair color." Sulfates aren't necessarily bad for your hair as their primary purpose is cleansing, but if you have colored hair, you might want to skip them.
Since you might go a few weeks or months before getting a color refresh, Wiley's second tip is to invest in an at-home hair gloss. "An at-home hair gloss is typically a semi-permanent hair treatment that adds shine and benefits the overall health and softness of your hair," Brad Mondo, Founder & Creative Director of XMONDO, told Elle.
The third tip is the water temperature. Wiley told us, "Use cool water when shampooing and conditioning to cleanse the hair and keep the cuticle closed." If you wash your hair with hot water, the color will fade faster (via New Beauty).
Best hair products for your minted copper hair
To maintain the color and vibrancy of your copper hair, you must take care of it. That way, it'll look fresher for longer without fading. Here are the products worth investing in to maintain that gorgeous copper hue.
First, you need a sulfate-free shampoo and conditioner. As hairstylist Jamie Wiley told The List, "I recommend Pureology's Hydrate or Hydrate Sheer (fine hair) to preserve the life of your color after the salon." This deeply hydrating shampoo-conditioner duo is color-safe and can moisturize dry, damaged hair bringing it back to life.
Wiley speaks highly of Pureology Top Coat + Tone Copper, Red, or Gold for hair gloss, which "last up to 6 washes and pack a punch of reflective shine to the hair." With 4,000 likes on Sephora, a reviewer raved, I had my hair dyed a dark brown, but it was starting to fade to the blonde underneath- I used this, and it made my hair a vibrant dark copper! I love it."
After washing your hair, Wiley recommends using a pH-balancing spray like Pureology's ColorFanatic to close the cuticles and seal in color. Your hair cuticles have to open to allow the hair color to saturate and color the hair, and they have to close so your hair looks healthy, per Salon Velluto.