Here's The Copper Hair Trend You're About To See Everywhere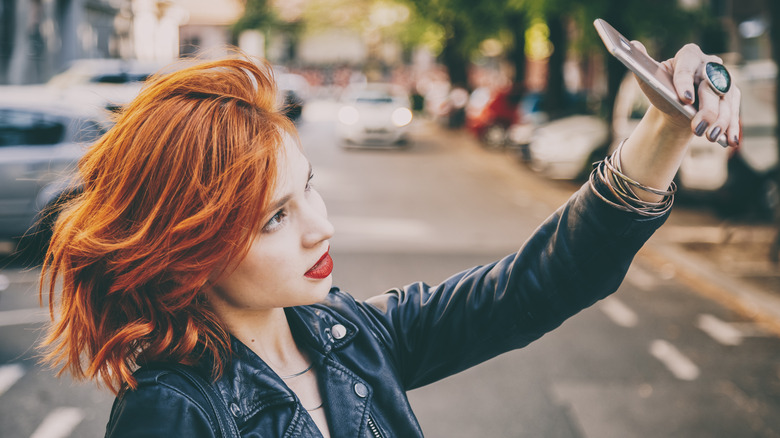 MS_studio/Shutterstock
The hair color that's taking the internet by storm this summer is vibrant, flirty, and fun — all the things we strive to be this hot girl summer. With all we've been through over the past few years, many of us are looking for a way to shed our quarantine coats and commemorate a new beginning. What better way to show off our growth than with a new look? It's time to head to the salon and celebrate the start of summer with a fresh color. For your consideration, we present: copper.
Stylists agree that this trend is on its way up. Jeremy Tardo told Byrdie, "Auburn hair is huge right now." They claim that it's a great way to bring warmth and brightness to hairstyles, especially with the sunny months ahead. Copper is "the sassier sister to auburn and is the brighter and bubblier sister to burgundy," according to colorist Mark Mileti (via Byrdie). Copper hair has its grips on influencers all over TikTok, too, who are serving up the red-hot inspo we need.
Copper is this summer's hottest shade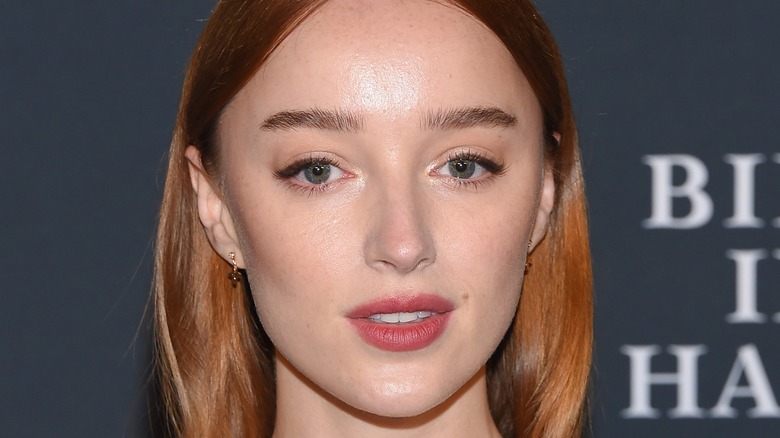 DFree/Shutterstock
Celebrities everywhere have been spotted serving up vibrant shades of copper hair, giving us plenty of variety to model our transformation after. While it seems like copper sparked our interest out of nowhere, the trend has been slowly burning since "model Gigi Hadid suddenly dyed her hair a pumpkin-esque hue last year," according to L'officiel.
While copper isn't a brand new trend, its resurgence is coming in hot. Kendal Jenner, Phoebe Dynevor, Scarlett Johansson, and Lizzo have all hopped on the copper train (via Byrdie). Some celebs claim copper as their signature color, like Isla Fisher and Emma Stone, while others are just trying it on for the summer. According to L'officiel, Euphoria co-stars Barbie Ferreira and Sydney Sweeney have both adopted copper hair, flaunting different shades of the gorgeous color. SZA was also spotted showing off a copper afro, proving that the shade looks absolutely stunning on different textures of hair.
Maintaining copper hair isn't an easy task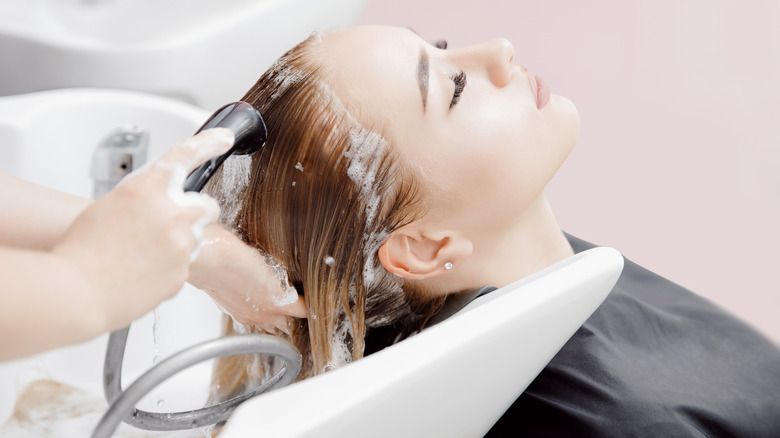 Parilov/Shutterstock
According to Shutterstock, copper's hue is a blend of red and brown, so it's not strictly a shade of red. This means it can blend into lots of different hair colors and textures, making a wide variety of glamorous shades to flaunt all summer long. While it's recommended by Allure that you find a stylist you trust and have them help your hair transition, you can give your hair a copper makeover at home. New York City-based hairstylist Rachel Bodt told Allure, "a good rule of thumb is to choose [a shade of copper] that has similar undertones to your skin."
Before you write off another hair trend because you "just can't pull it off," look a little closer at the diversity copper has to offer. According to Byrdie, "Copper has a wide range of tones, from strawberry blonde to auburn to brighter shades, which means it works well with a variety of skin tones." But because of its vibrant color, it may fade quickly and takes a bit of maintenance to sustain the bright shade. Allure recommends using color-safe hair products and not washing your hair every day — which is a great hair hack for all of us who want to maintain healthy, happy locks.