The Crown Will Reportedly Cover Charles And Camilla's Infamous 'Tampongate' Scandal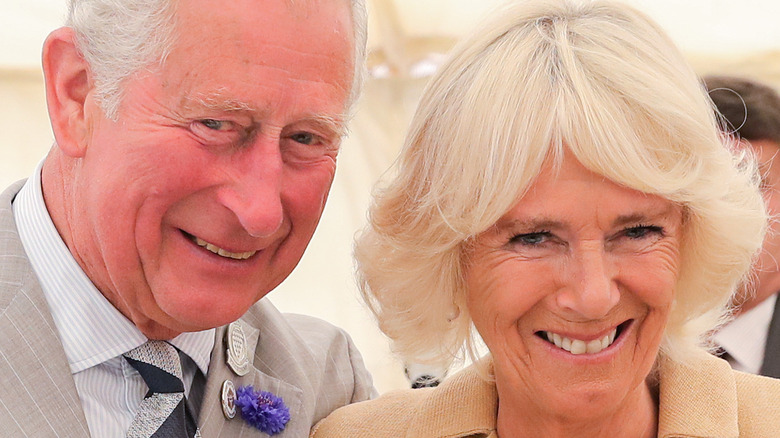 Chris Jackson/Getty Images
As the new reigning monarchs, King Charles III and Camilla, the queen consort, are rising to their roles with dignity and authority. Since the heartbreaking death of Queen Elizabeth II in September 2022, they have presented a united front and a determination to move forward. 
But when the cameras aren't on, Charles and Camilla are said to be more emotional, more fun-loving, and more socially conscious than their positions would indicate. They're also clearly very much in love — which, in their case, is problematic. While some royals fans are happy that the king found his soulmate, others still resent the fact that the two carried out a not-so-secret affair while (then) Prince Charles was still married to Princess Diana. At a time when the king would rather have the public focusing on his professional accomplishments, his personal scandal is about to be dramatized before millions of TV viewers.
The upcoming Season 5 of "The Crown" might have King Charles shaking in his boots for its portrayal of his love life. Per Variety, the drama series is rumored to be devoting an entire episode to the bombshell 1995 interview Diana gave to the "Panorama" talk show in which she pointedly referred to her marriage as being "crowded" by a third person. Now comes word that an even juicier detail of the Charles and Camilla story will be featured, which could make the "Panorama" episode look mild by comparison.
The Tampongate call will be played for sympathy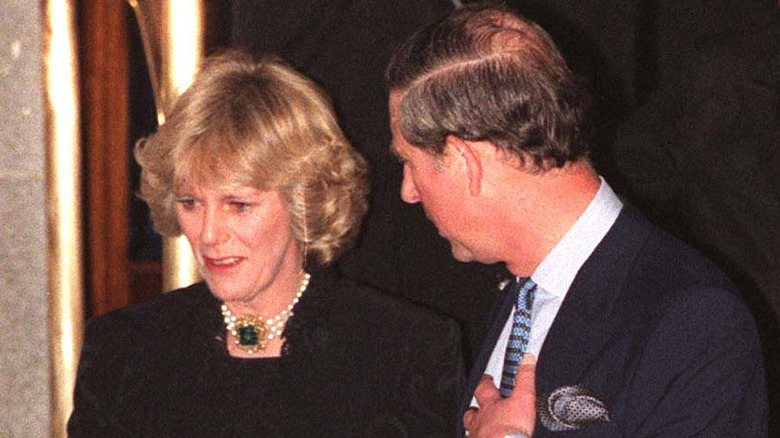 Uk Press/Getty Images
Back in 1989, when King Charles was still a prince and wed to Princess Diana, he and Camilla Parker Bowles had an intimate phone conversation in which Charles joked about being reincarnated as "God forbid, a Tampax," which Camilla called "a wonderful idea" (via the Daily Mail). Unfortunately for the separated lovers, an amateur ham radio operator happened to tune in to the phone signal, recorded the call, and sold it to a tabloid. "Tampongate" became a huge embarrassment for the prince and his family, but Diana reportedly enjoyed seeing her ex squirm.
That infamous chapter of the king's life is going to feature in the upcoming Season 5 of "The Crown," which is making waves for the drama involved. This latest revelation isn't likely to change anyone's minds. However, according to The Telegraph, the Tampongate phone call will be handled sensitively, "to show the genuine affection between the now King and Queen Consort and elicit sympathy at the intrusion into their private lives."
Dominic West, who has taken over the role of Charles from Josh O'Connor, agrees. In a recent interview with Entertainment Weekly, he explained, "I remember thinking it was something so sordid and deeply, deeply embarrassing [at the time]," he said. "Looking back on it ...[w]hat's really [clear now] is how invasive and disgusting was the press's attention to it. ... I think it made me extremely sympathetic towards the two of them and what they'd gone through."