The List Survey: Which Kate Middleton Wardrobe Staple Is Your Favorite?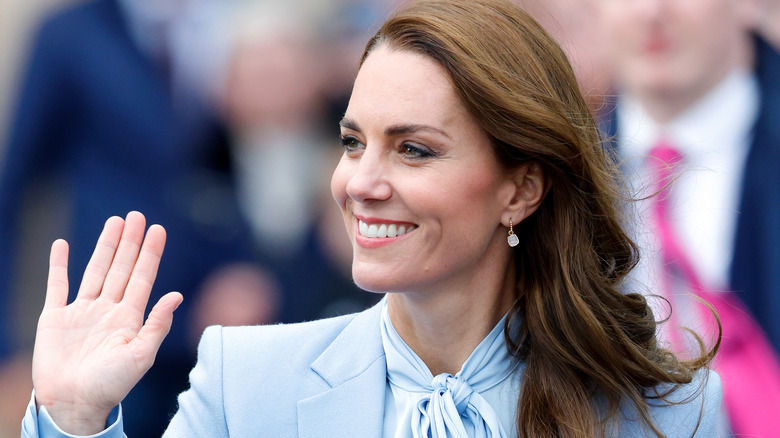 Max Mumby/indigo/Getty Images
The royal family is no stranger to fashion. Over the years, we have seen some iconic looks from the stylish residents of Buckingham Palace. Some of our favorite royal fashion moments come from Kate Middleton. From her iconic Alexander McQueen wedding gown to an elegant tweed Gucci dress, the Princess of Wales knows how to turn heads and rock an outfit. Kate Middleton has definitely worn some expensive outfits, but not every day calls for a gown and a tiara — even the most glamorous royals need some wardrobe staples! We wouldn't dare call the princess an "outfit repeater," but she has definitely learned what styles look best on her and are appropriate for most occasions.
To find out which of her go-to styles fans love the most, The List conducted a survey on YouTube, asking, "Which Kate Middleton wardrobe staple is your favorite?" With over 4,000 votes, one wardrobe staple is a clear winner.
Over half of fans think this wardrobe staple is fit for a princess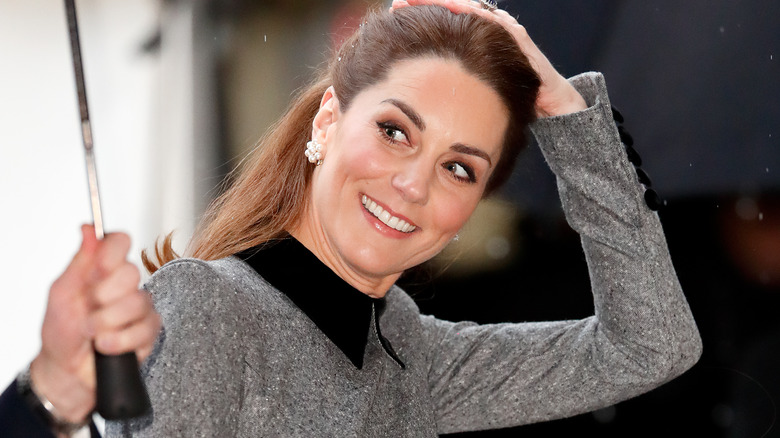 Max Mumby/indigo/Getty Images
With a princess as glamorous and beloved as Kate Middleton, it is hard to choose a favorite look. Voters agreed, taking to the comment section on The List's survey to express their love for the Princess of Wales. One commenter said, "Princess Catherine could wear a potato sack and rock it! Absolutely everything looks impeccable on her." While we totally agree (and would love to see what a potato inspired fit would look like on Kate), one style stood out amongst fans as the most iconic Kate Middleton fashion staple.
At 55%, voters said that the Princess of Wales' coat dress is her best go-to style. According to Town & Country, Kate Middleton has rocked a coat dress in just about every color, and looked incredible each time. The coat dress style cinches at the waist and flows down to the hem just below the knee, creating a perfectly elegant silhouette. The various styles of collar and button detailing adds an extra flair that keeps the style fresh and fashionable. While Kate Middleton's style might change when she becomes queen, we hope the coat dress is here to stay.
More fan favorite styles from the Princess of Wales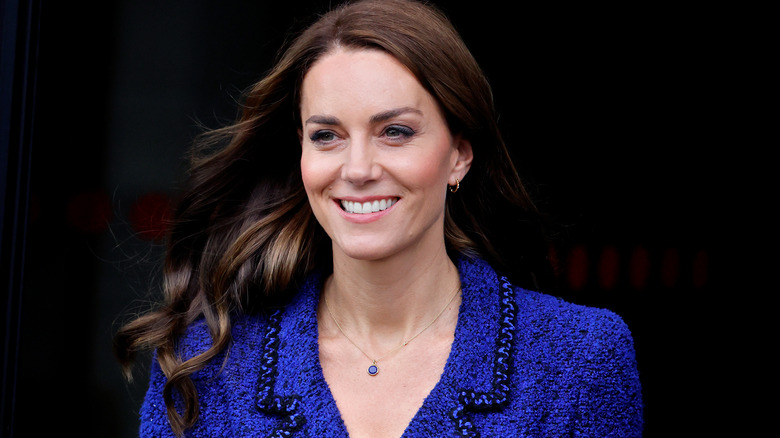 Max Mumby/indigo/Getty Images
Sure, when you hear the word "princess" you might think of fancy dresses and gowns, but even Kate Middleton's casual looks scream elegance and good taste. The List's survey voters seem to agree, because 20% said that jeans and a blazer are their favorite of Kate's wardrobe staples. Per Harper's Bazaar, the princess looked effortlessly stunning at the Natural History Museum in London, pairing some perfectly fitted mom jeans with a salmon colored blazer and white top for a chic yet casual look.
With 16% of the vote, another favorite wardrobe staple Kate has worn is an A-line dress. According to MasterClass, A-line dresses are "form-fitted in the bodice and flare out at the waistline," creating an elegant silhouette that is flattering on practically all body types. The princess looks incredible in an A-line dress amongst an A-list crowd, having worn the style to many royal events over the years.
An outfit is never complete without accessories, and fans of Kate Middleton's style know it. The princess's iconic nude heels (6%) and black tights (3%) stood out amongst voters as some of their favorite staple accessories. Kate Middleton's timeless style beautifully blends the elegance of a princess with the trendy fashion of today, making her a royal style icon. One voter said it best, "The Princess of Wales looks amazing in everything."