Meghan Markle Reportedly Asked A Royal Family Member To Be On Her Podcast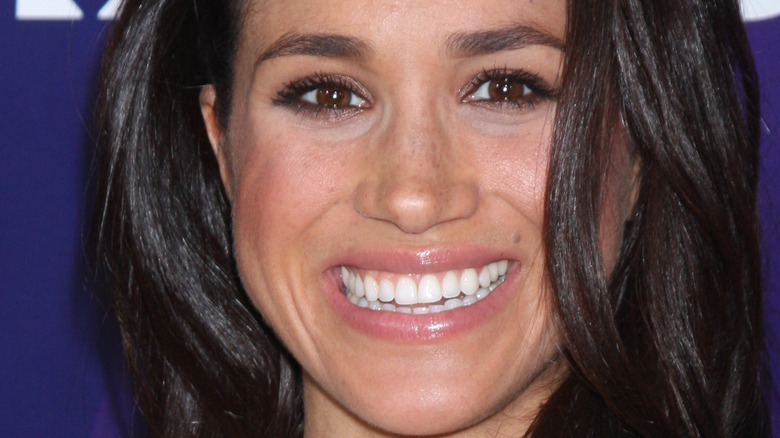 Kathy Hutchins/Shutterstock
Meghan Markle, the Duchess of Sussex, launched her podcast "Archetypes" this year after signing an extensive deal with the streaming platform Spotify. She and her husband, Prince Harry, Duke of Sussex, signed the deal over a year ago, but it wasn't until this summer that the podcast finally launched, via The Verge.
The Duchess has used the "Archetypes" podcast as a way to share important information occurring in her life. She's talked about scary situations, like a fire in her son Archie's room while they were away on royal duties, via Us Weekly. She's told stories about her time dating Harry, as well as how her time on "Deal or No Deal" made her feel about her self-worth.
However, it seems she has strayed away from talking much about the United Kingdom's royal family. While some fans thought she may have taken a dig at her in-laws during an episode, she's stayed rather quiet on the family as a whole. Now, we are learning that she may have wanted to open up the conversation by having a special guest from the royal family join her.
She may have this royal guest on her show
Chris Jackson/Getty Images
Meghan Markle, the Duchess of Sussex, has a different woman guest on her "Archetypes" podcast each week to discuss various issues. Though she has typically strayed away from talking about the royal family, she could possibly be joined by her sister-in-law for a future episode, via Express UK.
In a video posted to YouTube, royal expert Neil Sean claims he spoke with a source that confirmed Meghan had asked Catherine, Princess of Wales, to chat with her on the "Archetypes" podcast. "While [Meghan] was over here, staying in Windsor out at their cottage Frogmore, she put out a request to the Princess of Wales, according to that good source, to appear on a forthcoming episode of 'Archetypes,'" shared Sean. "Apparently she could have the whole episode to herself, how generous, and, as ever, we have to say allegedly."
He continued, "It, kind of, makes sense if you think ... in Meghan's eyes, this is because she based it along the idea of two duchesses, as they then were at that point, and of course talking about how difficult it is to run a family, work-life [and] work balance." Adding, "We're not quite sure how this was relayed to the beautiful Princess of Wales, but according to Meghan, she felt they were progressing. If you recall back with that particular interview, she claimed that she was willing to forgive and move forward."