Nail Art That Is Perfect For Thanksgiving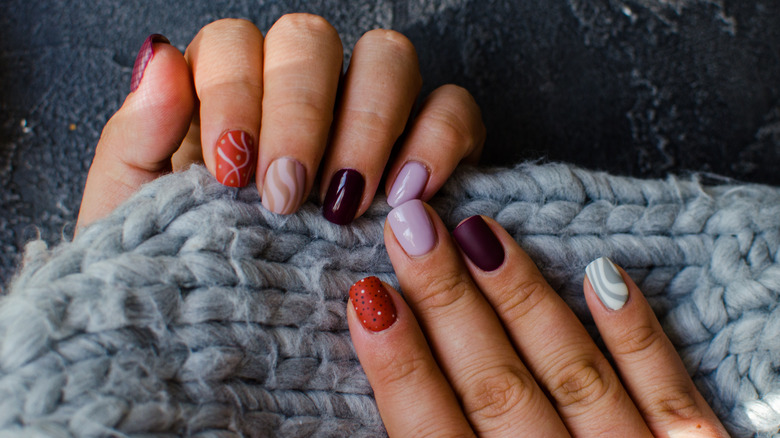 Anastasiia Holubieva/Shutterstock
The fall months bring hues of browns and reds, lots of cozy sweaters, and of course, the Thanksgiving holiday. America's modern version of this celebration mostly centers around large meals, family gatherings, football games, and Black Friday shopping, per EF Academy, though it's important to note the holiday's harmful legacy, per Smithsonian Magazine.
A very fun way to add to your holiday celebrations is to paint your nails with a fall-inspired design. Nail art has been popular for decades, owing much of its creativity to innovative Black artists of the '80s and '90s, per Isla Berlin, but it's also experienced something of a resurgence in recent years, per American Salon.
In this way, there are loads of autumnal and Thanksgiving-themed nail art looks to take inspiration from this fall. Whether you're going for a simple look that gives hints of fall or a bold and intricately-themed design, there is bound to be the perfect nail art for your planned festivities.
Subtly autumn nail art looks are great for Thanksgiving
If you want a nail design that works for both the fall season and the Thanksgiving holiday, then you should look for something that gives subtle autumnal vibes, such as the featured look from Instagram user @lolo.nailedit.
The '70s-inspired design of this look paired with its purple, orange, and yellow hues puts the perfect twist on the typical autumnal color palette. Not only would this art work great for the Thanksgiving table, but it goes generally well with the entire season.
If you want something a little more classically fall, then check out this look from Instagram creator studioalicelily. These trendy tortoiseshell nails fit perfectly with the more traditional oranges and browns of the season also featured in the look, evoking a thoroughly autumnal atmosphere.
TikTok user @heluviee shows off a swirly chocolate-colored look for anyone interested in the abstract nail design trend. The utilization of white space in this design really elevates it, making it sure to impress at your Thanksgiving gathering.
Of course, you can always take inspiration from these looks, but customize their fall colors to fit what looks best on you.
All-out festive nail designs are truly fitting for the holiday
If you're wanting something more bold and festive, then there are plenty of looks to choose from. The featured nail art from Instagram user @nailsbyoliviajean shows how both the aesthetics of fall and the holiday spirit can be combined to accomplish a truly Thanksgiving look.
Of course, if you're really wanting to go all out, then you can paint Thanksgiving turkeys on each of your nails, as done by the TikTok page @lightslacquer. The water marble background on these nails really elevates the entire design and gives them the perfect fall vibes.
TikTok page @colorclubnaillacquer features a super cute design that includes an accent pumpkin nail, which is great for a holiday associated with pumpkin pie. Paired with sparkles and red-and-white polka dots, this is definitely a fun and festive nail look.
While the final look from @sweetnailsbysab doesn't feature any overt Thanksgiving imagery, the detailed autumn leaves and acorns design is thoroughly autumnal. The orange and brown polish on the surrounding, almond-shaped nails truly bring the look together.