Tips For Designing A Maximalist Bedroom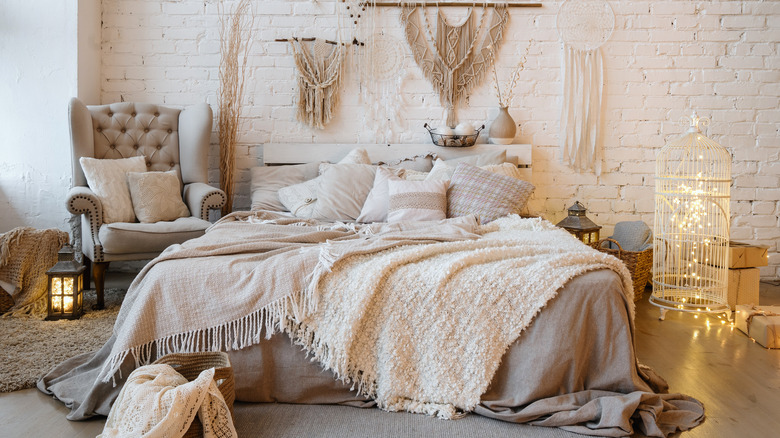 Brizmaker/Shutterstock
Maximalism is a trend as old as time, but it's been particularly popular over the past few years, via The Spruce. The days of entirely white rooms that look like no one lives there have made way for spaces with every inch decorated and packed with style. Younger folks have been embracing this. Dawn Cook, co-owner of BLDC Design told The Spruce, "Maximalism became a way to define an eclectic home with a chaotic array of colors, prints, objects, and textures in a single space." Cook says that with the help of so many folks sharing decorating inspiration online, "consumers fell in love with overly saturated and overly appointed images of rooms in a kaleidoscope of design."
If you, like so many of us, love the maximalist vibe, your bedroom can be a great place to incorporate this style. Who doesn't want their bedroom to feel cozy, lived-in, and unapologetically chockfull of their own personal style? Since maximalism is all about overflowing your space with things you love, there are plenty of ways to make maximalism your own and enhance your room.
Pack in your style
Sergiophoto/Shutterstock
Maximalism is nothing if not a bold style. It's all about taking a more is more approach to your decor and mixing and matching colors and pieces to make a major statement, via Shelterness. Combining different textures can be a great place to create extra visual interest, and this can be easy to achieve in a bedroom. Try popping in throw pillows, blankets, and bedding in different fabrics and patterns on your bed for the perfect mix of maximalist and cozy. Maximalism requires some playfulness and outside-the-box thinking during your design process. Still, that doesn't mean throwing tons of different elements together will always result in an aesthetic you love. Using one theme to weave together the varying elements of your room is sure to create a space that's both bold and put together, via Vevano.
One of the best parts of embracing a maximalist vibe is being able to combine tons of elements you love all together to create a space that's overflowing with your personal style. Don't be afraid to get a lot of art and pack your walls with it; you may even consider creating your own gallery wall, via HGTV. The same goes for tchotchkes, trinkets, and other décor. Let your shelves and surfaces be filled with decorative pieces. When all else fails, add in a new coordinating print or even an accent wall of wallpaper.
Achieving maximalism with color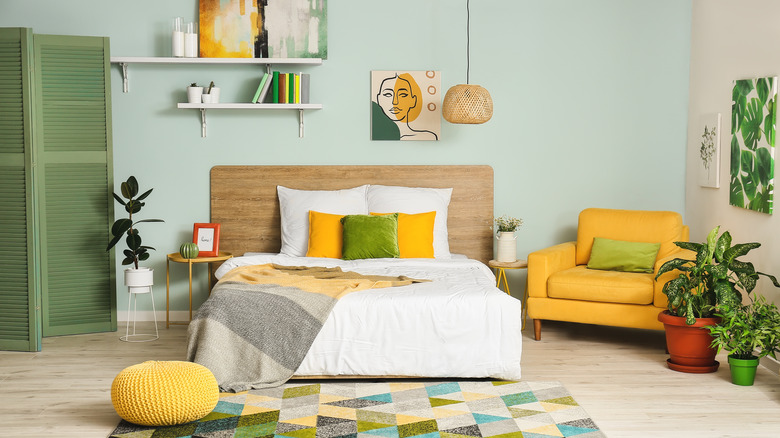 Pixel-Shot/Shutterstock
Keep in mind when playing with color that colors do have an effect on our mood, and they can even affect your ability to fall asleep. Darker colors can be more calming, so taking your bold color choices a deep, dark route can be a great way to achieve maximalism where you sleep, via Shelterness. Choosing two or three colors you love and using them as your color palette is the best way to go bold without overwhelming the space, via Vevano. This way you can have accent colors and pieces and a lively space without feeling overwhelmed when you walk into your room. Achieving a maximalist bedroom in a muted color scheme is a great option, too. Instead of mixing colors, focus on your patterns and textures.
If you want a maximalist bedroom but still feel stuck with your decorating, think of what designer, Isabel Ladd, told The Spruce to get your creative juices flowing: "Joy is a fundamental element of maximalist design because the vibrancy and energy that hits you when you walk into a well-decorated maximalist space should induce happiness. My motto: You can't control everything, but what you can, let it bring you joy." Happy decorating!