Why Interior Designers Can't Wait To Ditch White Kitchens In 2022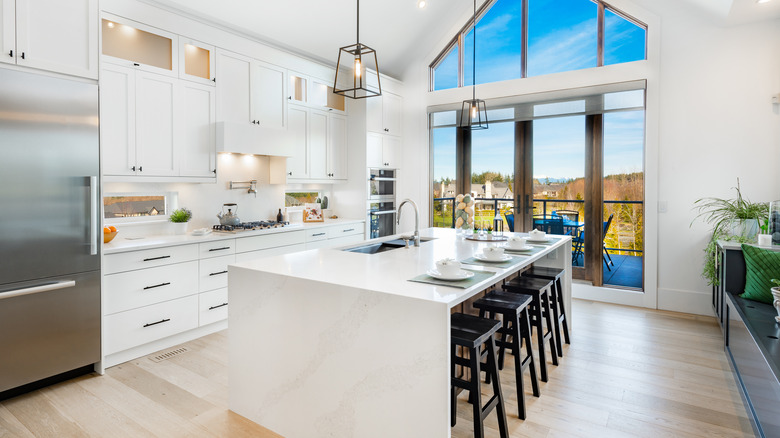 Sheila Say/Shutterstock
Interior design trends can change rapidly. What is considered in style one minute could be out of date the next. Every design period is marked by significant changes in design philosophy, and the changes from one trend to the next can range from subtle to seriously noteworthy. Lonny explains that design trends through the years have come quite a long way from where they were at the turn of the century.
For example, the early 1900s saw the rise of the Craftsman-style homes that favored simple, handcrafted designs and drew inspiration from the anti-Industrialization movement that began in the 1880s, according to Floor Coverings International. By the time the 1960s rolled around, popular design trends favored rounded shapes and unexpected pops of colors like chartreuse, berry, and burnt orange. The last few years have seen lighter, more neutral colors come into popularity, especially in the most commonly used areas of our home — like the kitchen.
White kitchens reigned supreme for a while, but they might be on the way out.
Experts suggest that new trends are more colorful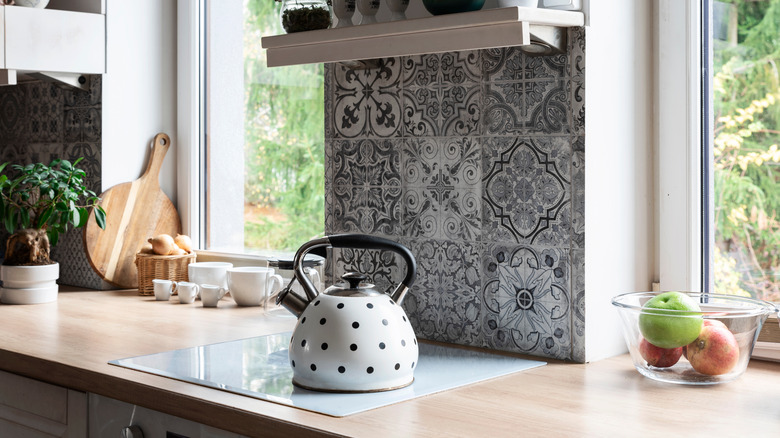 liloon/Shutterstock
You need not look any further than your favorite Pinterest board or design magazine to find pages and posts full of the most popular kitchen features and trends. Beautifully coordinated, monochromatic white and neutral kitchens have dominated in recent years, but experts say this trend could soon be coming to an end.
In an interview with Homes & Gardens, Marian Meacham of Marian Louise Designs explained, "I see the all-white kitchen fading away as homeowners choose to bring in more color in the millwork as well as the kitchen countertops." Countertops in a kitchen take up a lot of real estate and tend to dominate the visual aspects of the space. According to Apartment Therapy, countertop trends in the coming few years will begin to skew towards colorful mixed mediums being combined to create the structural elements of design. For example, combining materials like quartz and hardwood to fabricate a kitchen island.
Building off this new eclectic influence, we may also be seeing things like colorful inlay work and repurposed antiques combined to create some of the best home decor trends of this time. Because of changing aesthetics, trend forecasters are predicting that color will begin to infiltrate designs and do away with the concept of an all-white kitchen
White will still have a role to play in interiors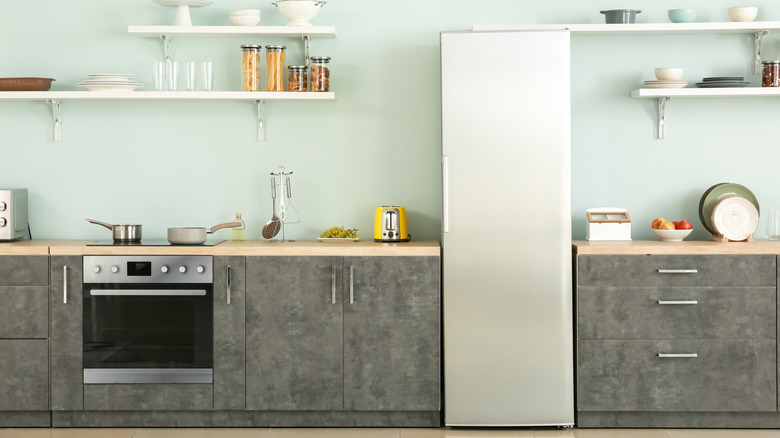 Pixel-Shot/Shutterstock
White kitchens, and monochromatic design in general, certainly still have their place in the wide world of interiors. White is known as a color that provokes feelings of happiness, peace, and all-around good vibes, according to House Logic. As you could imagine, with so much of the workforce transferring their daily operations to home offices, those characteristics are sought after by many.
The color white is also synonymous with the words clean, fresh, and sanitary per HGTV. For a kitchen, you'd be hard pressed to come up with a better branding angle. After all, those are all words you'd like to associate with a room used primarily to prepare food. The color white will no doubt always be a popular staple for interiors. It provides a great backdrop to layer upon; however, current trends suggest that those layers will come in the form of contrasting colors mixed with unique textures.