Inside The Newman Brothers' Many Love Triangles On The Young And The Restless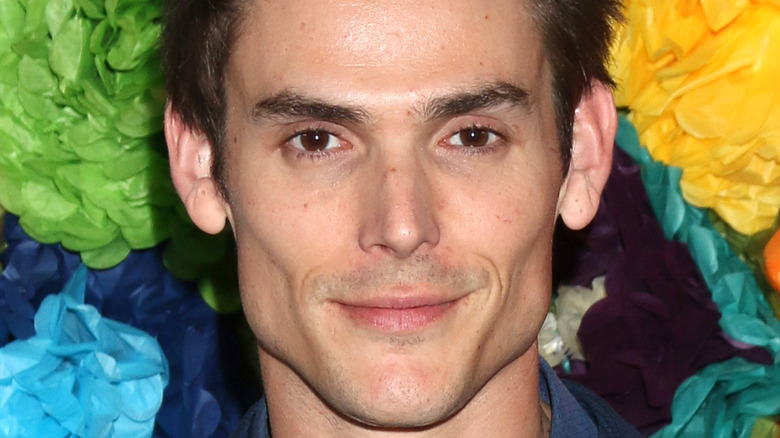 Kathy Hutchins/Shutterstock
Although love triangles are a trademark of "The Bold and the Beautiful," its sister soap "The Young and the Restless" also has its fair share of messy relationship drama. And nobody on "Y&R" does chaotic drama better than the Newman family. For one reason or another, the Newmans are constantly at war. Sometimes it's over the family business, but the root of their troubles often stems from meddling in each other's relationships. However, brothers Adam Newman (Mark Grossman) and Nick Newman (Joshua Morrow) take that to the next level, frequently finding themselves at odds over the same woman (via Soap Central).
The first individual at the center of their never-ending blood feud was Sharon Collins (Sharon Case), but she is far from the only unlucky lady finding herself in the middle of these brothers. The embattled siblings have also sparred over Sage Warner (Kelly Sullivan), Chelsea Lawson (Melissa Claire Egan), and Sally Spectra (Courtney Hope).
Sometimes the feelings they share are valid, but on many occasions, it feels as if they only fight to spite each other — even if they might not want to be with a particular woman, they don't want the other to be either. If their recent battle over Sally is any indication, Nick and Adam are destined to spend their lives dueling for affection for the same woman forever.
Nick and Adam both have children with Sharon and Sage
Sharon Collins is the classic girl next door that is always around to listen to someone in need (via Soaps in Depth). However, her capacity for empathy doesn't always have great results. Sharon's known Nick Newman since high school, and they share two children, Faith and Noah Newman. But despite Sharon's connection to Nick, there's something about Adam Newman that always draws her back in.
Even though Sharon knows her involvement with Adam tends to bite her in the end, somehow, she can't resist him. On the other hand, Nick tends to swoop in as a white knight, desperate to save Sharon from Adam. Any time Adam gets too close to Sharon, Nick isn't too far behind to intervene and reinsert himself into the picture, per Soap Central.
In another love triangle, Adam and Nick both had adoration and affection toward Sage Newman (Kelly Sullivan) in the past. Sage was instrumental in helping Adam recover after he was presumed dead. However, once Sage came to Genoa City, her attraction to Nick was undeniable, and the two married. Sage passed away in a tragic car accident in 2016; however, she left a bombshell in her will, revealing that her son with Nick was actually fathered by Adam. Eventually, Adam pursued custody of the little boy, but Nick triumphed.
Chelsea and Sally are still caught up in the Newman brother's rivalry
During the time Adam Newman was presumed-dead, Nick Newman and Chelsea Lawson got together (via Soap Central). It didn't take long for Adam to throw a wrench in their happiness when he turned up alive, though. Adam and Chelsea share a son, Connor Newman, which connects them more deeply. Despite Nick's continued efforts to keep Chelsea for himself and protect her from heartbreak, she ultimately returned to Adam. However, Adam's bond with Sharon Collins proved too strong, and Chelsea's paranoia caused her to end their relationship.
More recently, the tension between Adam and Nick stems from their mutual feelings for Sally Spectra. Sally initially became Adam's girlfriend after working closely with him at Newman Media, per Soaps in Depth. However, when things went south at the company, Adam broke things off in an effort to save Sally's job. The unexpected end of their relationship devastated Sally, but Nick quickly swooped in to lend an ear to the fiery redhead.
Nick and Sally's chemistry was off the charts. They slept together in the Newman offices and have been involved ever since — though many "Y&R" fans are outraged by the relationship. Adam has gone out of his way to win Sally back from his brother, but despite his attempts, she seems content seeing where things go with Nick (via Daytime Confidential).