Why You Should Start Adding Marula Oil To Your Skincare Routine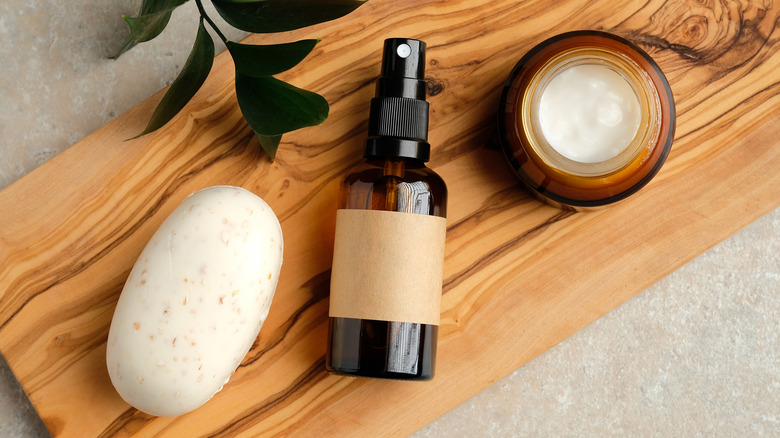 Savanevich Viktar/Shutterstock
We may receive a commission on purchases made from links.
When delving into skincare for the first time, many people avoid the use of facial oils in their routine. They may associate the act of applying a facial oil to the skin as resulting in greasy skin, particularly for people with oily or combination skin. For those with acne-prone skin, the thought of applying an oil to their skin may make them imagine all the pesky pimples and blemishes that may pop up as a result.
While not all oils will yield that result, their hesitation makes sense. Some oils, like coconut oil or cottonseed oil, are comedogenic, meaning that they can result in clogged pores, which can lead to breakouts, per Beneficial Botanicals. Some oils can be strong or inflammatory, so they won't work well for people with sensitive skin, either.
Despite the fact that some oils can have an adverse effect on skin, not all oils will cause harm. Here are a few that we know of!
What is marula oil?
agungswan21/Shutterstock
Marula oil, is a rich, yet lightweight oil that can be applied to all types of skin per WebMD. Derived from the marula fruit trees in southern Africa, marula oil is extracted from the kernels and husks of the fruit, via Healthline. The oil is protein-rich and absorbable, making it great for both the skin and hair. Marula oil has a fruity and floral scent with a nutty undertone and is used in perfumes, body lotions, and soaps.
Thanks to the amino acids found in marula oil, it works to restore hydration to the skin and also has anti-aging properties, according to Cosmopolitan. It also has antioxidants like vitamin E and C, protecting your skin from UV rays and reducing the appearance of dark spots (it's not a replacement for sunscreen, though!)
If you have acne-prone skin, marula oil won't break you out even more. Not only is it noncomedogenic, but it's anti-inflammatory and has antimicrobial properties that can help to kill bacteria that causes blemishes, whiteheads, and blackheads.
Facial oils should be applied as the last step at night, right after moisturizer. During the day, apply them as your second-to-last step, right before sunscreen.
The best products with marula oil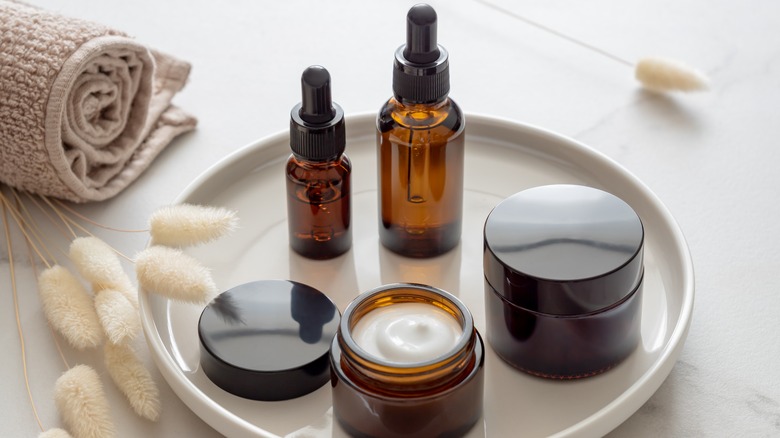 Irina Kvyatkovskaya/Shutterstock
The Ordinary 100% Cold-Pressed Virgin Marula Oil is a complete steal. The 100% marula oil is affordable and rich in antioxidants. It is unrefined and contains oleic and linoleic acid, locking in hydration and warding off dry skin. This oil is meant to be used after water-based products and before suspensions and creams.
The Forencos Wonderwerk Marula Cleansing Balm helps to remove makeup, sunscreen, and dirt without stripping your skin's moisture. The marula oil works with honey and propolis extract to hydrate and soften the skin while giving you a glow. With the anti-inflammatory properties of marula oil and honey, this balm cleanses the skin gently while calming redness and eczema on the skin.
Drunk Elephant's Umbra Sheer Physical Defense Sunscreen contains marula oil, which has antioxidants that help protect skin from the sun's damaging rays. It protects the skin and soothes it alongside the grape extract and aloe vera leaf extract in the sunscreen. Reapply every two hours to remain protected and stay moisturized.