Here's What People Are Saying About Haus Labs' New Foundation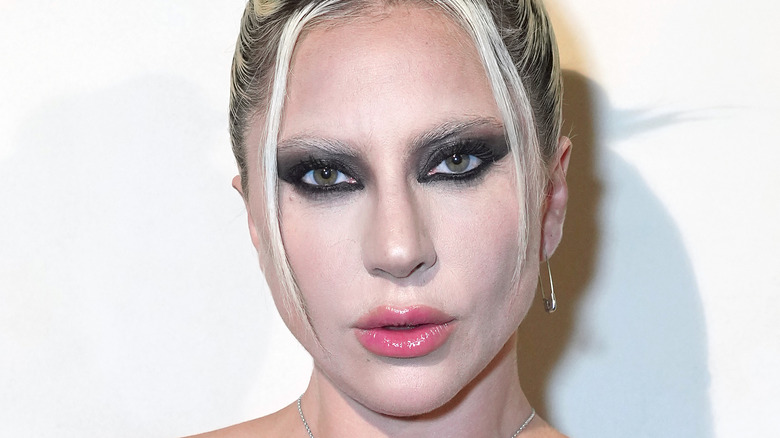 Kevin Mazur/Getty Images
Lady Gaga's Haus Laboratories makeup line wasn't an immediate hit, with some people even claiming it flat out failed. But in June of this year, the singer relaunched her collection, Haus Labs, according to a press release. Among the products that is getting a ton buzz? Her Triclone Skin Tech Foundation.
InStyle reports that the formula is made in Korea, and the company spent two long years perfecting what came to market after 40 versions that weren't ready for their close up. But now, Haus Labs' new foundation is winning rave reviews from the likes of makeup expert Jeffree Star and influencers all over TikTok.
In a review of the super buzzy product, Star called the revamped packaging an improvement and lauded the 50-plus shades the foundation comes in as "commendable." Still, at $45 a pop, Star admitted to being "skeptical" about whether the liquid foundation, which claims to be long-wearing and hypoallergenic, offering medium coverage and skin-care benefits for wearers, could hold up to the hype.
Jeffree Star isn't the only huge fan of Haus Labs' new foundation
In a review of Haus Labs' new foundation, despite initial reservations, Jeffree Star ended up confessing "it blends in like a dream." But would the formula look as good after wearing it for several hours? The answer was yes! Eight hours after Star applied the makeup, he told his followers "it feels amazing." He then joked the formula must contain some sort of "sorcery."
Star was not alone in being super impressed by Lady Gaga's latest offering. Many TikTok influencers had equally favorable reviews of the product. Audrey Hsu was quick to point out that the formula is vegan and cruelty free. She also gushed about the foundation's coverage, telling her followers that even without applying primer first, Haus Labs' foundation blends so well it was "laughable" and covered up her acne scars, while feeling "like nothing on the face."
Likewise, TikTok influencer Monica applauded how lightweight the formula is, saying, "It literally feels like you have nothing on your skin." She described the foundation as "glowy" and "radiant," and was impressed by how after 15 hours of wear, it still held up.
TikTok users with very different skin types applaud Haus Labs' new foundation
More praise from TikTok kept pouring in for Lady Gaga's new Haus Labs foundation. In her review, Xoxoemira enthused that after trying it out, she was "so shook, I can't put it into words."
People with all different skin types had great experiences with the product. Allison Knipe, who described her skin as oily noted the ease of use of the formula with the pump dispenser and opined that the "coverage is incredible." She described the product as offering "medium to full coverage," ultimately swearing, "I am in love."
Nyma, who shared a review of how the foundation worked on her darker skin, loved the "glow." "If you are dark skinned and you have neutral undertones," she said she highly recommended trying out the foundation.
Finally, a TikToker with self-proclaimed "mature skin" said about the Haus Labs' formula, "This is it." She was stunned how she didn't even need blush, contour or concealer to feel great about how she looked, even in direct sunlight.