Why Donald Trump's Attack On Ron DeSantis Is Getting Pushback From Followers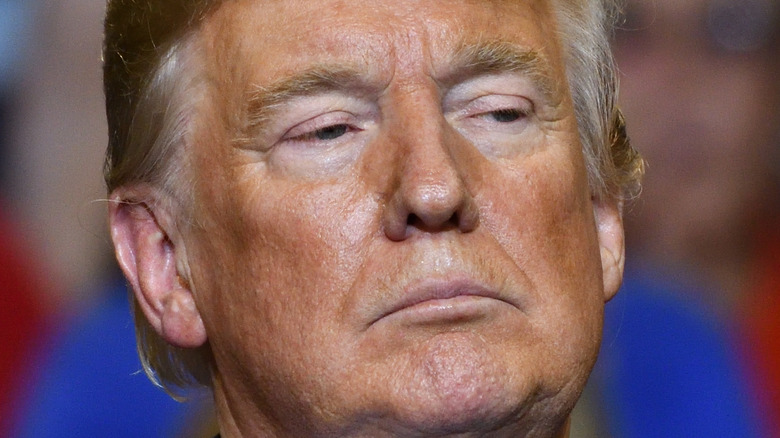 Evan El-Amin/Shutterstock
Once, Donald Trump and Florida Governor Ron DeSantis were best buds. Both staunch conservatives, they saw eye-to-eye on issues such as border control and COVID mask mandates. Trump even claimed to have helped DeSantis win the primary in his state in 2018, per The New York Times. Things have changed drastically since then. Just as Trump changed his tune on Senate Minority Leader Mitch McConnell, so is he now distancing himself from his former friend.
With eyes turning toward the 2024 presidential race, Trump is said to be on the brink of announcing his candidacy and DeSantis is also rumored to be considering a run (via The Washington Post). That would certainly put the two in the awkward position of becoming rivals, but insiders tell the WaPo that their relationship has been chilly for some months. With his second term on the line on Election Day, DeSantis has been running on his record of tax relief and safety measures, without asking Trump for his endorsement.
Now, Trump is showing exactly how he feels about the governor through a favorite technique: name-calling. At a rally in support of Dr. Mehmet Oz's run for a seat in the Pennsylvania Senate, Trump quoted a poll showing "Trump at 71, Ron DeSanctimonious at 10%" (via CNN). The remark got laughs from his fans, but many of his fellow conservatives don't find it funny.
Conservatives say Donald Trump is being divisive by making fun of DeSantis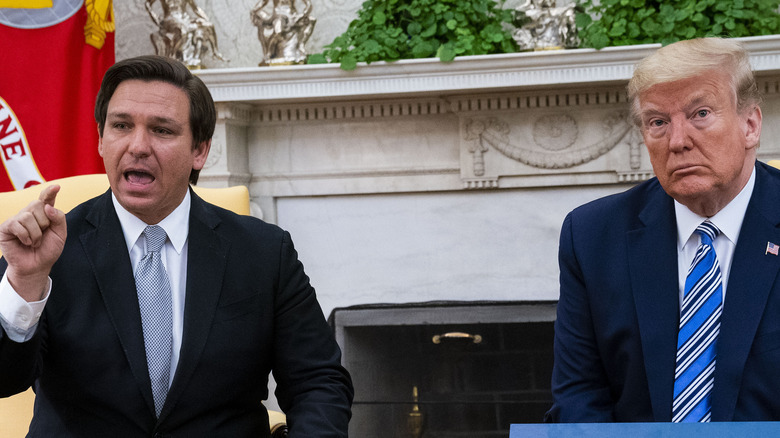 Pool/Getty Images
Normally the darling of Republican-leaning media, Donald Trump got unexpectedly smacked by conservative commentators in the wake of his diss of Florida Governor Ron DeSantis at the Pennsylvania Save America rally. Per Fox News, the pundits saw his move as being childish and divisive. Matt Walsh tweeted about Trump's "dumb nickname," adding, "Also, nice job launching your public attack against the most popular conservative governor in America three days before the midterms when we're all supposed to be showing a united front."
Blaze Media host Steve Deace called the insult "the political equivalent of Van Halen coming back with Gary Cherone on vocals. That's past your prime stuff. That's jumping the shark jumping the shark." Fox News contributor Ben Domenech simply snarked, "Needs work." David Reaboi of the Claremont Institute also took issue with Trump's choice of phrase: "[N]ot only is it a lame put-down, the word choice reveals insecurity: what could DeSantis be accused of being 'sanctimonious' about? Being right on Covid before anyone else, making Florida a free state while everyone else was scared and listening to Fauci." Left-leaning commentators were more amused than shocked. Washington Post reporter Josh Dawsey noted, "[Trump has] been saying this kind of stuff privately for many, many months."
Surprisingly, Donald Trump Jr. hasn't come to his dad's defense yet. He's currently busy helping the former president bolster Dr. Mehmet Oz's Senate campaign by mocking John Fetterman, the Democratic opponent, on his own Twitter feed.