Kendall Jenner's Styling Hack Is The Perfect Touch Of '90s Nostalgia
Cassy Athena/Getty Images
The 1990s are back in a big way, evidence of which can be seen in fashions that are suddenly en vogue again. Overalls, track suits and yes, the slip dress, made famous by Cher in "Clueless," and stars like Halle Berry, are suddenly cropping up everywhere — as are crop tops, or so-called baby tees, varsity jackets and choker necklaces (via Good Housekeeping and Seventeen).
Meanwhile, as trends we embraced in the 1990s become hip again, it has definitely been suggested that Kendall Jenner is the most stylish sister among "The Kardashians" cast, a.k.a. her family. She is a model after all, and has appeared on the cover of Allure and Vogues across the world (via Cosmopolitan). The reality star has also walked the runway for the likes of Marc Jacobs, Chanel, Balmain and Tommy Hilfiger, to name a few, according to L'Officiel. Many of her red carpet looks have left us totally speechless.
So, it won't come as a huge surprise that Jenner was among the first stars to don a '90s-inspired outfit that made the world sit up and take notice, as well as convince the masses that it's so time to copy the look, too.
The 'it' girls of the '90s were wearing slip dresses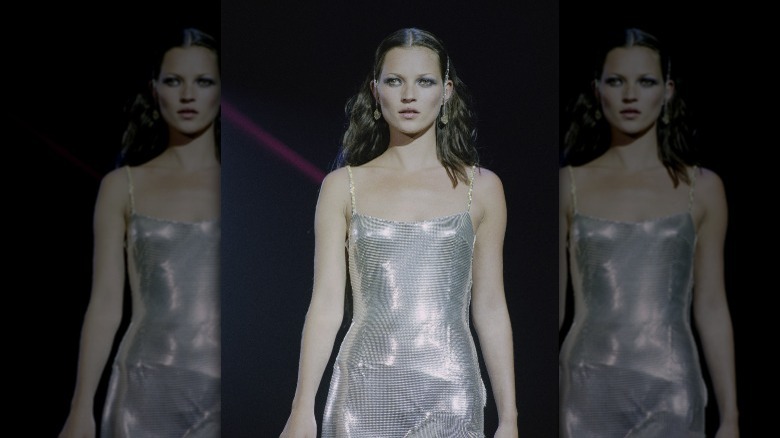 Dave Benett/Getty Images
Model Kate Moss is largely credited with the slip dress becoming a phenomenon in the 1990s according to Who What Wear. But this garment had many moments during that decade, from the time Gwyneth Paltrow sported a pink version to the Oscars — and Brad Pitt was her date — to Princess Diana herself putting her stamp on the look, per Vogue U.K.
More recent takes on the slip dress have been worn by a very pregnant Rihanna in 2022 and now, Kendall Jenner. The reality star and model chose a slip dress by Bottega Veneta right off the runway to attend the U.S. Open in September of 2022, according to Who What Wear. But it wasn't just the style of the dress that had people talking. Per the outlet, Jenner also took a note from how the dress was styled at the Milan runway show and added a sweater around her waist.
According to PopSugar, this pairing is a great way to transition a summery slip dress from warmer to cooler weather. Jenner also added another very accessible accessory that you may want to try to really feel like you're bringing the 1990s back in a major way during any time of year or for any occasion.
Anyone can emulate Kendall Jenner's '90s look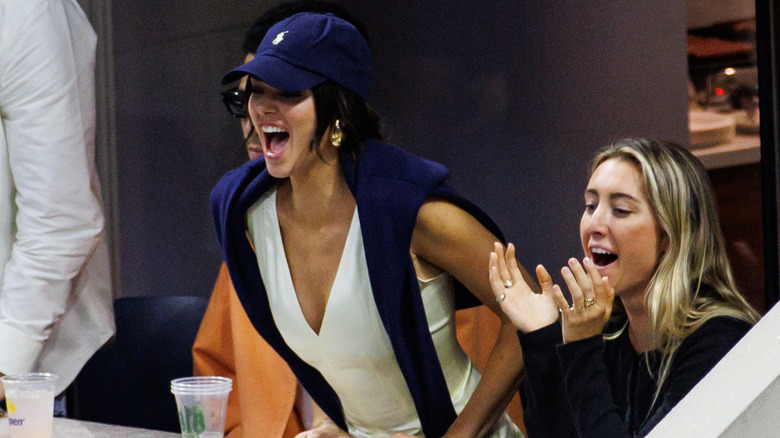 Frey/tpn/Getty Images
Slip dress? Check. Sweater around the waist — and later draped over the shoulders? Yup. On top of pairing these two wardrobe staples that gave off '90s vibes this past September at the U.S. Open, Kendall Jenner added another accessory that made us love her look even more. Because, this hack works wonders if you are suffering from a bad hair day, or just want to protect your face from the sun.
Indeed, as Who What Wear reported, the Hulu star popped a coordinating Ralph Lauren baseball cap on her head while sporting a ponytail, and made us believe that we too could look as stylish as a celebrity worth $45 million (via Celebrity Net Worth).
Anyone can pull of this trend — and perhaps the best thing about it is that the look works whether you're keeping it casual or heading to a more dressed-up occasion. Simply change up your footwear — a pair of sneakers for a low-key event or kitten heels for a dinner out (and remove the baseball cap of course).
Thanks, Kendall!