How To Get Zendaya's Stunning Curls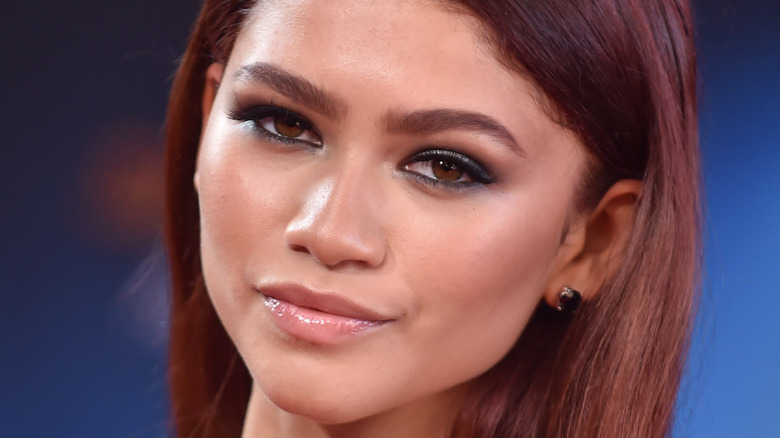 DFree/Shutterstock
Zendaya has rocked many hairstyles in the past, from stunning updos to a blunt bob. Whatever the look, she's guaranteed to give us all major hair envy. Who can forget the time she rocked a Joan of Arc-inspired look at the 2018 Met Gala (per Harper's Bazaar), or stunned in long braids at the "Spider-Man: No Way Home" premiere with boyfriend Tom Holland (per Allure)? She really can pull off anything, and we love the serious hair inspo she's always serving. 
However, there's one major trend in the hair world at the moment, and that's voluminous, sexy, Jessica Rabbit-style hair. The best part is that you don't have to be a redhead or a cartoon character to pull of the wavy locks that are perfect for almost any occasion. Zendaya has worn the above style quite a few times now, making us green (or should it be red?) with envy. Luckily, celeb hairstylist Ursula Stephen has dropped some tips on how to achieve the effortless Hollywood-style waves she styled for Zendaya.
Zendaya looked stunning with her loose and sexy waves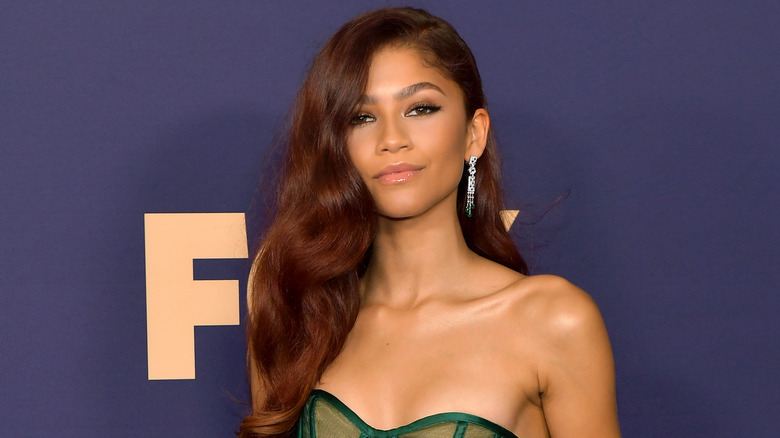 Matt Winkelmeyer/Getty Images
Hairstylist Ursula Stephens created the look for the 2019 Emmy Awards, to which Zendaya wore a beautiful emerald green dress with a mesh bodice (via ELLE). The look is effortlessly sexy, and her loose waves are a major part of that.
Speaking to Glamour, Stephens laid out how she achieved Zendaya's Hollywood wave look. First, use a heat protectant all over your hair — no skipping — and then grab a flexible hold hairspray and spray it in even batches to make sure all your hair is covered. Once your hair is prepped, divide it into sections and clip any remaining hair out of the way. 
Now for the (kind of) difficult part. Stephens states that "for Hollywood waves, you want to curl all the way to the ends of your hair," and that your waves should be forming a "unified 'S' shape" at the end. To achieve this, curl each individual section away from your face, making sure you are curling in the same direction each time. After each curl, cup your hand under the curling tong, essentially "catching" the curl, and pin it. This will preserve your curls for longer, so it's important to do it while the curl is still warm to the touch.
The look isn't as difficult to recreate as it first seems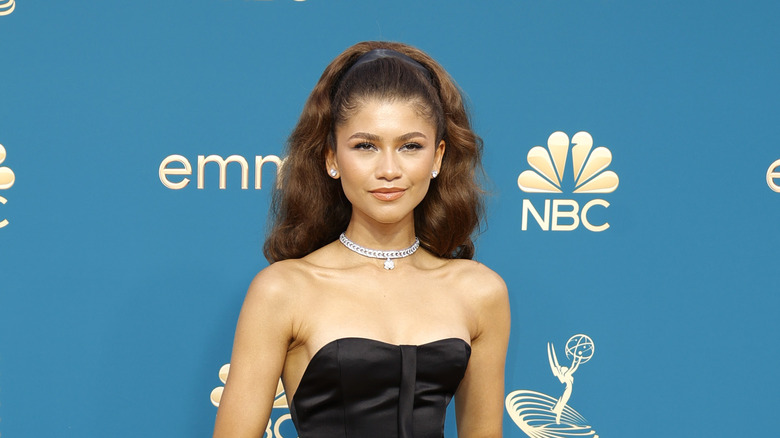 Frazer Harrison/Getty Images
Per Glamour, hairstylist Ursula Stephens says that the next step is to leave your pinned hair in for approximately 15 minutes. Once the time is up, unpin your hair, making sure to do it in the order that you pinned the curls. Decide where you want your hair part to fall — though this is your choice, a deep side part like Zendaya's will create more volume.
Use a wide tooth comb to lightly comb through your curls, making sure not to apply too much pressure. Finally, using a volumizing dry shampoo and your comb, press against the wave and clip the parts of your hair where there is a bend. This will create the iconic ridged shape of Zendaya's waves.
When you are done, finish with hairspray, brush your curls out once more, and then tuck the lighter side of your hair behind your ear. Don't go overboard with the hairspray, as celeb stylist Renato Campora says that this era's Hollywood waves are more about looking soft and natural rather than the rigid look of the past (per Cosmopolitan). For an extra burst of volume, remove the clips and push the bottom of your hair up just before you're about to leave.