Zendaya Can't Stop Raving About Tom Holland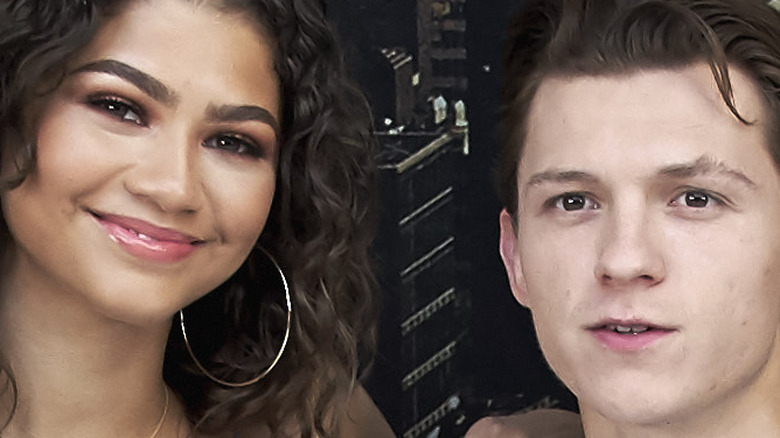 Carlos Alvarez/Getty Images
Zendaya is loving her some Tom Holland and is not holding back on telling everyone what makes her beau so special.
The Disney star, who launched her career on "K.C. Undercover" and "Zapped," is notoriously private about her personal life, leaving fans to guess who she's dated, or who played a role in her relationship history, per IMDb. For years, rumors circulated around the pair potentially being more than longtime friends and co-stars on the "Spider-Man" franchise, but it wasn't until the "Greatest Showman" and "Uncharted" actors were photographed kissing in a car in Los Angeles that the pair confirmed they were a couple (via Page Six). Finally!
Since then, Zendaya, whose voice has been featured in "Smallfoot," and "Space Jam: A New Legacy," has broken away from her usual low-key relationship style as she openly talks about Holland. So just what is it that makes this relationship so special that Zendaya can't stop raving about Tom Holland?
Zendaya loves his dedication to acting
The Emmy winner for her portrayal of Rue in HBO's "Euphoria" is obviously dedicated to her work. This is why it's not surprising that one of the many traits Zendaya loves about Tom Holland is his dedication to his craft. "In an actor way, I appreciate that he really loves being Spider-Man," she told InStyle. It's a lot of pressure — you take on the role of a superhero wherever you go."
Zendaya understands the responsibility that comes with stardom since she's been in the business since age 13, and has managed to branch out into various roles, as an actor and singer, while using her voice to ensure pay equality for her costars, and find diverse up-and-coming talent.
The same drive is evident in Holland's determination to get every role right, from playing a drug addict in "Cherry," to Peter Parker in "Spider-Man: No Way Home" (via GQ).
Aside from his work on a film set, Zendaya raves about Tom Holland's ability to put everyone at ease and make everything they do together "a fun time," as she told InStyle. Their comfortability with one another probably stems from the years they've grown up alongside each other — beginning with the 2017 film "Spider-Man Homecoming" — and supporting one another as their careers took off. That friendship eventually blossomed into a full-blown relationship that we hope continues to thrive.