30% Of People Think This Is The Best Bath & Body Works Holiday Scent - The List Survey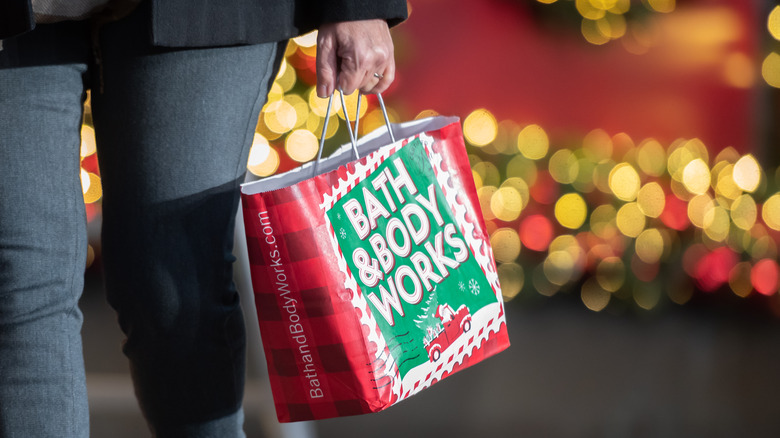 Noam Galai/Getty Images
If a Bath & Body Works is around, you'll know instantly: simply follow the trail of perfumes all the way to the iconic blue gingham sign. According to Zippia, Bath & Body Works was ranked "the largest specialty retail beauty brand [globally] in 2014." From lotions and body scrubs to slow-burning candles and aromatherapy, Bath & Body Works remains one of the most popular places to shop for all things fragrance.
Bath & Body Works is home to some of the best scents around: from the bright and refreshing scent of Sweet Pea to the cozy notes of Warm Vanilla Sugar, there's a fragrance at Bath & Body Works for everyone to enjoy all year round. But some of their most iconic fragrances are only available during the holiday season. The line of holiday scents at Bath & Body Works fills our hearts (and our noses) with yuletide cheer. To find out which festive fragrance is flying off the shelves this season, The List asked 602 people, "Which is the best Bath & Body Works holiday scent?"
Feel extra festive all season long with these iconic holiday fragrances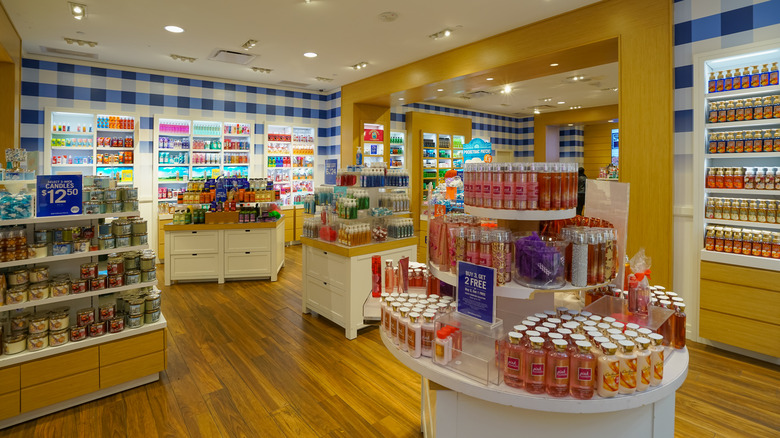 Tooykrub/Shutterstock
According to The List's survey, the most popular holiday scent at Bath & Body Works is Vanilla Bean Noel. With over 30% of the vote, this festive scent smells like "sweet, creamy, fresh-baked holiday treats," per their website. With sweet notes of vanilla bean and snow-kissed musks, this fragrance will put even the biggest Grinch in the holiday spirit.
In second place with 24.09% was another sweet treat, Winter Candy Apple. This fresh and fruity scent captures the essence of candied oranges and crisp apples that are enjoyed around the holiday season (via Bath & Body Works). If you're looking for a more classic holiday scent, 20.76% of voters recommend the cool, minty freshness of Twisted Peppermint.
Approximately 17% of voters love the musky warm scent of Snowflakes & Cashmere, while 7.81% prefer to be reminded of a tropical vacation during their holiday with Frosted Coconut Snowball.
Relive your favorite childhood memories with just a candle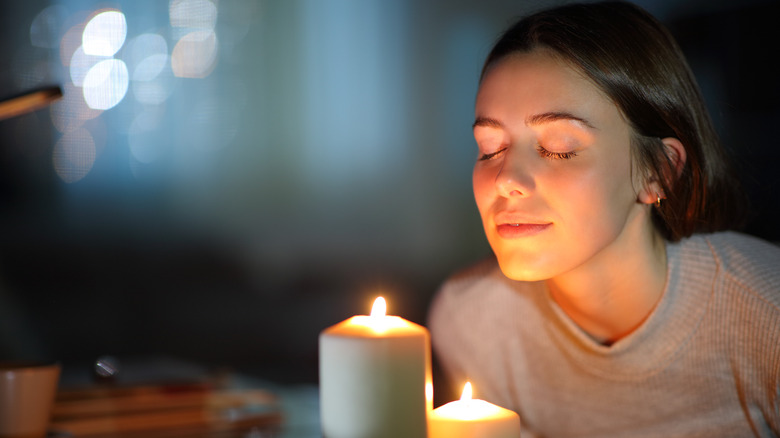 Antonio Guillem/Shutterstock
Have you ever picked up a candle and suddenly remembered Christmas morning with your family? Or gotten a whiff of someone's lotion that transported you to chilly mornings at the breakfast table as a child? What you've experienced is called scent memory. According to the Harvard Gazette, memories and scents have a strong link due to the anatomy of the brain. Your olfactory senses that control what you smell are directly next to the part of your brain that processes emotion and memory, per UPMC Health. Depending on the significance of the memory and the strength of the scent, experiencing scent memory can be very powerful, and even help you remember memories and experiences you forgot you had.
As its website notes, Bath & Body Works uses scent memory to its advantage when developing its iconic fragrances. The company knows that "smell is one of the most-connected senses to memory," and develops certain scents with the knowledge that people will connect their fragrances with fond memories, further encouraging shoppers to buy their products. This effort to evoke scent memory keeps customers coming back for more, especially around the holidays when you walk by a candle that smells just like your grandma's Christmas cookies.
But don't get too attached to one particular scent —plenty of people's favorite Bath & Body Works scents have been retired. Make sure you remember what ingredients made that scent special to you, so you can experience the same nostalgia with other products.