How The November 8 Full Moon Lunar Eclipse Will Affect You If You're A Libra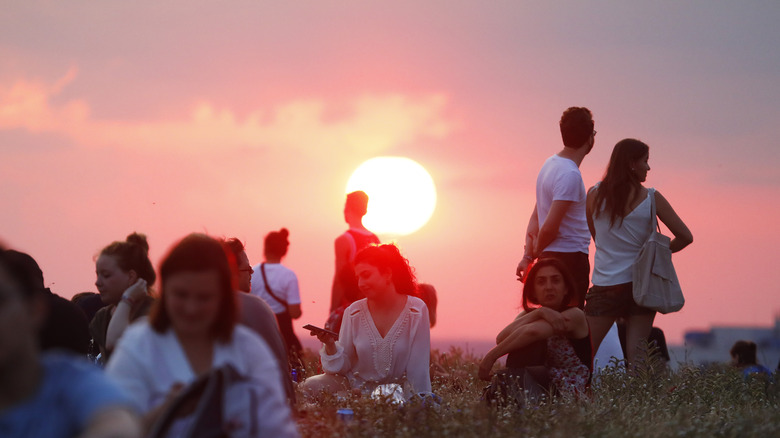 Michele Tantussi/Getty Images
Following the October 25 partial solar eclipse, another major planetary move is coming to cap off eclipse season, and it's a biggie. On November 8, a total lunar eclipse will be visible in the early morning hours throughout North America, likely peaking at 6 a.m. Eastern time, according to Almanac.com. You can even figure out the best time for viewing the eclipse in your region using this moon rise and set calculator.
Elle explains that eclipses come three times a year and that they occur two at a time, within weeks of each other. The November 8 eclipse will close out the most recent cycle begun by the partial solar eclipse in October, but it's the halfway point in a two-year series between Taurus and Scorpio. The first three weeks of November will see a strong presence of Mercury, the planet connected to thinking and communication, and Venus, the planet connected to love, per Bustle.
This eclipse goes by a few names: the beaver moon, which references making pelts from the animal's warm fur before the winter, and the frost moon, for the oncoming chill. When the Earth stands between the sun and moon, it casts a red-looking shadow on the moon, per Almanac.com, and its appearance earns it the name blood moon.
The lunar eclipse will happen in Taurus, meaning that the usually grounded sign will feel in flux, per Bustle. But this shake-up will provide opportunities to take risks, so motivated Libra should keep their wits about them.
Money and love will be on the brain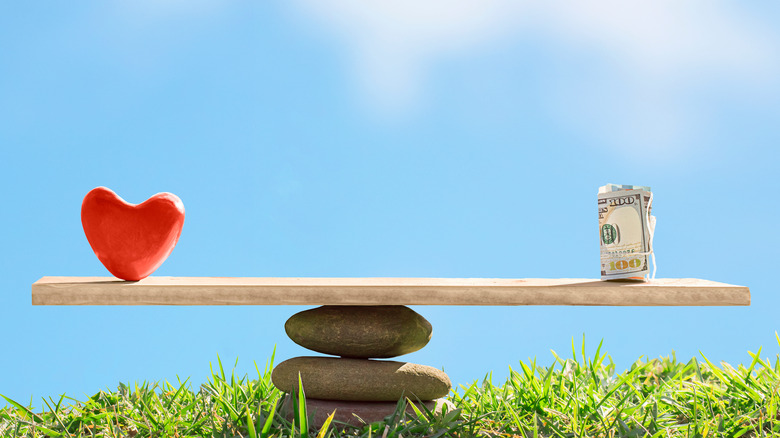 Flena_13/Shutterstock
This Scorpio season, Cosmopolitan predicts that Libra will begin feeling in touch with their domestic side, getting cozy away from the cold just in time for cuffing season. However, they may be jarred out of their resting state by the November 8 eclipse. The air sign doesn't typically stress over a vibe change, and Elle sees this shift resulting in a new era for their relationships — especially since the full moon eclipse occurs in Libra's eighth house, which rules intimacy. 
The outlet also warns against overspending during the next few weeks, and the eclipse will come with reminders of what's truly important. Libras love to reward themselves with the finer things in life, but their financial awareness will need to increase to accommodate the coming planetary shifts. They should stay away from all-or-nothing thinking in terms of money. Their symbol, the scales of justice, should also be an excellent reminder that even the fullest life requires balance.
With both financial and romantic decisions, Astrostyle recommends that Libra start thinking in the long term. Small decisions will add up, and it's up to Libra to choose their future. The next few weeks are a prime time to attract what they want, whether that's a steady relationship or a fun fall fling. Settling for less than what they're worth can be a major challenge for Libra, so they should practice stating their needs to make sure things are truly fair.
Cardinal sign Libra will step into leadership
Fototeca Storica Nazionale./Getty Images
Bustle sees truths coming to light when the final eclipse of the season happens on November 8, but Libra would be best advised to stay away from drama stirred up by the blood moon. 
Their friends with fixed signs — Leo, Taurus, Scorpio, and Aquarius — will be seeing the end of a six-month cycle of incremental growth, per PopSugar, though it may be disconcerting for them to reflect on everything that has changed. Light on their feet, air sign Libra can help fixed signs adjust lovingly since they are ruled by Venus, per MindBodyGreen. Cardinal signs — Aries, Cancer, Libra, and Capricorn — usher in each of the four seasons, so Libra is an excellent leader when it comes to settling into fall. 
Libra is also represented by the scales of justice rather than an animal or zodiac figure, which Cosmopolitan links to having distance from emotional squabbles and seeing the bigger picture. They are savvy go-betweens when others experience conflict, and their cardinal sign status comes with a talent for inventive problem-solving. 
The eclipse also occurs on the day of midterm elections in the US, so it's time to tap into Mercury's hyper-present energy and mental acuity, per Elle. As the full moon in Taurus brings Libra back into their bodies and Scorpio season deepens their connection to sexuality, this election cycle's focus on reproductive rights is an especially clear time to take action.