How ASL Takes Center Stage In Lifetime's New Movie Santa Bootcamp
Warning: spoilers ahead!
Have you ever wondered what it would be like if an EGOT winner ran a bootcamp for camo-wearing mall Santas? Tonight at 8 p.m. ET you can finally find out when Lifetime's, "Santa Bootcamp," premieres. Awards season veteran Rita Moreno — whom you might recognize from her "West Side Story" days — steels the show as Belle, the owner of the Los Angeles-based "Santa Bootcamp," a training ground for hirable Mr. and Mrs. Clauses.
Event Planner Emily Strauss is one of these (albeit, accidental) trainees. When wealthy mall owner Ed Mancini hires her to plan a Christmas party, he requests one specific thing: the best Santa the city has to offer. So, Emily visits Belle's bootcamp to find the perfect Kris Kringle, one that will impress Mancini's investors and put her in the millionaire's good graces. However, Belle ropes a reluctant Emily into joining the bootcamp herself. In the spirit of any good Lifetime holiday movie, the busy event planner is confronted with the true magic of Christmas — and even finds a cute guy — along the way.
"I have always been a holiday person . . . particularly Christmas," Moreno told The Wrap in regard to the film, which was directed by '90s teen icon, Melissa Joan Hart. "The idea that I'm actually going to participate in this wonderful Lifetime Christmas movie, 'Santa Bootcamp,' just tickles me to no end," she continued. Besides Moreno herself, another key feature sets "Santa Bootcamp" apart: its use of American Sign Language.
Santa Bootcamp is the first Lifetime Christmas movie to heavily feature ASL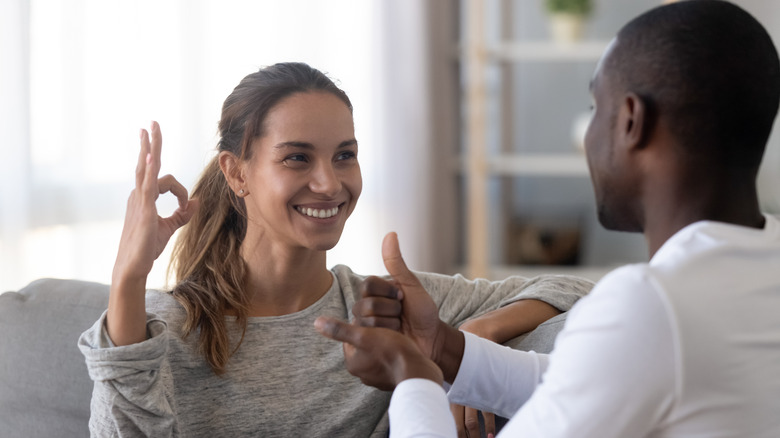 fizkes/Shutterstock
Since the onset of Lifetime's "It's a Wonderful Lifetime" holiday programing in 2012, the channel has aired well over 100 original Christmas movies (via Parade). 2022 will welcome 26 new scripts featuring the likes of Jodie Sweetin in "Merry Swissmas" and Mario Lopez in "Steppin' into the Holidays," The Pioneer Woman reported. Despite the impressive catalog of content, 2022's "Santa Bootcamp" marks the first time American Sign Language will play a prominent role in a Christmas feature. 
In the movie, Emily and her mother, Olive, co-own Strauss & Strauss Event Planning. Their dialogue — whether discussing Emily's budding relationship with hunky chef, Aiden, or various business exploits — is in ASL. Olive is played by renowned deaf actress Deanne Bray, who's starred in shows like "Veep," "Curb your Enthusiasm," and "Grey's Anatomy" (per IMDb). For viewers who aren't familiar with American Sign Language, certain scenes are accompanied by subtitles. 
Incorporating ASL into this year's "Santa Bootcamp" represents Lifetime's increased commitment to diversity and inclusion, according to Insider. In 2021, Tony Award-winning actress Ali Stroker starred in "Christmas Ever After," marking the first Lifetime holiday movie to feature a disabled lead. Most importantly, however, "it was just a love story, and a sidebar to that was just a part of her character profile that she happened to use a wheelchair," director Pat Kiely told International Business Times. Regardless of evolving casts, Lifetime's main focus continues to be love stories and fluffy fake snow.
EGOT winner Rita Moreno learned ASL for Santa Bootcamp
Emily and Olive, the Strauss & Strauss Event Planning duo, aren't the only actors that communicate using American Sign Language in "Santa Bootcamp." Award-winning actress Rita Moreno learned a few words for her final scene in the film, signing a secret message to star-student Emily — "Is there anything you can't do?" asks the event planner.
In real life, there's not much Moreno hasn't accomplished. In 1962, she became the first Latina Actress to win an Oscar, taking home the "Best Supporting Actress" award for her turn as Anita in 1961's "West Side Story" (via The New York Times). "Her [Moreno's] performance in it ["West Side Story"] had more impact on me than anything else when I was young, on my artistic life, my career path, and ultimately, my confidence . . ." Jennifer Lopez said while accepting the 2014 GLADD Vanguard Award (per PBS). "Watching this beautiful, strong, Puerto Rican woman command the screen with her talent at a time when Latina women did not have every door in this industry open to them . . . made me feel worthy." In the 60 years since "West Side Story," Moreno's won a Tony, Emmy, and Grammy — it was only a matter of time before she took up ASL.
Deaf actress Zyra Singleton also stars in "Santa Bootcamp" as Charlotte, a young girl who Emily befriends while dressed up as Mrs. Claus — "You can call me Emily, Emily Claus," signs the event planner.