Donald Trump Was Seen Doing This For The First Time Since Ivana's Funeral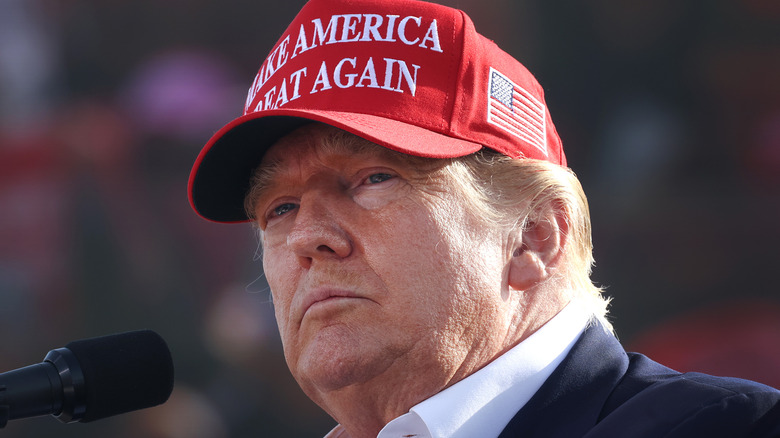 Scott Olson/Getty Images
He's been keeping us on edge for years at this stage, but in September Donald Trump dropped his strongest hints yet about a 2024 run. And, ever since, he's gone full force with what many commentators presume is a fledgling presidential campaign. As The Independent reported at the time, Trump posted a barrage of messages to his social media network of choice, Truth Social, which inferred he's definitely planning to run again.
Aside from sharing stories about a potential campaign, many of which focused on the Democrats' concerns about the ramifications it could cause, Trump notably posted several articles with telling headlines such as "Trump is running" and "Donald Trump Must Be The 2024 Republican Nominee." Even so, the former "Apprentice" host is keeping his cards close to his chest for now. However, it's probably by design, considering the midterms.
After all, Trump didn't confirm his intention to run in 2016 until mid-2015, per The Guardian. Amidst all the swirling reports about his candidacy, though, the former president stepped out in Florida to do something he hasn't done in a while. 
The former president was spotted voting alongside his wife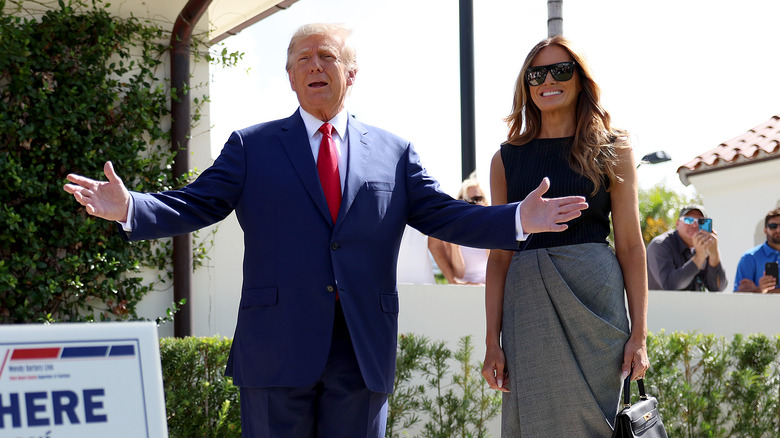 Joe Raedle/Getty Images
Donald Trump made sure he was spotted executing his constitutionally protected right to vote when he ventured out on Tuesday alongside his wife Melania Trump. The Daily Mail published photos of the former first couple greeting reporters and fellow Americans alike in Florida. The record number of early voters hinted at midterm election outcomes but Trump wasn't taking any chances, confirming he voted to re-elect Florida governor, and fellow Republican, Ron DeSantis despite their ongoing feud. In fact, Politico reports the two men are holding competing rallies in their home state this weekend.
Despite DeSantis arguably posing the greatest threat to a Trump run in 2024, the former president reassured gathered journalists that next Tuesday is going to be "a very exciting day for a lot of people." Trump added, "I look forward to seeing you at Mar-a-Lago." On the midterm results, he noted, "Hopefully the right thing will happen." Rudy Giuliani previously told the Daily Mail: "I think he's gonna run. In fact, I'm at a point where I'd be surprised if he didn't." Trump later bragged on Truth Social about the $350 million he's allegedly raised for Republicans during this election cycle alone. 
Regardless of his comments about running again, certain commentators will be more struck by the fact Donald and Melania haven't been photographed in public together since his former wife, Ivana Trump's, funeral (via People). Understandably, they both looked to be in better spirits this time around. 
Donald and Melania Trump have an interesting relationship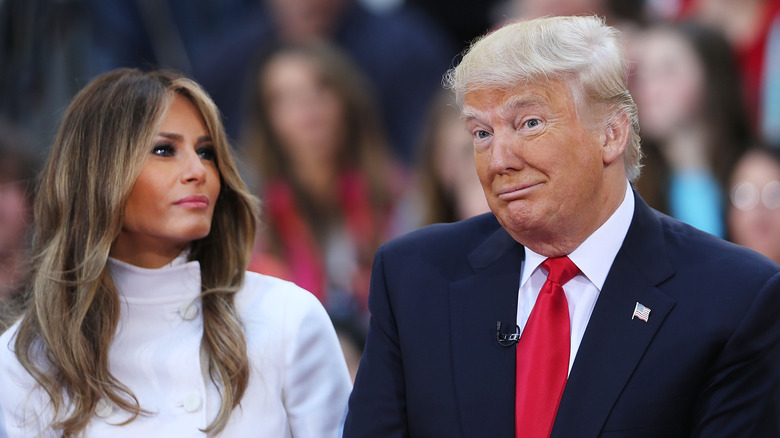 Spencer Platt/Getty Images
It probably wouldn't be headline news if Barack and Michelle Obama stepped out in public together, for instance, but Melania and Donald Trump's marriage is unconventional, to say the least. As biographer Mary Jordan infamously told The Guardian: "I don't know any couple that spends as much time apart." She added that the Trumps, who tend to sleep separately regardless of where they're staying, "are often in the same building, but nowhere near each other."
Likewise, CNN revealed that the former first lady is rarely glimpsed around their Mar-a-Lago estate and generally divides her time between the in-house spa and with her son, Barron. "She has their relationship down to a science," an insider explained to People, noting, "She does what she wants and also continues as Mrs. Trump, so it's unlikely to expect much out of the order at this point." If Donald decides to run again in 2024, though, it may create a problem for her.
Melania is incredibly private and reportedly hated being in the spotlight while her husband was president. Sources confirmed to CNN that she has zero interest in returning to the White House, considering it a chapter in her life that's closed for good. Moreover, Melania won't be present at any upcoming campaign rallies, preferring to keep their interests separate. As a result, the couple's voting date may be the last time we see them in public together for a while.