Of All Billie Eilish's Looks - This One Stands Above The Rest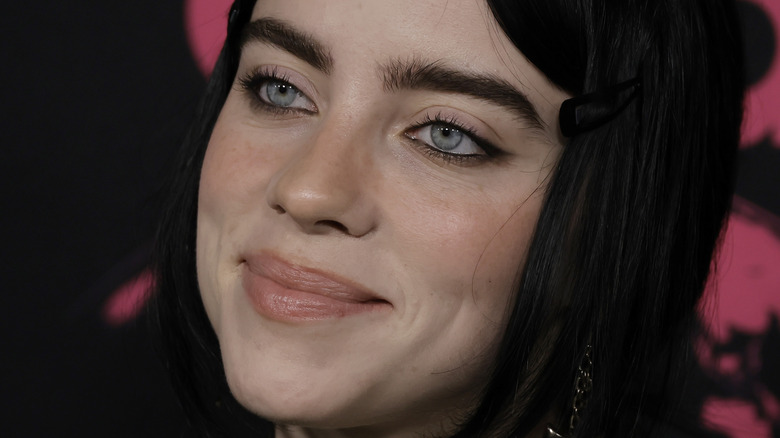 Kevin Winter/Getty Images
Billie Eilish is an award-winning American singer-songwriter who first came to fame with her 2015 single "Ocean Eyes" (per Biography). Collaborating with her brother Finneas Baird O'Connell, also known as FINNEAS, Eilish has since released hits such as "Bad Guy" and "When I Was Older" (via NME).
Insanely successful, Eilish has made history as the first 21st-century-born star to top the Billboard 200, according to Vox, and the youngest artist to win all four top Grammy awards in the same year, Seventeen reported. Within her fame, the musician is known for mixing and subverting music genres and utilizing unique music video visuals.
Additionally, her unusual fashion has also made her stand out, as she has ever-changing hair colors and streetwear-inspired red carpet looks. She has definitely established herself as a unique fashion icon, associated with monochromatic, brightly-colored, and often loosely-fitting clothing (per Elle).
Over the years, Eilish's style has definitely changed and grown, as the artist has become more comfortable experimenting with different designs. However, we think one particular look rises above the rest.
Billie Eilish killed this lingerie-inspired goth look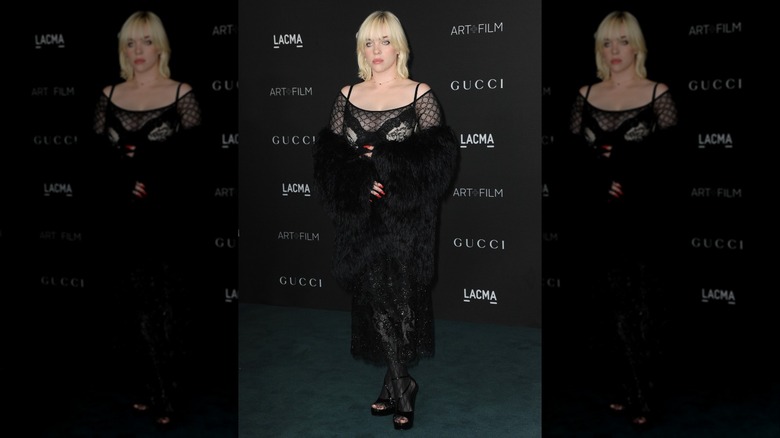 Tinseltown/Shutterstock
When Billie Eilish posed for the cover of British Vogue in June of 2021, she opened up about her previous fashion choices and how they related to her relationship with her body (per Vogue). The sensual pinup-inspired lingerie look she debuted on the magazine's cover, paired with the release of the single "Your Power," signified a new era for Eilish, one about female sexual empowerment and self-confidence.
Since then, the young pop star has continued to rock baggy, designer outfits that previously hid her body from unwanted public discourse. However, she has also stepped out of that zone to experiment with femininity and glam.
Eilish's 2021 Marilyn Monroe-inspired Met Gala dress and her 2021 "No Time to Die" premiere pinstripe suit are high-ranking examples of some of her best looks (via Elle). Still, we were blown away by the lingerie-influenced lace outfit that she wore at the 10th Annual LACMA Art+Film Gala in November of 2021.
This look, entirely Gucci, consisted of a lacy, off-the-shoulder mesh top over and a black-and-white bra, according to Grazia Magazine. A sequined skirt, also of lace, thin black tights, and a faux-fur jacket made up the rest of the outfit, while platform heels and a bright red mani-pedi completed the ensemble.
Overall, we love how this look echoes the lingerie seen in her Vogue photoshoot while playing with the more gothic style seen in some of her other outfits.
Eilish usually rocks a baggy streetwear look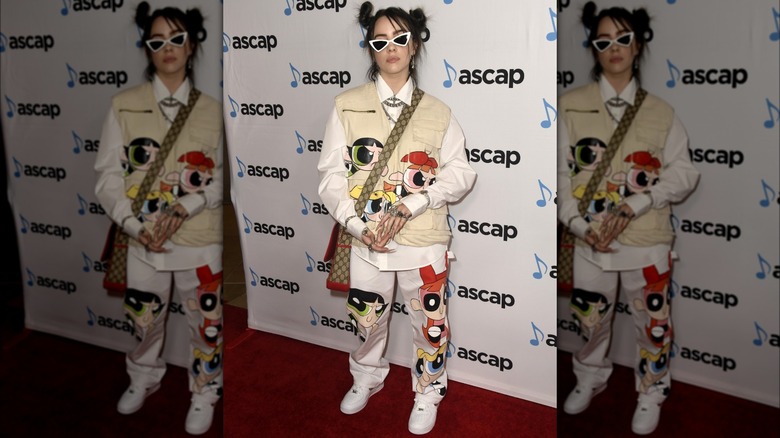 Frazer Harrison/Getty Images
When she's not blowing us away with the occasional glam look, Billie Eilish is known for streetwear-inspired, baggy outfits that subvert the expectations for red-carpet fashion (per Elle).
As mentioned by PopSugar, the young star has opened up about how her unusual fashion choices intentionally hid her body from public scrutiny. While Eilish has since taken a more wear-what-you-want approach to clothes, as she expressed in her Vogue interview, her unique outfits continue to stand out in her catalog of fashion looks.
Before mentioning some of her specific looks, it's important to mention that this baggy streetwear fashion style, now popular with Gen Z, was popularized by Black icons in '80s and '90s pop culture, according to Vox ATL. Stars like Rhianna, Aaliyah Dana Haughton, and Babygirl along with girl groups like TLC and SWV are notable predecessors of this fashion (via Buzzfeed).
With that in mind, some of Eilish's standout looks include the "Powerpuff Girls"-decorated beige ensemble with uniquely-shaped sunglasses she wore in May of 2019 and the lace-printed Gucci outfit she wore at the Grammys in March of 2021 (per Teen Vogue). Her monochrome lime green Louis Vuitton look that she wore at the Spotify Best New Artist party in 2020 is another noteworthy fashion moment from the star, as Elle recalled.