Royal Biographer Claims King Charles Was Clueless About Meghan Markle's Background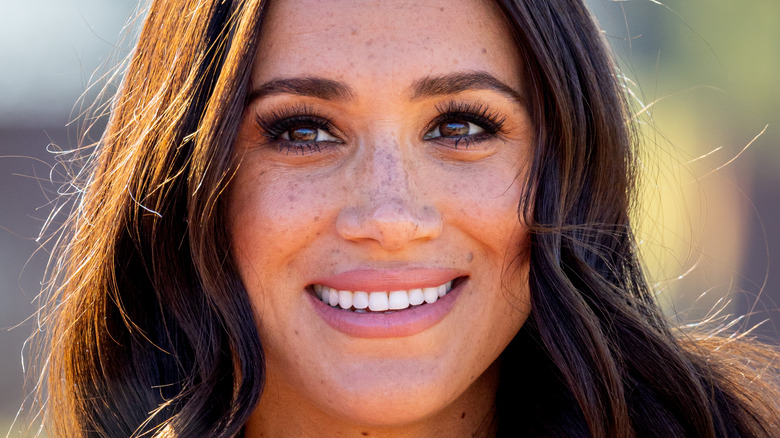 Patrick Van Katwijk/Getty Images
When the Duchess of Sussex announced her plans to release a podcast, she did so with the intention of investigating, dissecting, and subverting "the labels that try to hold women back" (via Spotify). Naturally, this extends to her own experience, too, with Meghan Markle taking a swing at racial stereotypes in one particular episode. During a lively chat with Issa Rae and Ziwe Fumudoh, the royal defector attempted to dismantle the "angry Black woman" myth. 
Elsewhere, Meghan opened up to Mariah Carey about how tough it was growing up biracial, with the duchess feeling like she didn't fit in anywhere, per People. Acknowledging her privilege as a light-skinned woman, Meghan shared that, when she began dating Prince Harry, suddenly the world's attention was on her race. "Then I started to understand what it was like to be treated like a Black woman," Meghan said. "Because up until then, I had been treated like a mixed woman." 
The former actor was subjected to racist attacks from the moment she went public with her now-husband, leading Harry to publicly decry the British press (via Stylist). But a new book suggests that King Charles didn't realize it would be an issue for one key reason. 
King Charles reportedly didn't realize the duchess was biracial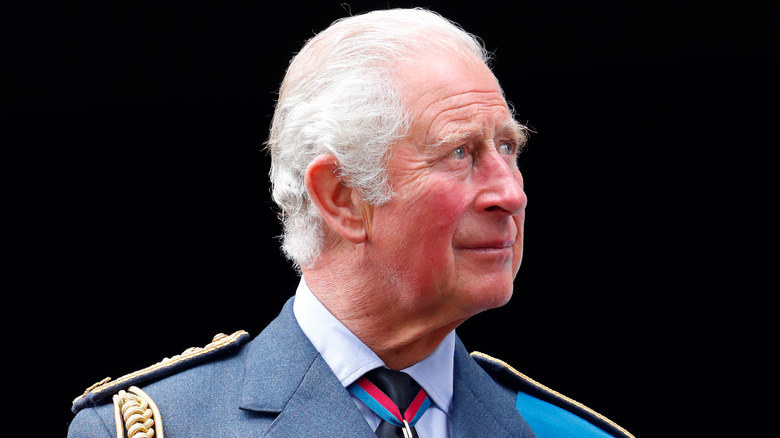 Max Mumby/indigo/Getty Images
Their relationship might be strained right now, but, when King Charles initially met Meghan Markle, he thought she was absolutely lovely, according to royal author Christopher Andersen. Newsweek reports that, per Andersen's latest biography, "The King: The Life of Charles III," the sovereign was completely enamored with his future daughter-in-law. Prince Harry introduced them back in 2016 before the public even knew he was seeing her.
Shockingly, though, Andersen also revealed: "At the time, Prince Charles had no idea that Harry's new girlfriend was biracial." The king admitted to an American friend that he "didn't realize until later" but reassured them it wouldn't have made a difference. The book tussles with the idea of the royal family being racist, with Andersen clarifying that the late Queen Elizabeth II was "utterly devoid of prejudice." 
However, her longtime husband, Prince Philip, was reportedly less progressive, even allegedly using the N-word on a regular basis until the '70s. Charles, meanwhile, had several dodgy moments over the years, including telling a Black writer that she didn't look British. It's worth noting that Charles was allegedly also the royal who questioned Archie's skin color. Funnily enough, the revelation was made in another Andersen tome, per Page Six.
Meghan and Harry's relationship with his father is hanging by a thread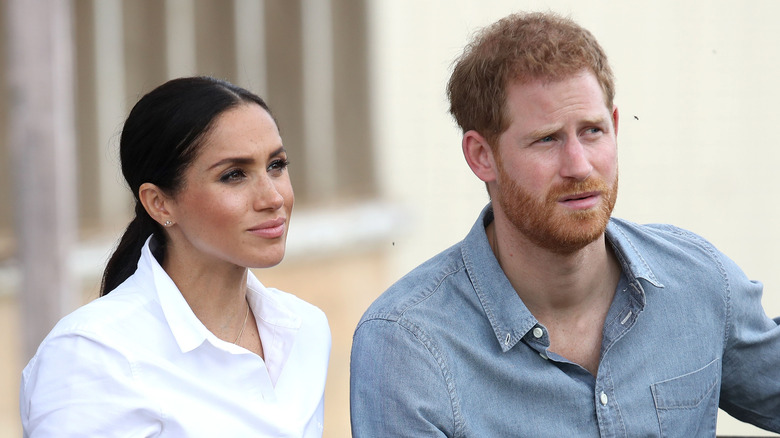 Chris Jackson/Getty Images
The Duke and Duchess of Sussex's relationship with the royal family is complicated, to say the very least. In fact, King Charles is now "bewildered" by Meghan Markle because he feels like she and Prince Harry "betrayed" him by leaving the royal family. Royal expert Christopher Andersen told Us Weekly that the British ruler still can't get his head around their decision. Moreover, although seemingly all parties want to fix things, Charles is concerned about the couple's future endeavors.
In particular, Harry's upcoming tell-all memoir has the king on edge, considering it's widely believed that his son is about to take a shot at longtime paramour Camilla Parker Bowles. Royal author Tina Brown warned the Daily Beast that the Sussexes won't be invited to Charles' coronation if the book is as cutthroat as anticipated. Further, if it comes down to it, Harry's father will have no hesitation in choosing his wife over him — especially if he feels like the queen consort has been wronged.
According to Express, Meghan requested a private meeting with her father-in-law prior to leaving the UK earlier this year, but nothing seems to have come of it, if their chat even happened. This latest revelation probably won't help matters, either.