Love Songs From The 2010s That Will Never Go Out Of Style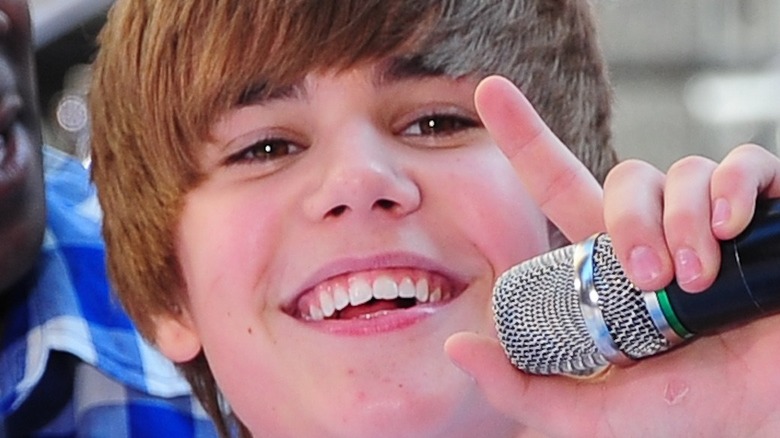 Everett Collection/Shutterstock
The 2010s were an interesting time for pop culture. Justin Bieber's career was on the rise, Katy Perry just released the music video for "California Gurls," and you were probably sprinting to the nearest movie theater with all of your friends to see the premiere of "The Twilight Saga: Eclipse" (via Popsugar). A lot of things were happening in the music realm. According to Billboard, 2010 was the year that music began to lean more toward pop rather than rock. Taylor Swift won Album of the Year at the 2010 Grammy Awards, songs from Fox's "Glee" were topping the charts, and Ke$ha released her auto-tuned song "We R Who We R" that would soon become of the most legendary songs of the year. No matter how old some of these songs get, they will remain popular and hold special places in our hearts.
The 2010s were a big year for music centered on love, and we've rounded up a list of the songs that will never go out of style, no matter how many times they were overplayed on the radio. Between songs with deep music videos or one of Justin Bieber's greatest hits that he will forever be known for, we've covered them all. Continue reading for some of the best love songs of the 2010s.
Just The Way You Are by Bruno Mars
When Bruno Mars released "Just The Way You Are," the song had immediate success. Seriously, you couldn't turn on the radio without hearing this bop played on every station. If you don't remember this jam, it's centered on Mars singing about a girl he thinks is beautiful and loves just the way she is. In an interview with Blues & Soul, Mars revealed that he found inspiration from other artists' songs he is a fan of. "Well, I'm a big fan of songs like Joe Cocker's 'You Are So Beautiful' and Eric Clapton's 'Wonderful Tonight' — songs that go straight to the point," he said. "You know, there's no mind-boggling lyrics or twists in the story — they just come directly from the heart." 
Little did everyone know, Mars' motives behind creating "Just The Way You Are" was for guys to use to reassure their girlfriends. His goal was for men to play the song for their partners to remind them that they are beautiful no matter what and don't need to change anything about themselves if they struggle with finding the right words to make their partner feel better. "Because of what it says, it's also a song that can help guys stop getting into fights with their girl!" he told the outlet.
I Won't Give Up by Jason Mraz
The love song that melted the hearts of many! Singer and songwriter Jason Mraz is known for writing some of the most heartwarming and heart-wrenching love songs of all time. Mraz's "I Won't Give Up" is a song about fighting for your relationship no matter how tough times may get, featured on his 2012 album "Love Is a Four Letter Word" (via Spotify). If you know Mraz, then you definitely know this song. 
On Spotify, the hit has had over 718 million streams since its release. Although some love songs are typically fun and playful, "I Won't Give Up" demonstrates that sometimes things aren't always sunshine and rainbows in a relationship. Mraz demonstrates perfectly that love can be especially hard. Mraz is best known for this popular single, as well as "I'm Yours" and "Lucky," featuring another early 2000s iconic artist Colbie Caillat from his 2008 album "We Sing. We Dance. We Steal Things." 
Just Give Me a Reason by P!nk
P!nk is a singer and songwriter who has released many legendary songs throughout her career, including "Raise Your Glass," "So What," and "Get the Party Started" (via Spotify). Aside from her empowering hits, P!nk is no stranger to releasing some of the most iconic love songs, including her duet "Just Give Me a Reason" with Nate Ruess, featured on her 2012 album "The Truth About Love." The song is about a boy and girl going back and forth, discussing their relationship that is falling apart and trying to find a reason they can use to stay together and learn how to love one another again. 
P!nk loves this song just as much as we do, but unfortunately, she had to fight to get it released. In an interview with Billboard, P!nk's label gave her a problem with releasing the song, per Perez Hilton. "I wrote that song, I fought for that song, I fought to have Nate do that song, I fought for the entire thing. And it took many, many months to make that song happen," she said. "And I just didn't give up. When I f***ing want something I go after it. Nate wasn't sure that he wanted to be on a collaboration with a pop star. Their label is an independent label, they weren't sure. And I just kept telling them, well, I kind of tricked him into doing it."
All of Me by John Legend
Whenever you think of John Legend, do your brains immediately think of his iconic song "All of Me," or is it just us? When that love song was released, it melted the hearts of many fans and was incredibly successful, considering it has over one billion streams on Spotify alone. Featured on his 2013 album "Love In The Future," the ballad is dedicated to his wife, Chrissy Teigen, and focuses on their relationship. 
According to Billboard, the song was initially inspired by Billy Joel's hit "She's Always a Woman," which was released in 1977 and was co-written with songwriter Toby Gad (via Independent). "All of Me" was an immediate hit, bringing Legend to a new level of fame and becoming his first song to make it to the top 10 of Billboard's Hot 100. The music video features Legend and Teigen sharing many romantic moments while Legend sings and plays the piano. Whether or not you are tired of hearing this romantic melody played on the radio, it will forever be a classic love song. 
Stay With Me by Sam Smith
Sam Smith, non-binary singer and songwriter known for hits like "I'm Not the Only One" and "Too Good at Goodbyes," has released many love songs throughout their career. If you are an avid listener, then you know that "Stay With Me" is one of Smith's greatest love songs to date. Featured on the 2014 album "In the Lonely Hour," the single has been streamed over 1 billion times on Spotify and reached No. 2 on Billboard's Top 10 charts in 2014, according to Billboard. This is undoubtedly one of the most romantic yet heart-wrenching ballads we have yet to hear. 
In an episode of NME's "Song Stories" in 2014 (via YouTube), Smith revealed the true meaning behind the hit love song. "It's about the moment in the morning after a one-night stand, where the person you are with leaves your house, and you are left by yourself, and it's just a second, where you are just like, 'I wish, I wish,'" they explained. "You don't even love them, you don't really fancy them that much — it's just nice to have someone in the bed next to you." According to Woman's Day, the song earned the Best Song of the Year award at the 2015 Grammys.
Half of My Heart by John Mayer
Next up on our list of legendary 2010s love songs is "Half of My Heart" by the singer and songwriter John Mayer. The song, featured on the 2009 album "Battle Studies," has been streamed over 124 million times on Spotify and features another iconic artist, Taylor Swift. In an interview with MTV in November 2009, Mayer revealed how he came up with the idea of the song. "I woke up with the song in my head called 'Half of My Heart,'" he explained. "And the idea is that it's this real sort of updated — not that it needs to be updated — sort of Tom Petty, Fleetwood Mac, Stevie Nicks thing." The song features more of a soft pop-rock sound, which is different than Mayer's previous songs.
In an exclusive interview with iTunes, Mayer opened up about how he got Swift to be featured in the duet. "I think I messaged [Taylor Swift] on Twitter. I think I said — I sent her a direct message saying, 'I have this song, I think you're the one for it.' And I don't normally do that," he said. "It took me four records for me to get to a song where I said, 'Wow this can really mean something' — or maybe it took someone like Taylor coming around to really make that an organic process instead of an arranged marriage of a duo" (via JohnMayer.info). 
Say Something by A Big Great World
A Great Big World blessed us with one of the saddest love songs of all time back in 2014, "Say Something." The song, featuring Christina Aguilera on the band's 2014 album "Is There Anybody Out There?" has well over thousands of streams on Spotify and is all about heartbreak and toxic relationships. Singer and songwriters of the band Ian Axel and Chad Vaccarino of A Great Big World revealed to Parade in January 2014 that "We were both heartbroken" at the same time when they released the soon-to-be massive hit that would skyrocket their careers. 
"We were working jobs that we wanted to get out of. We had been writing together for eight years, but during that time, we took a year off from writing because our spirits were down, and 'Say Something' was one of the only songs we wrote during that period," Axel revealed. "It was our therapy and helped us get through it," with Chad adding, "Through the process of writing that song, we found closure from these toxic relationships we had going on."
Not only did they find closure in their relationships ending, but they've also given closure to millions of fans who love the song. However, they did not expect the hit to take off the way it did. Although writing the song was "powerful and moving" for the band to write, they didn't imagine it to become so popular so quickly. 
You Belong With Me by Taylor Swift
It's 2010, and you're in your childhood bedroom watching Taylor Swift's music video for "You Belong With Me" as she portrays a nerd crushing on the popular boy in school, and you're thinking about your elementary school crush who you have yet to get over. Was this an experience for everyone, or just us? Swift's song featured on her 2008 album "Fearless," which has now been re-recorded on "Fearless (Taylor's Version)" (via Spotify), has altered the universe and become a massive success. For our non-Swifties, the song is about the person you love who doesn't like you back and how they shouldn't be with anyone else by you. 
In an interview with iHeart, Swift revealed how her hit single changed her life completely. "It was one of those songs that I had written about unrequited love and crushes at school. And I never would have imagined how many people I would see in a crowd one day screaming, 'She wears short skirts, I wear T-shirts,' or there would be think pieces about it or that it would be this thing that launched me and my career into this place that I never imagined it would go to," she said. "It was this song and 'Love Story' that really, really changed my life in a huge way." Re-recording this song was especially special. She added, "'Cause I kind of was looking back on all of those memories and thinking, 'Wow, I'm really lucky.'"
Baby by Justin Bieber
Naturally, we had to include Justin Bieber on this list, considering that he released one of the most popular songs of the century during this period. In 2010, Justin Bieber launched a song that would shape the rest of his career with the hit single "Baby" featuring Ludacris on his 2010 album "My World 2.0." 
At the time, Bieber was a typical 15-year-old boy from Canada who was navigating his new-found fame after releasing the song "One Time," which launched him into stardom from his debut album "My World." Once "Baby" was released, practically everyone you knew had "Bieber fever," a term coined to describe the epidemic of Bieber's growing fan base. At the time, practically everyone had Bieber fever and obsessing over the new pop star. According to Billboard, the hit became Bieber's most legendary songs, landing him a No. 5 spot on Billboard's Hot 100 charts, soon transforming the trajectory of his entire career. The music video alone has 2.8 billion streams and was played at practically every party and school dance you attended growing up. 
As much as we love Bieber's new music, we will always have a soft spot in our hearts for the classics that started his career. This love song will forever remind us of the days singing about our school crush that didn't know they were our crush, who had eyes for someone else. Middle school was a tough time, okay?
DJ Got Us Fallin' In Love by Usher
A party back in 2010 wouldn't be a party if the DJ wasn't playing "DJ Got Us Fallin' In Love" by Usher, and that is just a known fact. Even if you were only in middle or high school back then, the love song went hard on the dance floor (and still does, no matter where you are)! 
The pop single, featuring Pitbull on Usher's 2010 album "Raymond v Raymond (Expanded Edition)," is about exactly what it sounds like: being in the moment on the dance floor and falling in love with someone new. The music video, which has reached over 348 million streams since it was published over 10 years ago, shows Usher showing off his best dance moves in the club. Although this isn't a typical sappy love song, Usher demonstrates how fun it is to fall in love with someone while you're dancing and living your best life, even if the romance won't last forever. 
Love The Way You Lie by Eminem
Rihanna and Eminem releasing a song together is truly the duo we never knew we needed! In 2010, the two most iconic artists of our time released "Love The Way You Lie," pulling at the heartstrings of many with their emotional lyrics and music video. The song showcases a toxic relationship and domestic violence disputes and is featured on Eminem's 2010 album "Recovery." 
The album features another female artist besides Rihanna, with P!nk singing alongside Eminem on "Won't Back Down." In an interview with E! News' Ben Lyons, Rihanna revealed how the song came together. "They reached out to us directly and they just said, 'We have this song and we just think Rihanna would be perfect to sing it,'" Rihanna explained. "And, of course, I was like, 'OK, if I love it, I'll definitely do it, because I love Eminem.' And I love the song. It's really beautiful, and it really stands out," Rihanna continued. "It's a really unique record. I'm really excited about it" (via MTV).
Since then, the song has become a massive hit. According to The Hollywood Reporter, the song became Eminem's Hot 100 No. 1 hit for the fourth time and marked Rihanna's 7th No. 1 single since her career began in 2006. 
Hey, Soul Sister by Train
If you want to listen to a feel-good and happy love song, then you definitely need to throw on some Train. If you've never listened to Train, they produced many hit songs, including "Drops of Jupiter," "Drive By," and "Play The Song." In 2010, the band released "Hey, Soul Sister," featured on their fifth album, "Save Me, San Francisco, " which was a massive hit. In the song, Train depicts what it is like to be in love with a woman who is right for them, loving everything she does and not wanting to miss a moment together.
On YouTube, the music video alone has 315 million videos. According to Billboard, the song was so popular it became a certified diamond by the Recording Industry Association of America with 10 million units. "Hey, Soul Sister" was No. 1 across many Billboard charts, including genres such as Adult Contemporary, Adult Top 40 Airplay, Rock Digital Song Sales, and Digital Song Sales. In 2011, the band took home a Grammy Award for Best Pop Performance for the song. This love song is spunky and playful and brings back all the nostalgic feels from a much simpler time. 
Haven't Met You Yet by Michael Bublé
Michael Bublé fans know that he is no stranger to creating some of the most potent love songs of all time. Between hits like "Sway," "Feeling Good," "Home," and "All I Do Is Dream of You," the singer and songwriter knows how to get you feeling all the right romantic vibes. "Haven't Met You Yet" is the lead single from Bublé's 2009 album "Crazy Love" and has touched the hearts of many. The song, if you have yet to listen or need a walk down memory lane, is about searching for love in all different places and knowing that you will meet that special someone one day, no matter how long it takes. It is no surprise that the music video has over 158 million streams, considering how much of a success the song became over time. 
According to Vocal Media, Bublé revealed that the song was inspired by his wife, actress Luisana Lopilato, who was his fiancé at the time. "I wrote it because I had met this girl, and there was nothing solid about anything of it. She didn't speak English. Both of us had just ended a relationship with someone else," Bublé said. "I was inspired by meeting her. I was a single person, but I knew it was going to happen. I just hadn't met the right person before I met her." You know what they say, there is a person for everyone!
In My Head by Jason Derulo feat. Nicki Minaj
Last but not least on our list of the hit love songs of the 2010s era is the one and only "In My Head" by Jason Derulo. The pop song was released in 2010 on Derulo's debut album "Jason Derulo," which launched his career and quickly became another hit that would be played at parties that is perfect for dancing. 
According to Billboard, the song quickly climbed the charts following his debut single "Whatcha Say," which landed the up-and-coming artist at the time a No. 1 spot. The music video for "In My Head" has reached over 144 million views. In the video, Derulo is seen with a girl who is stuck in his head, and he is trying to win her over. This love song is fun, a great dancing tune, and one that will forever be iconic no matter how much time passes.