What Can You Wear When The Dress Code Is Cocktail Attire?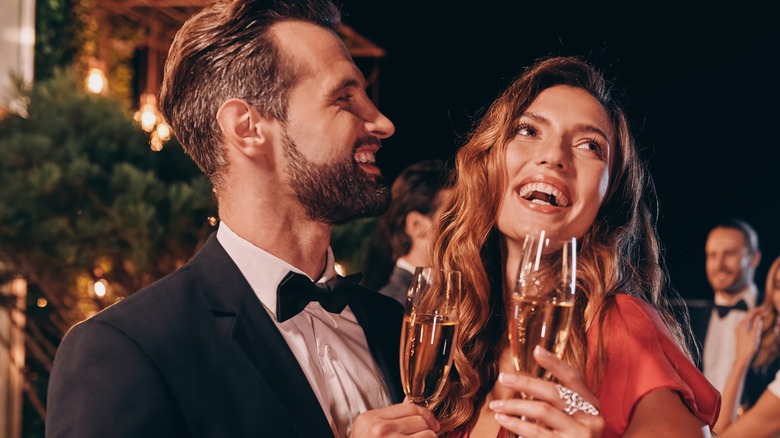 G-Stock Studio/Shutterstock
After two years of parties being put on pause due to the COVID-19 pandemic, people have gotten back to in-person celebrations with their family and friends. In fact, according to a report from The Knot, there will be as many as 2.6 million weddings by the end of 2022, up from 2.2 million in 2019. But it isn't just couples saying I do — people are getting together for birthday celebrations, holiday parties, office gatherings, and more.
There is so much that goes into planning a special event, and one of the most important steps is deciding what kind of dress code to establish for guests. Not only does it help everyone invited to know what is expected of them in terms of attire, but it also plays into the overall theme and vibe of the event. From black or white tie to semi-formal, there are plenty of dress codes to choose from. One of the more popular popping up at different occasions is cocktail attire. But what is it? 
"Cocktail attire is meant to bridge the gap between day and night," bridal consultant LauraLee Baird told Brides. "It is still an occasion to dress up, but a full-length gown is not necessary. This merges the silhouette of a garden party dress (shorter) with the fabric and embellishments of a formal gown."
Women can't go wrong with a little black dress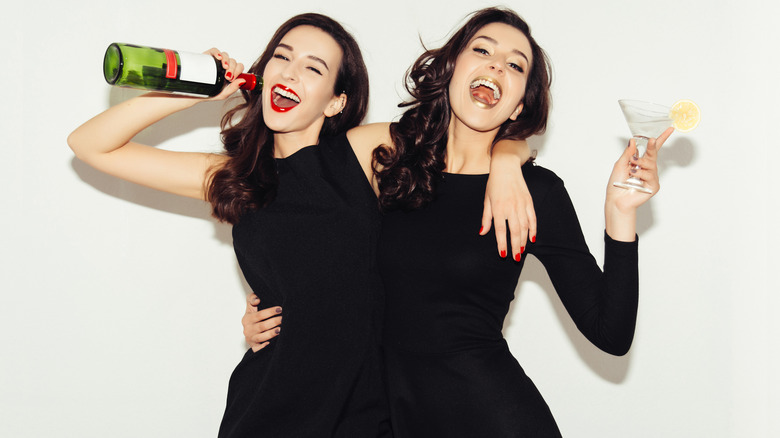 tryam/Shutterstock
Although cocktail attire isn't as formal as black tie, guests are still expected to dress appropriately. "The most important idea to take away from the cocktail dress code is that your goal is to create an elegant look wearing a knee-length, tea-length, or midi dress," social etiquette advisor Maria Lucrecia Arguello explained to Brides. "This is not the time to wear a gala gown or a short mini skirt."
According to Style Craze, casual attire means avoiding anything "skimpy, transparent, too short or too long." However, that doesn't mean you can't have some fun with your look. A daytime event could call for a bold color or print, while an evening affair is perfect for a dress with embellishments, such as sequins. When you're not sure what to wear, you simply can't go wrong with a little black dress. Rather wear pants? A chic jumpsuit works for a cocktail dress code.
As for accessories, be sure to show up in proper shoes (heels or stylish flats). Sneakers are a no-no. Other fashion choices to stay away from include denim and flip-flops, per Stylight.
Guys will look dapper in a smart suit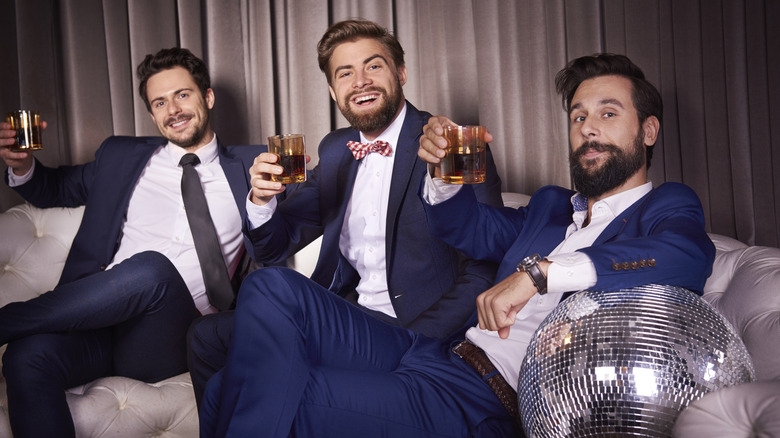 Gpointstudio/Getty Images
When it comes to dressing for an event that calls for cocktail attire, guys can opt for a suit. But as the pros at Generation Tux point out, that doesn't mean you can't "step out of the box with your colors and accessories." For example, opt for a suit in a cool color, like bright blue. Or if you'd rather stick with a neutral base, then think about ditching the white shirt and choosing something in a complementary color. You can also add that wow factor with your tie — either a necktie or bowtie will work just fine — or a pocket square in a bold color or pattern.
While formal dress shoes aren't a necessity, you should still leave your sneakers at home. Instead, Avidan Grossman of GQ recommends a stylish pair of loafers, derby shoes, or boots to bring your look to the next level. And if you're just not sure what to wear, "as a general rule white shirt + dark suit + solid-colored tie will never make you look like a bozo," explains Grossman.