The Date Night Subscription Boxes You Need To Try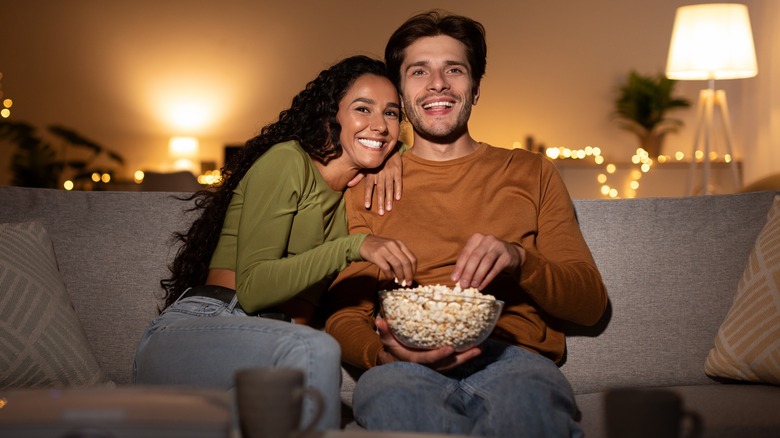 Prostock-studio/Shutterstock
Time is precious for all of us, so when we make the time to plan a date night, whether it's a first date or a 100th date, the pressure to make it worthwhile is high. While you can spend your night trying a new restaurant, going to a dance class, or going ax-throwing, sometimes the best way to spend a night is on the couch. But instead of rewatching "Friends" for the fifth time or scrolling endlessly on your respective phones, it may be time to try something new.
It can be hard enough to find time to spend together, so finding even more time to plan an elaborate date night is likely out of the question. If you want to spice things up without having to put too much thought into it, you may want to consider a date night box subscription. According to Byrdie, these subscription boxes provide everything from snacks to games, allowing you and your date to sit back, relax, and truly enjoy each other. If this sounds like the ideal night for you, here are the date night box subscriptions you need to try.
The best date night subscription boxes available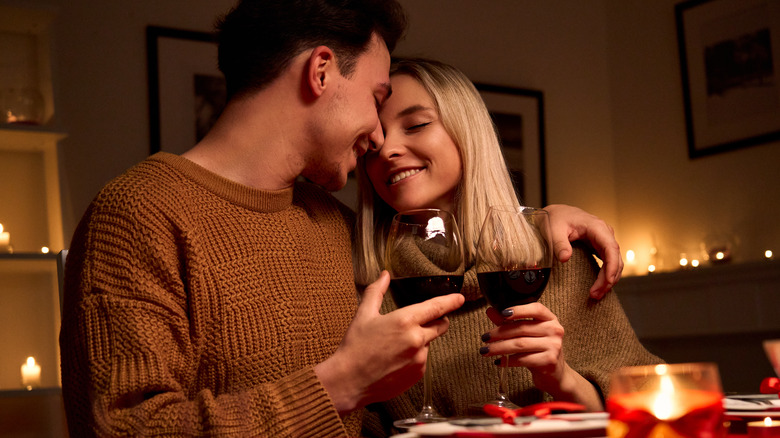 Ground Picture/Shutterstock
You may be surprised to learn that there are a lot of different options out there for date night box subscriptions. As Good Housekeeping notes, some of them are true subscriptions where you will receive a new box each month, while others are one-time boxes, ideal for first dates or new relationships that you're still trying to figure out. But instead of wasting your day shuffling through the endless options, we sought out the best ones for your ideal date night.
If you are dating on a budget, Byrdie recommends the Crafted with Love kit, which is less than $30 per box (if you just want to do just one box over a monthly subscription, they charge $10 extra). These boxes are fun and unique — you can choose a box called "I Love You More Than Pizza" — and also help you learn as a couple while playing. If you and your date love a good cocktail but don't want to rifle through the crowds, the Shaker & Spoon box is perfect for you. Each month, they send all the ingredients needed to make a delicious and unique drink that you can make and enjoy together.
More date night subscription boxes we love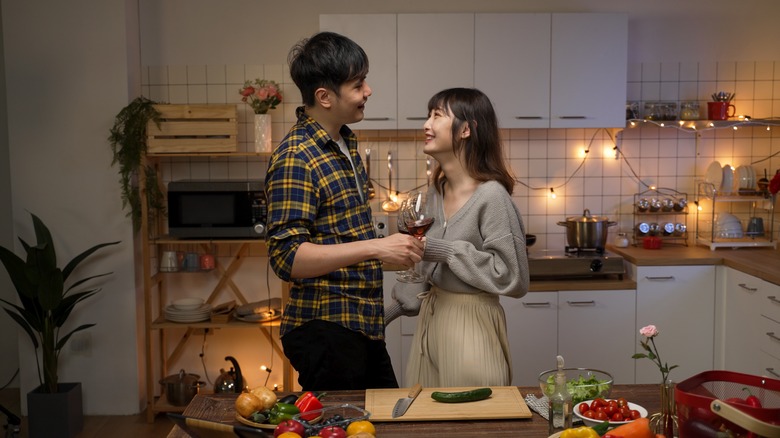 PRPicturesProduction/Shutterstock
If you want to splurge a bit more on your date or aren't a big drinker, there are a ton more date night box subscriptions to choose from. My Subscription Addiction recommends Date Night in a Box by CrateJoy, which sends couples monthly boxes filled with everything you need for a successful date, from a Spotify playlist to set the mood to snacks and a recommended dinner menu curated by a chef. If you are easily bored with the common game night or movie night, Byrdie recommends Unbox. This box subscription is known for being super unique and offering a ton of variety to subscribers. You will be surprised with your monthly box and will open it to find things like an escape room from home adventure, trivia nights, and British-focused fun.
If you love a good challenge, Good Housekeeping suggests trying out The Adventure Box subscription. Every month, you will receive a new challenge for you and your significant other to complete along with all the tools needed to complete it. It even comes with a journal to remember all the fun challenges you completed together. No matter which box you choose, date night is sure to be a lot more fun next month.