How To Spice Up Your Eye Makeup With Burgundy Mascara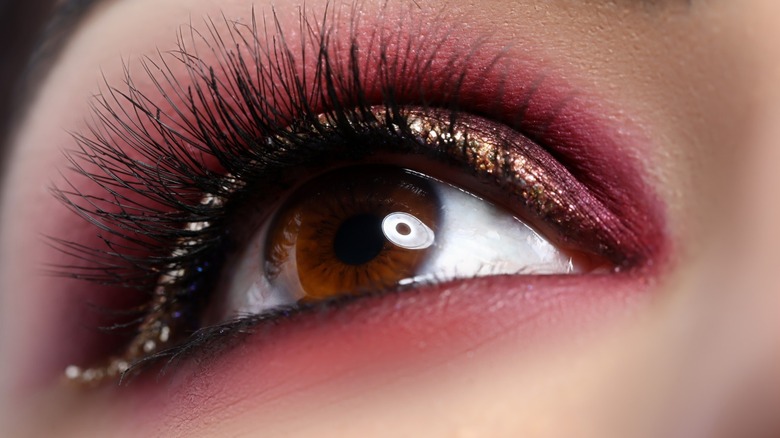 Ivan-balvan/Getty Images
Sometimes, we need to add a little spice to our makeup routines. We've all been there: after we have found our favorite foundation, our favorite blush, our favorite lipstick, and all of the rest of our makeup products, we want to experiment with something new, but subtle. 
As far as makeup trends go, lashes tend to take a backseat, which is one reason we love burgundy mascara. While incorporating daring blue mascara in your makeup routine is one way to shake things up and add a pop of color, burgundy mascara brings forth a sultrier option. Fun fact: the color burgundy takes its name from a region in France that produces — you guessed it — burgundy wine, per Colors Explained. The site claims burgundy is the color of "intensity, sophistication, and individuality," all descriptors that we would love to apply to our makeup. 
Here's how to mix up your makeup routine with a spell of burgundy.
Burgundy adds a layer of depth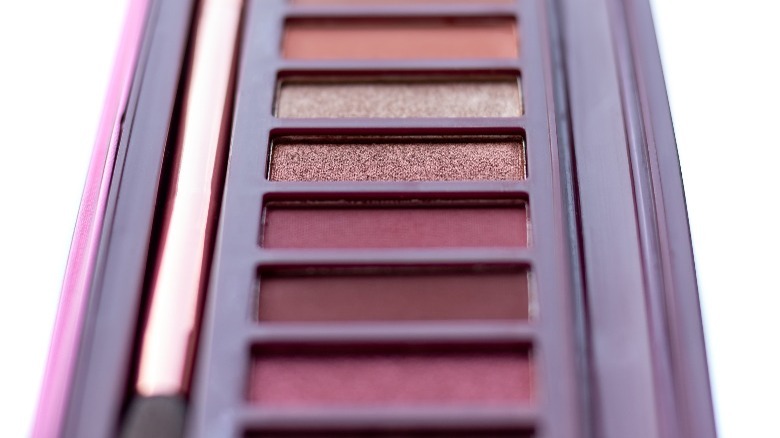 Mariia Demchenko/Getty Images
Burgundy is a fantastic color to experiment with. It's slightly more playful than a chocolate brown, but can be applied in a similar way, per Byrdie. Burgundy tones, which are a mix of red and brown with a dash of purple — not to be confused with maroon, which leaves out the purple part, per Color Psychology – have long been a staple in eyeshadow palettes and lipsticks, as burgundy adds a layer of depth and warmth to the wearer. 
Try using burgundy mascara with complementary eyeshadow colors for a monochromatic impact. No matter if your eyeshadow is shimmering, matte, or a combination of the two, burgundy will enhance both the shades of your skin tone, as well as the color of your eyes. Burgundy mascara can also be worn with softer, warm pinkish shades to emphasize its red tones. And, if you're feeling super adventurous, you can also wear the mascara on your brows for a striking new look.
Complementary products
Colorful mascara had its resurgence as a Tik Tok trend to try for standout lashes, and one product was popularized in particular: the L'Oréal Voluminous Original Mascara in the shade Deep Burgundy. For the steal price of $10.99 on Ulta's website, burgundy lashes could be yours. The mascara also comes in several other colorful shades, including brown, blue, violet, and green, in case you're curious which might look best on you.
Should you be looking for complementary products to test out your spicy new burgundy aesthetic, Makeup Forever also offers a burgundy pencil that can be used on eyes, lips, and brows for $22. And Ipsy shares where to find the best burgundy eyeshadow palettes, including the Anastasia Beverly Hills Modern Renaissance Eyeshadow Palette for $45 and the NYX Cosmetics Ultimate Petite Shadow Palette in Warm Neutrals for $7.
If you're looking for inspo on how to use these products, the #burgundymascara hashtag on Instagram offers plenty of ideas, such as this look which layers burgundy with different products in a creative way.
In conclusion, we bow down to burgundy.