How To Add Blue Mascara To Your Makeup Routine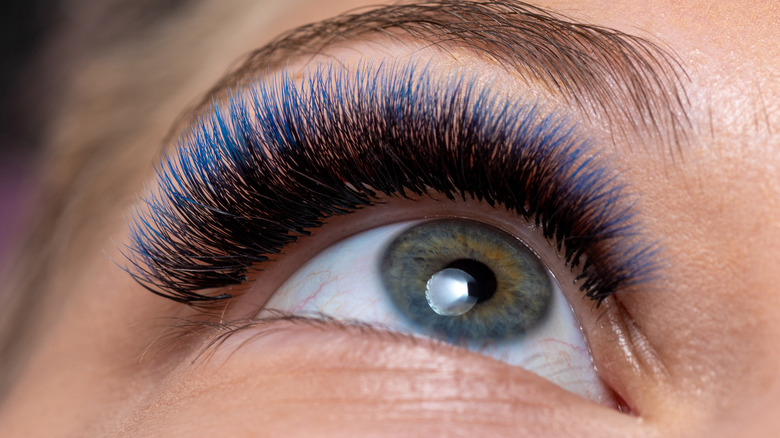 Adam Radosavljevic/Shutterstock
We may receive a commission on purchases made from links.
Everywhere we look, we see the color blue. This aquatic hue is a beloved choice for decorations, wall colors, fashion, and furniture, not to mention that it's the color of the sky. According to Color Psychology, blue inspires harmony, as looking at this cool color can help you relax. Blue is linked with reliability, and people who love the color blue are often dependable, trustworthy individuals. We're all for wearing blue if that means feeling calmer and getting people to trust us more easily.
Considering that blue is such a well-liked color, it's no surprise that there are a lot of blue makeup products. There are many dazzling makeup ideas if your favorite color is blue, such as blue eyeliner, eyeshadow, and lipstick. Colorful mascara is another way to implement your favorite colors into your looks. For example, there are plenty of ways to add purple mascara to your makeup routine, and blue mascara is another excellent way to add some color to your lashes if you're going for a more soothing look with a chill color.
Good Housekeeping further explained that wearing blue mascara brightens and accentuates your eyes, whether you have blue, green, brown, hazel, deep brown, or gray eyes. If you're thinking about experimenting with beautiful blue mascara, we know some tips and tricks to help you nail this look.
How to rock blue mascara
There are both subtle and dramatic ways to wear blue mascara if you're thinking of trying out this look (via L'Oréal Paris). For anyone looking for a more low-key look, you can put a bit of blue mascara on the very end of your lashes, leaving the rest of the eyelash natural. This way, you'll have a slight pop of blue on your lashes without making a statement. On the other hand, makeup enthusiasts who want to turn heads with blue mascara can put it on their top eyelashes and bottom eyelash sections for a truly daring look. We recommend wearing the subtle blue tips for work meetings or family dinners and the full-on blue top and bottom lashes for nights out with friends.
There are myriad examples of how to style blue mascara on Instagram. For instance, blue mascara paired with glittery eye shadow designs is an excellent idea for a bold look. Furthermore, wearing blue mascara with matching eyeliner is super striking. For a girly look with lots of contrast, you can pair blue mascara with a mix of blue and pink eyeshadows to give off a cotton candy vibe.
We're obsessed with these blue mascaras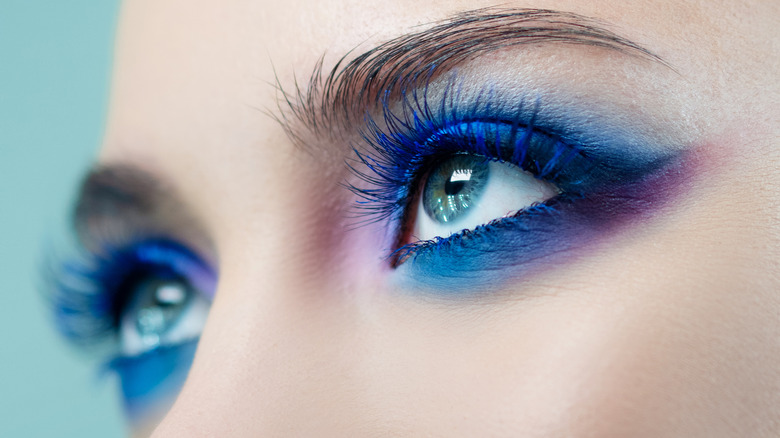 Lia Koltyrina/Shutterstock
If you're ready to buy a new blue mascara to amplify your makeup routine, we know some excellent choices, as Allure rounded up some of their favorite options. For example, if you're looking for a bright, budget-friendly blue mascara, you can't go wrong with L'Oréal Paris' Voluminous Mascara in cobalt blue. This beautiful blue mascara is currently available at Target for just below $8 and has a 4 out of 5-star rating with over 2,000 reviews. Next, Chanel fans looking for a darker shade of blue who are willing to splurge on a high-quality mascara should check out Chanel's Le Volume mascara in the blue night hue. Currently available on Amazon, this product is on the pricier side, but it's a designer name and will make your lashes look stunning.
Elle also noted some of their top picks, so we had to pass some along. To start, the Volume ON Mascara from the Sephora Collection comes in a lively turquoise hue and is currently retailing for only $7 — who can say no to a gorgeous Sephora product? If you're looking for a universally flattering blue mascara, you've got to check out the Smart Colour Mascara from Kiko Cosmetics. Currently, this product has a price tag lower than $6. That low price just can't be beaten!