Where To Find A Dupe Of Audrey Hepburn's Wedding Dress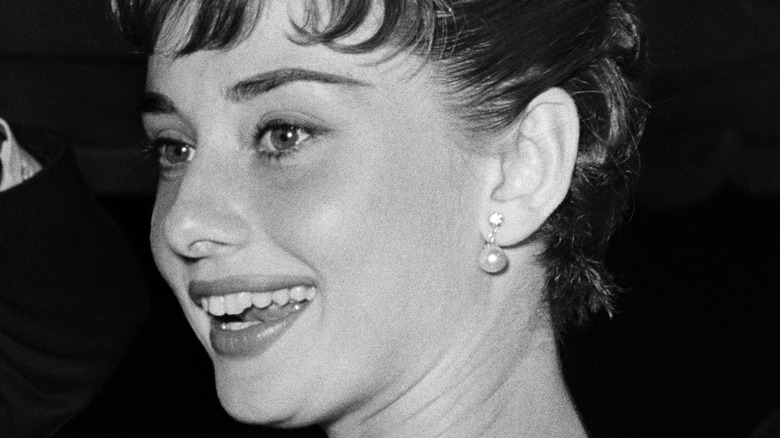 Km Archive/Getty Images
Audrey Hepburn was a fashion icon. Not only did she make the little black dress a staple for women all over the world, thanks the Givenchy dress she donned in 1961's "Breakfast at Tiffany's," but she made it onto dozens of best-dressed lists in her lifetime, including the International Best-Dressed List Hall of Fame every year from 1956 to 1961, then again in 1980, 1987, and 1991.
Although Hepburn was married only twice — something of an anomaly for her generation — each dress, even the one she chose for her first wedding that was ultimately called off, was breathtaking. The dress, a floor-length silk ballgown, with a bateau neckline and sleeves just past her elbows was a stunner that Hepburn didn't want to go to waste. She asked the designers and creators of the dress, the Rome-based Fontana sisters to donate the dress to "another girl for her wedding, perhaps someone who couldn't ever afford a dress like mine — the most beautiful, poor Italian girl you can find." That lucky woman ended up being Amiable Altobella from Borgo Carso in the Province of Latina, who wore it at her farm wedding (via The Knot).
Hepburn would eventually make it down the aisle for the first time in 1954, then again in 1969. Both dresses, of course, were gorgeous and iconic — just like her.
Audrey Hepburn's 1954 wedding dress
In 1954, Audrey Hepburn married fellow actor Mel Ferrer in Ennetbürgen, Switzerland. According to Hepburn herself, the secret wedding was "in a tiny chapel with a wedding breakfast after." The dress she chose for her big day was tea-length with puffed sleeves and a high-neck, and was designed by Pierre Balmain. Hepburn also donned elbow-length satin gloves, a flower crown, and carried a white bible.
Although there are sites like The Celebrity Dress where you can find dupes of a lot of your favorite celebs' wedding dresses, if you want exactly this dress that Hepburn wore, there's a very good chance you'll have to have it custom made. However, if you're a bit flexible, you can find similar dresses. For example, for $499.50, there's a wedding dress that comes pretty darn close to the one Hepburn wore to her 1954 wedding on Etsy.
This particular dress has the high-neck, puffed sleeves, and A-line cut, but it's full-length, meaning you'll either need to hem it to tea-length or consider this dress a sort of spin on the original. The Etsy dress has more detail than Hepburn's, but still has that vintage look. If you pair it with elbow-length satin gloves and grab a bible to carry, then you've pretty much nailed the look.
Audrey Hepburn's 1969 wedding dress
In 1969, Hepburn married Italian psychiatrist Andrea Dotti. Like her first wedding, the two were married in Switzerland, then settled in Rome. For her second marriage, Hepburn wore a dress by Hubert de Givenchy, who also designed the wedding dress she wore in "Funny Face."
Again, Hepburn opted for long sleeves and a high-neck, but this time she chose to wear pink instead of the traditional white or ivory, and it was mini in length. She paired the dress with white tights, white gloves, and white ballet flats. This time she held flowers instead of a bible, and wore a scarf instead of crown of flowers (via Tatler).
Like her 1954 dress, if you want to rock this particular style on your wedding day, you're probably going to have to have it custom made or accept that you want find an exact replica. Temperley London's Dreamer Mini Dress ($345) comes fairly close. With white tights, ballet flats, and a scarf, when you look in the mirror, you'll swear Audrey is looking right back at you.
Although modern-style wedding dresses are definitely beautiful in their own right, there's nothing quite like a classic worn by a fashion icon to make your wedding day as magical as you hoped it would be. Because who doesn't want to wear an Audrey Hepburn-inspired dress on their big day? If you can't be Holly Golightly, you might as well take a page from Hepburn's other iconic roles.