How To Really Achieve The Glossy Eyeshadow Trend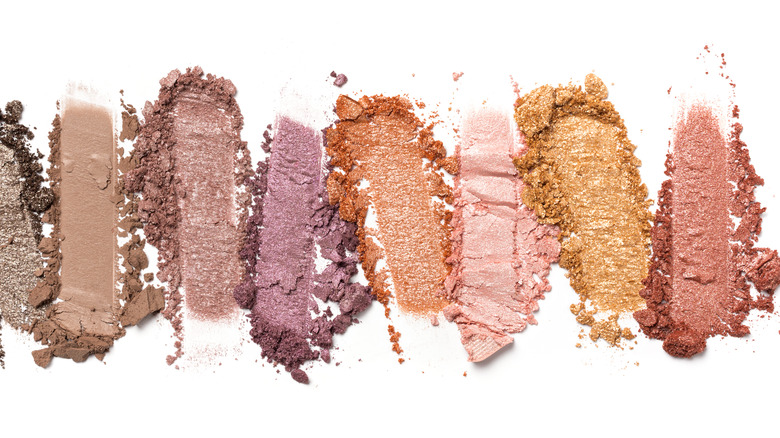 Shutterstock
Eyeshadow is perhaps one of the most versatile steps of a makeup routine, and can have a huge impact on your overall look. While makeup trends are constantly changing, eyeshadow trends are in their own league — eyeshadow trends come and go so often that it can be nearly impossible to predict what's up coming, or to even try out a trend before it's old news. 
There's something about the creativity and versatility of eyeshadow that allows for makeup users to create incredibly fierce looks like we've never seen before. Even over just the past year, some of the craziest eyeshadow looks have hit mainstream media, such as animal print, neon, "floating eyeliner," watercolor, and more (via Cosmopolitan). What was once a space for nothing more than an everyday smokey eye has adapted into a space that beauty gurus can paint like a canvas.
But while some trends come and go, others remain a strong option in a makeup wearer's toolbox — and one of those heavy hitters is the glossy eyeshadow trend. This look creates a super dramatic effect, but is actually much more simple to achieve than you might think.
Always start with primer when creating the glossy eyeshadow look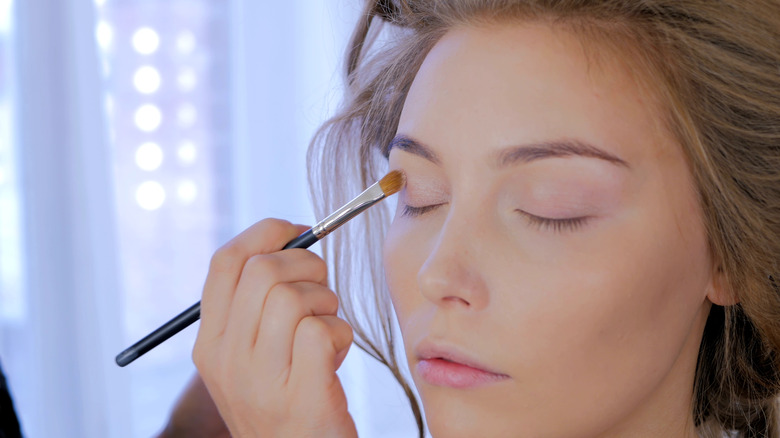 Shutterstock
A dewy and luminous makeup look isn't anything new; in fact, it's one of the most sought after looks for makeup users these days, with products focusing on creaminess and hydration more than ever before. But while many people love the dewiness on their face, not as many take it to their eyelids. While it's not an especially complicated process, there are a few vital steps to getting it just right — and it starts with priming. 
According to Byrdie, where glossy lids (also known as "wet lids") often go wrong is when the product wears away, smudges, or creases. That's why before you get to the fun part of adding the color to your lid, you've got to prime. Celebrity makeup artist Jaleesa Jaikara said that priming will allow for the eyeshadow to stay put much longer, and will prevent any creasing or smudging. You can use an eyeshadow base such as the NARS Smudge Proof Eyeshadow Base, and you'll be on your way.
Follow this step before applying the gloss
After priming your eyelids, celebrity makeup artist Jaleesa Jaikara recommended going in with a nude colored eyeshadow. For this step, "We're concentrating the [shadow] in the crease of the eye," she said. "We're not necessarily putting anything on the lid yet." It's finally time to add some color. As for the formula, don't limit yourself — Harper's Bazaar noted that liquid, cream, powder, and even gel are all great options. You can choose to apply the product with a brush or with fingers, depending on how sheer or opaque you'd like the product to be. Jaikara added that at this point in the application process, make sure you're not blending anything; you're just gently tapping or pressing the product onto your lid.
Now — to get that glossy effect we've been lusting over. According to Glamour, there are a few different kinds of eye-safe products you can use to achieve that wet eyelid look, such as a clear balm or oil. You'll also want to make sure that the product you're using isn't sticky or heavy, as that could end up being seriously uncomfortable throughout the day.
As for the application of the gloss, Jaikara explained, "I'm making small patting motions. And I'm trying not to get too close to the lash line, because gloss tends to naturally travel. And because this can move throughout the day, I really don't want this getting into my eyes," she said, per Byrdie.
You're on your way to looking like a fierce disco ball, and we can't wait to try it for ourselves.