Why Grey's Anatomy Fans Will Want To Watch Lifetime's New Movie Reindeer Games Homecoming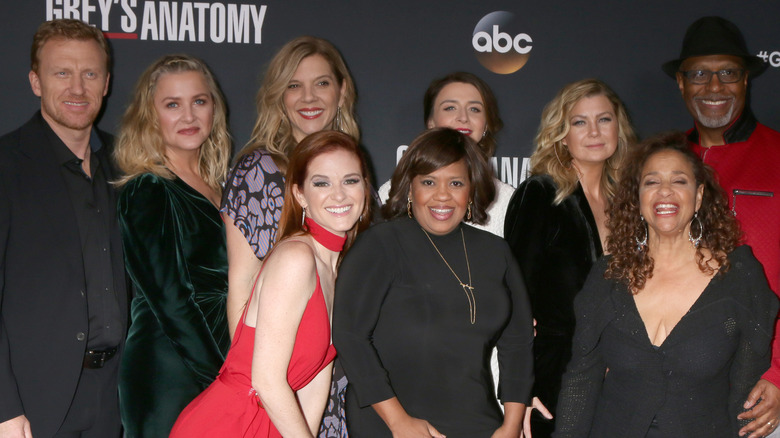 Kathy Hutchins/Shutterstock
While there were plenty of shippers who wanted Jackson Avery and April Kepner (aka Japril) to get a happily ever after on the primetime hit series "Grey's Anatomy," there were plenty of fans who preferred the red-headed doctor wind up with super-nice guy and paramedic Matthew Taylor.
Both relationships actually happened, with plenty of ups and downs along the way, as noted by Soap Central. But if you truly loved watching actors Sarah Drew (April) and Justin Bruening (Matthew) on screen together, you'll be happy to know their working relationship didn't end with "Grey's Anatomy."
The two actors reunited in the dramatic movie "Indivisible," playing a husband and wife struggling with their marriage, per Variety. In an interview with KTLA to promote the project, Drew laughingly admitted, "We can't quit each other." And that's a very good thing, since the two also star together in Lifetime's romantic holiday movie "Reindeer Games Homecoming."
Sarah and Justin are together on screen once again
In addition to starring in the Lifetime holiday movie "Reindeer Games Homecoming" as the character MacKenzie "Mac" Graves, Sarah Drew also wrote the screenplay, and was an executive producer on the project, as noted by Lifetime. As such, she was involved in picking actors for certain roles. "The casting process is so weird and bonkers; everybody had a lot of different ideas," she shared with Hallmarkies Podcast. "You can hope and wish and want somebody with all your might, and then somebody will say no, and that's just it." When it came time to cast the part of leading man Chase Weston, there was much discussion. "We talked about a lot of different people to play this role, but when [Justin Bruening's] name was brought up, I was like, 'Yes, yes, yes. He's perfect."
In an exclusive interview with The List, Drew revealed that she was more than happy to work with Bruening for a third time. "He's one of the best. He's such a good human, and he is a tremendous collaborator. We adore working together."
Not only do the actors like being on set together, "We have a very similar way that we navigate through character journey stuff," Drew explained to Entertainment Weekly, but that same spark you saw on "Grey's Anatomy" is still there. "We have a really amazing, immediate chemistry," the actress told The List.
Not the same old April and Matthew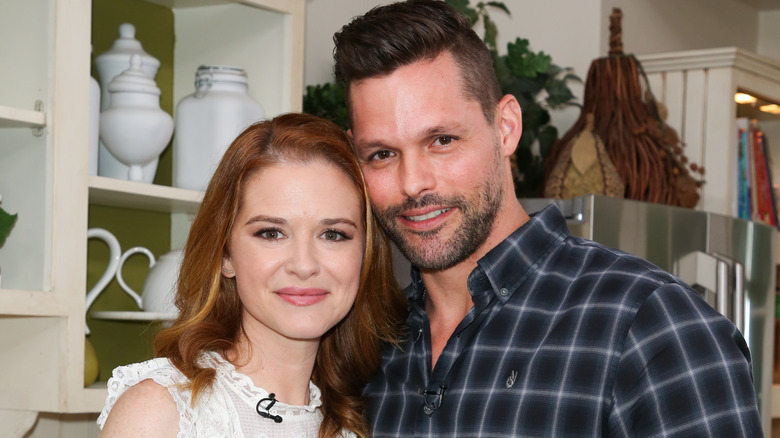 Paul Archuleta/Getty Images
Dating. Engaged. Left at the altar. Married. Separated. The characters Justin Bruening and Sarah Drew played on "Grey's Anatomy" went through a lot of drama. But you can expect their characters in "Reindeer Games Homecoming" to have an easier time. "Mac and Chase are super different from April and Matthew," Drew revealed to Entertainment Weekly. "It's a very fun, different relationship that I think will be a pleasant surprise for the audience."
One area where their "Grey's Anatomy" coupledom did come in handy for their new movie is in their kissing scene. "Justin and I have had a lot of practice," she laughingly told Hallmarkies Podcast. "We keep playing love interests with each other!"
Chances are, you'll be able to see them in even more upcoming projects. "He's totally a work husband," Drew shared with Entertainment Weekly. "I know we'll work together again. We are already coming up with ideas of stuff to do together again. We love working together. It's so fun."