Will Jackson And April Get Their Own Grey's Anatomy Spinoff?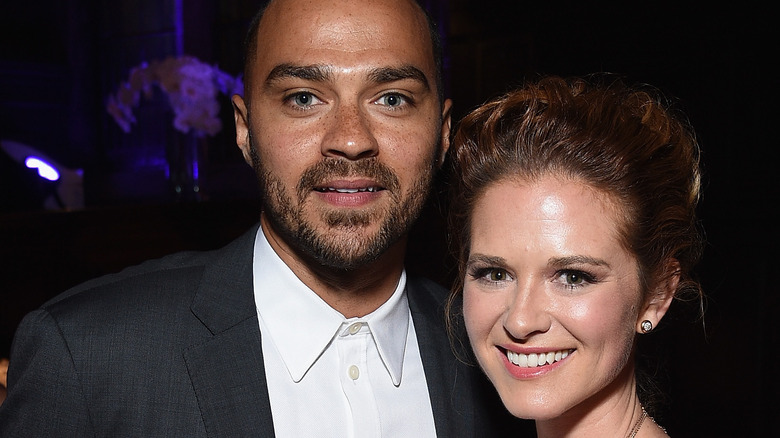 Dimitrios Kambouris/Getty Images
Perhaps one of the only "Grey's Anatomy" couples to rise to the level of Meredith and Derek is Jackson and April. Other matchups have come close perhaps, like Cristina and Owen and Callie and Arizona (via Screenrant and Vulture). But when Jackson and April left her wedding to Matthew together, fans everywhere were screaming with excitement at the TV screen.
Of course, the characters' relationship would endure many ups and downs, including the heartbreaking death of their baby. Japril, as they came to be known, divorced and ended up with other people — and then with each other again (via Cheat Sheet). Poor Matthew.
In any event, now the actors who play Jackson and April, Jesse Williams and Sarah Drew, are addressing the couple's current status. Even though the stars are no longer on the show, Insider reports that both halves of Japril are still very much attached to their characters. And so are fans, with some hoping a spinoff is in the works featuring the on-again-off-again lovers.
Fans are demanding a Japril spinoff
Speaking to Insider in March of 2022, Williams said, ​​"There's 'Grey's Anatomy' scenes and there's Japril scenes. Our stuff was its own tunnel." As the outlet reports, some of that "stuff" included not getting a proper ending to their story, since Drew was asked to leave the series in 2018. She returned in 2021 to help Jackson's storyline wrap up before Williams bid "Grey's" adieu.
Of course, fans were thrilled to see that Japril was given another chance when Drew came back, with the couple moving to Boston together to try again to be together.
"That relationship — both just between the two of us as humans, but also the Japril relationship — is so meaningful to both of us," Drew told Insider. It's meaningful to their fans as well, with many of them calling for a spinoff on Twitter following the Insider interview. "A japril spinoff is what i deserve from the trauma greys left with me," one fan tweeted. Even fans who have given up on "Grey's" are up for it, with someone else tweeting, "Haven't watched Grey's in years but would watch a Japril spinoff."
Here's hoping!