Get The Look On A Budget: Kylie Jenner's High-Waisted Leather Miniskirt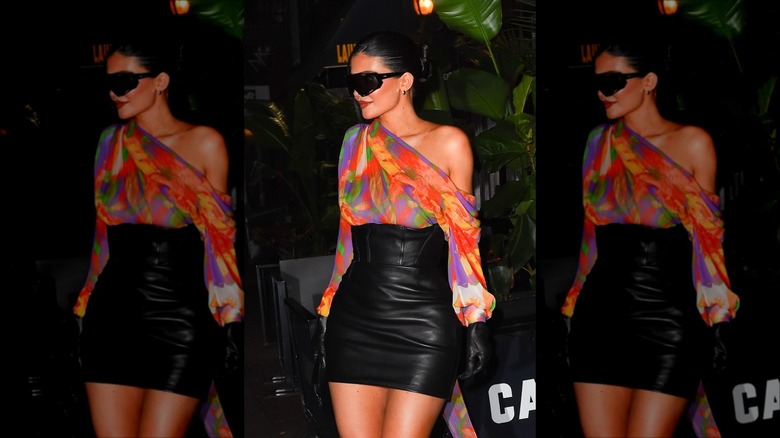 JosiahW/Backgrid
Her sister Kendall Jenner was spotted wearing chic leather pants, and it seems Kylie Jenner is a fan of leather, too. As reported by Hollywood Life, the youngest Kardashian-Jenner sister wore the bright off-the-shoulder blouse and black leather miniskirt to dinner at Carbone in New York. This isn't the first time she's sported leather, either. The business mogul wore a monochrome all-leather outfit when leaving Paris, looking cool and chic in a collared leather jacket, leather miniskirt, and a hoodie (via Vogue).
Real and faux leather has often been a style staple, especially in cooler months, per Forbes. This is partly because it can be styled in so many ways, but also because there are a lot of great options for leather skirts available to buy. Not all of us can afford the exact skirt Jenner is wearing, but luckily, there are some great alternatives that will give you the same style without breaking the bank.
A leather miniskirt is a versatile statement piece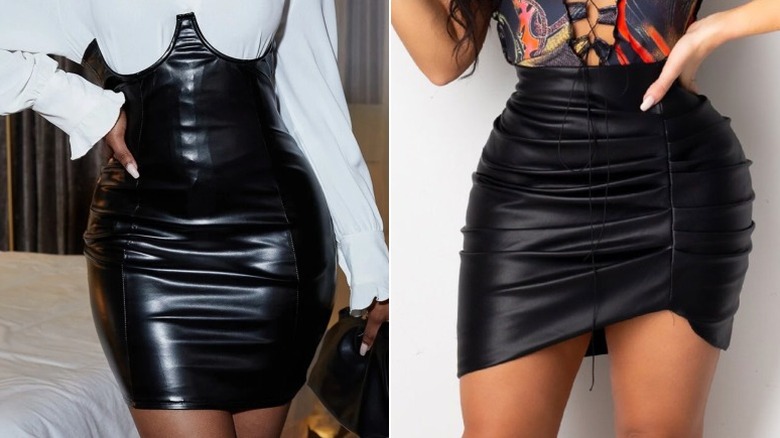 Shein/Milanoo
According to Who What Wear, a leather skirt is a versatile, must-have item for fall. If you love the look of Kylie Jenner's skirt but find high-wasted skirts just aren't for you, the Zip Back PU Leather Dress from Shein is a good pick. The dress has a similar corset-style effect to Jenner's skirt and goes from sizes XS to L, equivalent to a US size 2 up to a size 10. Costing only $15, this dress will leave you with room in the budget for a top, too. You could wear a classic white blouse underneath, or dress your look up with a mesh top for a sexy vibe.
Dresses not your thing? Try the Black PU Leather Skirt from Milanoo instead. Priced at $23.99, it is available in sizes S through XL. Though this skirt does not have the corset cinch at the waist like Jenner's, the ruching effect will give you a similar look, as will the asymmetric slit at the front. 
Styling a leather miniskirt can feel daunting, but there are plenty of ways to dress it up or down. Make like second eldest Kardashian sister Kim and pair yours with a cropped cardigan, or take inspiration from Kendall Jenner once again and opt for knee-high boots (via Hollywood Life).