The Best Ways To Style Knee-High Boots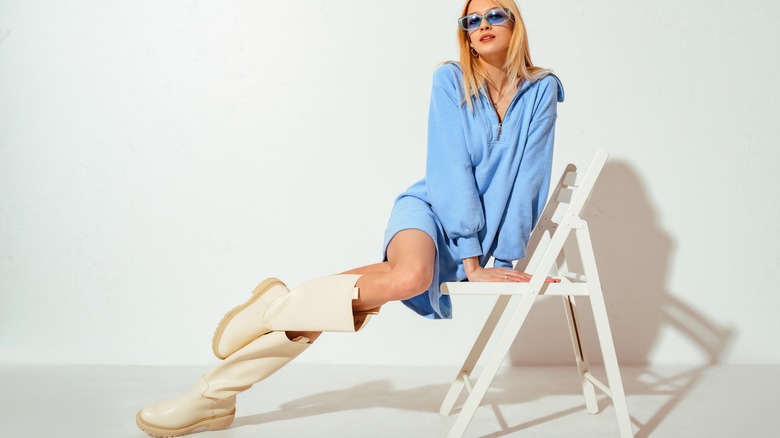 Victoria Chudinova/Shutterstock
While it may not feel like it quite yet, the cooler months are on their way. The arrival of autumn means it's time to break out our cool weather clothing essentials and start stocking up on all the staples we need for our fall wardrobes.
Even the less fashion-focused among us know that styles come and go, and everything cycles back around eventually. Footwear, of course, is no exception. While recent years have shown a focus on boots that stop around the ankles or go all the way up to mid-thigh, the classic knee-high boot is very much back. Think of the coming years as the goldilocks of boots: booties are too short; thigh highs are too tall, but the classic knee-high is just right. Knee-high boots are replacing the ankle bootie and are designating taller boots to a specific time and place. In fact, according to Vogue, knee-high boots have even become a very surprising warm weather staple for summer 2022. With a classic boot back for a fresh fashion moment, we all want to know how exactly to style knee-high boots in a modern, fashion-forward way.
Don't be afraid to style your boots with a skirt or dress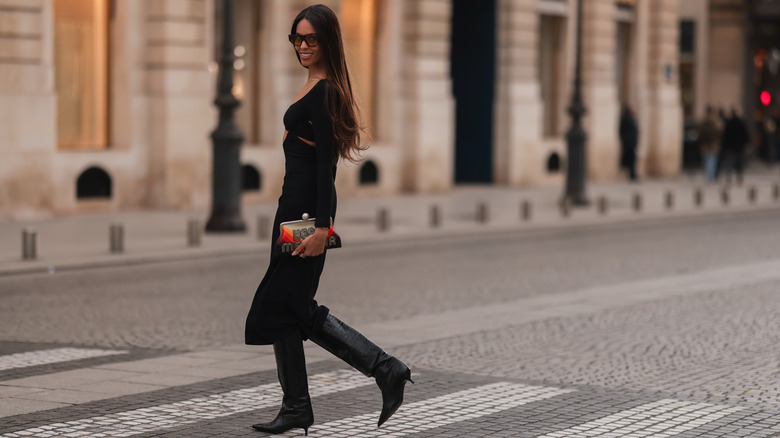 Jeremy Moeller/Getty Images
Since knee-high boots have been in for the warm-weather months, it's no surprise that it's now chic to pair your knee-high boots with bare legs (via Vogue). As long as the weather permits, don't be afraid to style your knee-high boots with a mini skirt or short dress. If you want to keep things a bit more covered up, sporting a midi dress or skirt that is a bit longer than the top of your knee-high boots is a perfect way to transition into fall and winter.
Black is probably your best bet if you're looking to invest in a new pair of knee-high boots that will give you the biggest bang for your buck in the coming months (via The Trend Spotter). Black knee-high boots will give you a seamless, elongating look when paired with skinny black pants or your favorite black leggings. Wearing your black boots with black tights and a short dress or skirt is a great go-to, as well. You may even be able to take some of your warm weather clothes and turn them into year-round options this way. If brown or even white boots are more your speed, you can pair them with skinny pants or leggings for a more casual look. You can also wear these under wider leg pants to keep warm and look chic all at once.
Knee-high boot shopping tips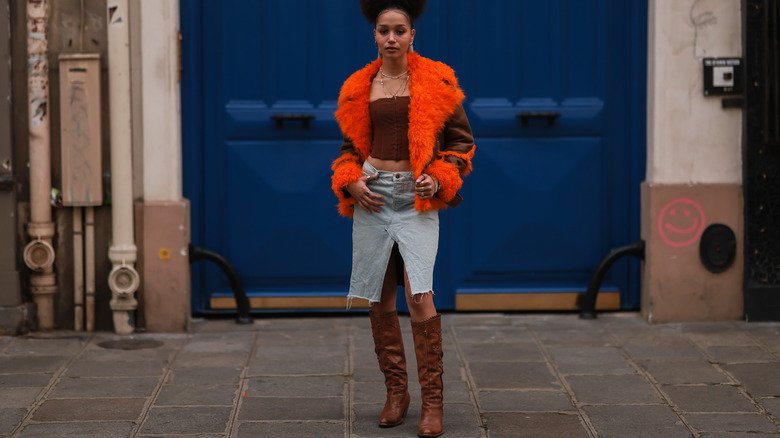 Jeremy Moeller/Getty Images
As for which type of knee-high boot is best for you, you may want to make a new purchase based on how you plan on styling them. Be aware that even though knee-high boots are having a major moment, they still cut your leg in a spot that could make you look shorter. If you're on the shorter side already, opting for a big and chunky or short and skinny heel is a great option (via Stylishly Me). A pointy toe will also help to elongate your legs more than a square toe will.
Suede boots are great for lots of looks, but make sure you also have boots of a more durable material to switch to on rainy days. Another great pointer to keep in mind while you're shopping for a new pair of knee-high boots? The calf size of your boots matters. Make sure you have a chance to try on your boots before making a commitment; having the right size boots for your calves is an important factor that you don't have to worry about with other footwear. 
If you're a big boot fan and are planning on sporting them a lot come fall and winter, don't be afraid to invest in a fun statement pair (via The Trend Spotter). You can wear them with neutral outfits and let your boots be the center of attention.