Here's How To Wear The New Mesh Top Fashion Trend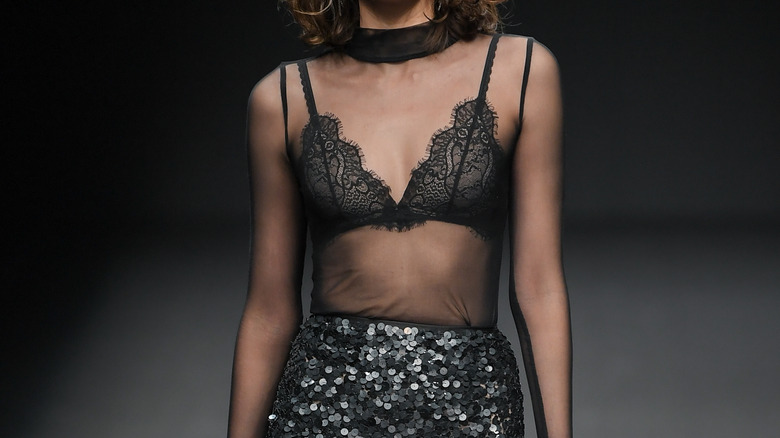 Yanshan Zhang/Getty Images
Summer 2021 fashion trends have officially hit the streets, and staying cool has never looked so hot. Along with crop tops, cut-outs, and puffy sleeves, Cosmopolitan is calling mesh tops "surprisingly chic." Mesh, along with other fishnet-inspired materials, has been seen on the runways for Acne, Dior, and Hermès, to name a few. The "second-skin" trend is also a fast favorite for celebrities like Beyoncé, Adele, Kylie Jenner, and Dua Lipa (via Cosmopolitan). 
The '90s iteration of the trend featured color-blocking, but modern takes on the mesh top feature long sleeves, tie-dye, prints, neon piping, and lettuce hems (via Refinery29). Regardless of which pattern you choose, Millennials and Gen-Zers alike agree that mesh tops are the look of the summer. But why is everyone voraciously flocking to these sheer tees? One word: versatility. 
Celebrity stylist Kesha McLeod explains to Well + Good that mesh tops are "the next big activewear trend ... it's great when high fashion meets sport, because that usually makes for very accessible trends." The lightweight fabric works with a number of styles, including rocker, sweetheart, athleisure, feminine, and even casual.
With all these potential looks at our fingertips, styling your mesh top may seem overwhelming, but lucky for you, we've scoured the internet and uncovered the most flattering ways for every body type to rock a sheer top.
Mesh shirts are the new "going-out top"
Contrary to popular belief, the "going-out" top didn't die in the late-aughts (via HuffPost). Mesh tops have taken over as the No. 1 shirt to throw on before heading out on the town. Cosmopolitan recommends pairing your sheer shirt with jeans or a skirt. A silk or wrap skirt creates the perfect vacation look while casual jean bottoms provide a chic juxtaposition to the drama of a mesh tee. 
Dress your look up or down with accessories. Gussy it up with a pair of heels and hoops or stay relaxed with sneakers and a backpack. Cosmopolitan also suggests that any curvy girls looking to accentuate their waist opt for baggy bottoms, like mom jeans, cargo pants, or a flippy skirt. This will create the illusion of a small top half and a voluptuous bottom. Pro styling tip: Choose a bold color-blocked bottom to add that something extra. 
Layer your mesh shirt under a dress or blazer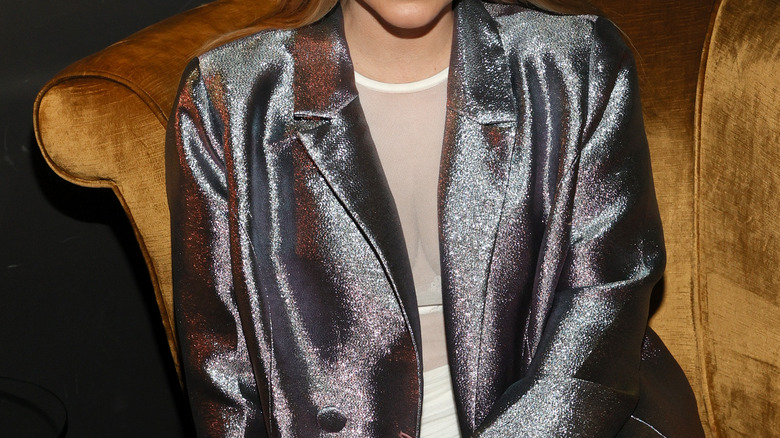 Ethan Miller/Getty Images
Layer your mesh top to create dimension within your outfit. For a more conservative look, throw a chic blazer over your mesh tee and — voilà! — you've got Hillary Clinton meets Instagram baddie. Celebrity stylist Kesha McLeod even goes so far to suggest pairing a full pantsuit with your mesh shirt to "give off a jumpsuit [vibe]" (via Well + Good). If you're looking to add extra sass to an outfit, you can always throw your sheer top underneath a dress or tank and skirt to create the illusion of a one-piece. Not only does this help even out your proportions, but it also shows bold personal style.
Finally, if you're not feeling sensual enough, choose to layer an embellished accent bra or bralette under your mesh shirt. This look may feel risqué, but according to McLeod, you may be leaning more conservative. "Some daring women even opt for no undergarments," she says. "While most aren't there yet — myself included — I like to pair a flesh-tone bra under [mine], and add some short-shorts and oversized sunnies."
Whichever style you choose, you'll be sure to turn heads with these see-through threads!