Why Prince Philip Nearly Sued Netflix Over An Episode Of The Crown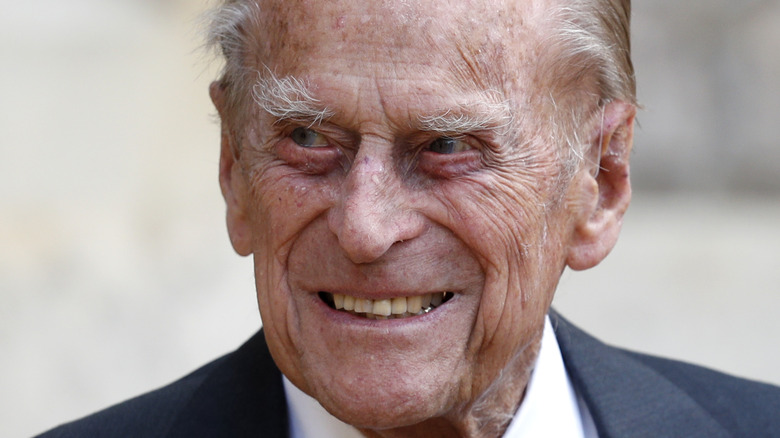 Wpa Pool/Getty Images
Netflix's series "The Crown" premiered its fifth season on November 9, 2022 to generally favorable reviews. According to Variety, the new season drew in over 1 million viewers in the U.K. (one of the only countries where Netflix reveals specific viewer statistics to the public) on the first day of its release, and numbers are expected to climb the longer the series is available for streaming. On Rotten Tomatoes, 85% of audience ratings are positive so far, while the average critic score sits at around 7 out of 10.
However, if there's one group that has adamantly rejected the series since its inception, it's the royal family itself. Buckingham Palace has reportedly interrupted filming on multiple occasions (per The A.V. Club), and royal aides have expressed worries over Season 5 of "The Crown" and how they would be portrayed in the newest season.
One of the prevailing criticisms about "The Crown" is that it blurs the lines between fact and fiction. A royal expert told the BBC that viewers unfamiliar with the royal family, especially young audiences, may take Netflix's dramatized version of events literally, turning them against the monarchy. One fictionalized scene even went so far, Prince Philip considered taking legal action.
'The Crown' blamed Prince Philip for a family death
Before Prince Philip's heartbreaking death in 2021, he was aware of the "The Crown" character based on him — and reports suggest he wasn't a fan. In 2018, the Mirror detailed a conversation between a friend of Matt Smith, the actor who played Philip in the first two seasons of "The Crown" (per IMDb), and the Duke of Edinburgh himself. When Smith's friend asked Philip if he watched the Netflix series, he responded, "Don't be ridiculous."
"The Crown" depicted him as being unfaithful to his wife, Queen Elizabeth II (via Town & Country), though that didn't seem to be Prince Philip's biggest issue with the show's storyline. According to The Sunday Times, the prince consulted with lawyers after a scene blamed him for the death of his sister, Princess Cecilie.
In 1937, Princess Cecilie boarded a flight to London, where a wedding was to be held, but bad weather and an attempt at an emergency landing apparently caused the plane to crash, killing all on board (per Salon Privé Magazine). "The Crown," however, suggests that Philip's misconduct as a child forced his sister to fly to London, faulting him for her tragic death. "[The Duke of Edinburgh] was very upset about the way that was portrayed. He was human. He could be hurt like anybody else," royal historian Hugo Vickers told The Sunday Times.
In the end, Prince Philip didn't take legal action to avoid drawing more negative attention to the royal family (per Insider).